Growing education sectorto lead growthof accreditation management softwaremarket at 13.1%CAGR during 2019-2027
According to our latestmarket study on Global Accreditation Management Software Market Forecast to 2027- COVID-19 Impact and Global Analysisby Deployment Type (Cloud and On-Premises); Enterprise Size (SMEs, and Large Enterprises); and Geography, the market was valued at US$ 98.79 million in 2019and is projected to reach US$ 252.64million by 2027; it is expected to grow ata CAGR of 13.1% from 2019 to 2027.The report highlightskey factors driving themarket growth, and prominent players and their developmentsin the market.
Accreditation managementsoftware assists institutes, associations, universities, and government bodiesin processes such as validation, assessment, feedback, outcome tracking, andinternational accreditation activities. The accreditation system complies with severalaccreditation bodies, such as NBA, ABET, NAAC, CPE, TEQSA, and KHDA. Thesoftware allows users to add modules with a drag and drop simplicity. It alsoenables easy integration of a fully customizable and comprehensiveaccreditation information management system into the users existing system.Companies such as Ceatrix Campus offer accreditation management to cater to therequirements of dental, medical, and nursing colleges. CompWALK is a key providerof premiere accreditation management systems that combine integral pieces of anaccreditation process into a single cohesive solution, resulting in a moreefficient and scalable accreditation process.
The constantly growingpopulation raises the demand for education services in all economies, thereby increasingthe number of schools and universities. This factor is driving the growth ofaccreditation management software. As regulatory bodies are promoting mandatoryaccreditation for all organizations and enterprises of different sizes, theyare likely to stimulate the demand for accreditation management software in thecoming years. Also, the use of cloud-based accreditation management software isanticipated to fuel the market growth. Moreover, the growing number of smallbusinesses, backed by the governments, is propelling use of accreditationsoftware as the accreditation associations are established to direct SMEstoward progress.
The global accreditationmanagement softwaremarketis concentrated with a few well-established players, Armature, Compwalk, Dossier Solutions, Liaison International, Liaison International, Qualtrax, Softtech Health, LLC, SPOL, and Wizehive.
COVID-19 Impact on AccreditationManagement Software Market
The COVID-19 outbreak,which initiated in Wuhan (China) in December 2019, has spread at a fast pace worldwide.As of June 2020, the US, Italy, Spain, Germany, China, France, Iran, India, andthe UK are among the worst-affected countries in terms of confirmed cases andreported deaths. According to latest report of the WHO, published on 24 June,there were 9,129,146 cases with 473,797 deaths. To control the spread of virus,various countries have been taking different measures to promote socialdistancing. They have imposedlockdowns, encompassing schools, universities,colleges, companies, and factories. This step has disrupted the global educationsector and business activities. Accreditation is highly important in all sectors,including education. Thus, the shutdowns would result in the limited adoption ofaccreditation management software, which can be generally used for managing differentactivities in this sector, including faculty management, student management,syllabus, examinations, courses, programs, and more.
AccreditationManagement Software Market Breakdown?by Region, 2019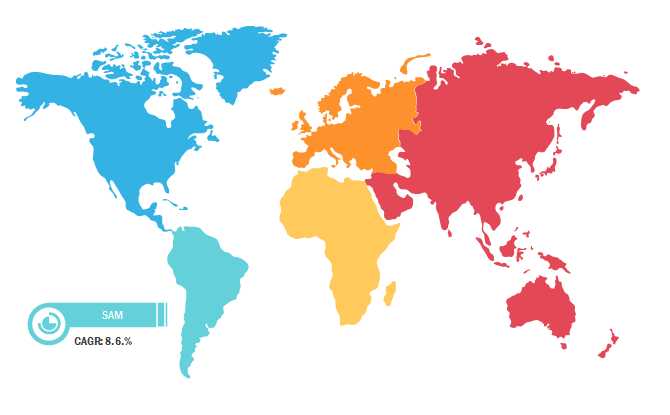 The report segmentsthe global accreditation managementsoftwaremarket as follows:
By Deployment
By EnterpriseSize
ContactUs
Contact Person: SameerJoshi
Phone: +1-646-491-9876
Email Id: sales@theinsightpartners.com