Implementation of Technologies such as 5G and IoT to Provide Growth Opportunities for Airport Hub Network Communication Market During 2022–2028
According to our latest market study on "Airport Hub Network Communication Market Forecast to 2028 – COVID-19 Impact and Global Analysis – by Component, Platform Type, Connectivity Type, and End Users," the market is expected to grow from US$ 2,522.69 million in 2023 to US$ 3,466.17 million by 2028; it is estimated to register a CAGR of 6.6% from 2023 to 2028.
According to IATA, air travellers are expected to reach 8.2 billion by 2037. Also, increased air traffic leads to more flights, where communication between the airport and airline authorities is vital for efficient airport operations and flight management. The rising number of air passengers requires the aviation sector to be fully equipped to handle this increased air traffic. Hence, airports and airlines require strong capabilities, such as Airport 4.0 or Airport Digitalization, to handle the growing passenger count. Furthermore, IoT connectivity in the airport hubs allows them to connect their existing or new hardware systems to the internet, contributing to greater transparency, connectivity, simplified work processes, and better communication between the airline and the airport authorities. Improved connectivity further provides better security and workflow efficiencies across all flight phases, from arrival to departure.
Airport Hub Network Communication Market — by Geography, 2022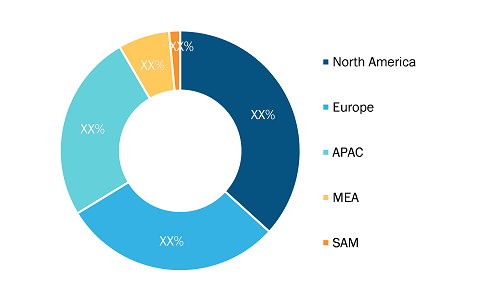 ---
---
Airport Hub Network Communication Market Forecast to 2028 - Global Analysis by Component (Solutions and Services), Platform Type (CUTE and CUSS), Connectivity Type (Internet and MPLS), and End Users (Airlines and Airports)
Source: The Insight Partners Analysis
In addition, deploying 5G technologies in the aviation sector provides greater bandwidth for communication networks through better speed and enhanced network communication quality. The high-speed internet and 5G technology capabilities enhance the frequencies of the communication information over the network, leading to the distribution of correct and accurate information, thereby ensuring smooth operations regarding security and other businesses. Technologies such as 5G and IoTs deployed by the airport hub network communication providers can help improve customers' overall network communication. For example, SITA's Connect Corporate upgraded the airport and airline entities with increased bandwidth for seamless data exchange. It also provides the SITA Airport Hub platform for enabling reliable and flexible communication between airports and airlines while supporting critical automated systems. Thus, with 5G and IoT technologies, service providers can improve the overall connectivity of devices required for faster network communication, creating lucrative growth opportunities increase airport hub network communication market size.
The global airport hub network communication market is driving due to increased air passengers and cargo activities. For instance, according to International Air Transport Association (IATA), the number of air passengers worldwide is expected to rise from 2,185 million in 2021 to 4,189 million by the end of 2023. In addition, the world trade is expected to grow by 1% by the end of 2023 compared to 2022, leading to increased flight operations for cargo transportation. As a result, the demand for new aircraft is expected to increase in the global market in the coming years. According to Boeing, the fleet size is expected to grow by 2.8% between 2022 and 2041, with the delivery of ~41,170 aircraft. These aircraft are likely to be procured by different airlines to cater to the demand for increased air passengers. Thus, the increase in the number of aircraft is likely to boost the demand for network communication solutions and services for efficient communication between the airlines and airports, fueling the airport hub network communication market size.
Amadeus IT Group, SITA Aero, Cisco Systems Inc, Collins Aerospace, and Honeywell International Inc are a few key airport hub network communication market players profiled during the study. Several other major market players were studied and analyzed during this market research study to get a holistic view of the market and its ecosystem. The airport hub network communication market report provides detailed market insights, which helps the key players strategize their growth.
The COVID-19 outbreak considerably impacted the global economy during its peak in Q1 and Q2 of 2020, and the crisis hampered business activities in various industries. Governments of several countries imposed stringent regulations on human traffic. The COVID-19 pandemic severely impacted the aviation industry. The industry temporarily discontinued passenger air transport and airport operations, and took various measures to restrain the spread of SARS-CoV-2. According to International Air Transportation Association (IATA), global airline traffic declined by 66% and 58% in 2020 and 2021, respectively, compared to 2019. As a result, the COVID-19 outbreak negatively impacted the organization's revenue in various industries, including aviation.
In addition, governments of several countries eased the rules and regulations for the aviation industry on airport and airline operations. Tourist places reopened in many countries at the end of 2021, which gradually encouraged the recovery of the aviation industry from the COVID-19 pandemic. Further, traveling resumed, with the continuation of economic activities. As a result, the demand for airport hub network communication systems increased with the growth of the aviation industry, which is driving the airport hub network communication market growth.
Contact Us

Phone: +1-646-491-9876
Email Id: sales@theinsightpartners.com
Download Free PDF Brochure
---
Related Readings
---