Health Benefits Associated with Almond Flour to Escalate its Market Growth During Forecast Period
According to our latest market study on "Almond Flour Market Forecast to 2027 - COVID-19 Impact and Global Analysis - by Form (Blanched and Natural), Nature (Organic and Conventional), and End User (Foodservice, Food &Beverages, Cosmetic Industry, Dietary Supplements, and Others),"the market was valued at US$ 877.95 million in 2019 and is projected to reach US$ 1,624.12 million by 2027; it is expected to grow at a CAGR of 8.3% from 2020 to 2027.The report highlights key factors driving the growth of the market and prominent players along with their developments in the market.
Almond flour is the widely used nut product in making premium pastries, cookies, and sweets, such as almond macaroons. Almond flour recently gained traction in the baking industry due to growing preference toward low-carbohydrate diets among the health-conscious consumers. It enhances the nutritional profile of the baked product as it is a good source of fat, protein, fiber, vitamins, minerals, manganese, and antioxidants. Further, the flour is rich in monounsaturated fats that helps in keeping cholesterol level under control, thereby lowering the risk of heart diseases. With its low glycemic index, almond flour helps in managing sugar levels in people suffering from diabetes. It is also rich in prebiotic dietary fiber that promotes digestive health. Therefore, rising inclination toward healthy lifestyle and growing incidences of diabetes, cancer, and other diseases are among the factors driving the growth of the almond flour market. Also, the increasing consumption of protein-rich flour products is bolstering the growth of the market.
King Arthur Flour Company Inc.; Alldrin Brothers; Anthony's Goods; Hodgson Mill Inc.; Organic Bio, SA; Rolling Hills Nut Company Inc.; Shiloh Farms; Treehouse California Almonds, LLC; Blue Diamond Growers; and Bob's Red Mill Natural Foods are among the well-established players in the global almond flour market.
Impact of COVID-19 Pandemic on Almond Flour Market
The COVID-19 pandemic was first reported in Wuhan, China, in December 2019. As of October 2020, the US, Brazil, India, Russia, Peru, South Africa, Mexico, and the UK were among the worst-affected countries in terms of confirmed COVID-19 cases and reported deaths. The outbreak is adversely affecting economies and industries in various countries due to lockdowns and travel bans. Food &beverages is one of the major industries suffering serious disruptions such as shutdown of offices and factories and restrictions on supply chain. Consequently, the demand for almond flour across the world has significantly declined over the last few months.
Global Almond Flour Market Breakdown - by Region, 2019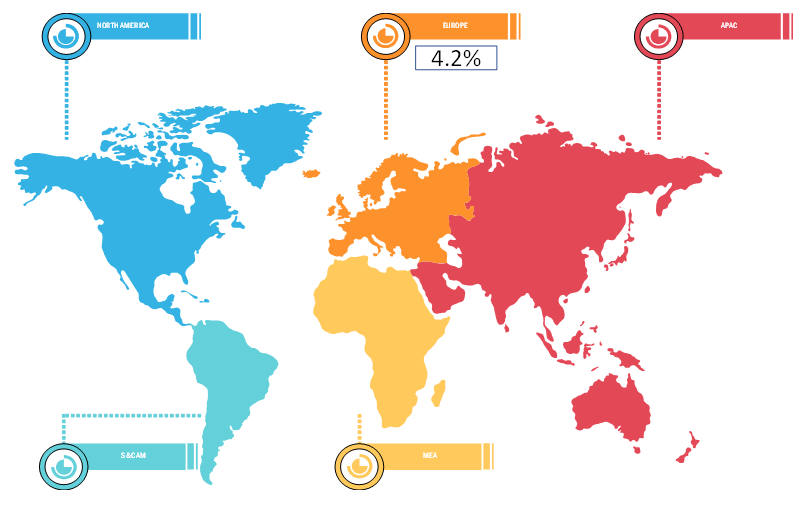 Report : Almond Flour Market Forecast to 2027 - COVID-19 Impact and Global Analysis by Form (Blanched and Natural), Nature (Organic and Conventional), and End User (Foodservice, Food & Beverages, Cosmetic Industry, Dietary Supplements, and Others)
The report includes the segmentation of the global almond flour market as follows:
Almond Flour Market, by Form
Almond Flour Market, by Nature
Almond Flour Market, by End User
Food service

Food &Beverages

Cosmetic Industry

Dietary Supplements

Others
Almond Flour Market, by Geography
Contact Us
Contact Person: Sameer Joshi
Phone: +1-646-491-9876
Email Id: sales@theinsightpartners.com