Shift Toward Artificial Intelligence and Growth in Energy Industry to Provide Opportunities for Alternative Data Market During 2022–2030
According to our latest market study on "Alternative Data Market Forecast to 2030 – Market Size and Forecasts (2020 - 2030), Global and Regional Share, Trends, and Growth Opportunity Analysis – by Data Type and Industry," the alternative data market is expected to grow from US$ 5,549.16 million in 2022 to US$ 156,230.65 million by 2030; the alternative data market is estimated to record a CAGR of 51.8% from 2022 to 2030.
The dawn of AI has changed the way businesses work. By leveraging AI, businesses can predict and extract insights from unstructured data formats and gather actionable information. The predictive analysis by AI helps businesses grow, acting as an opportunity for business growth. Therefore, there is a growing adoption of AI by businesses due to its benefits. For instance, according to Our World In Data, the yearly global corporate investment in artificial intelligence was US$ 153.63 billion in 2020, which increased to US$ 175.54 billion in 2022. Moreover, the use of AI for alternative data can fuel the adoption of alternative data by several market players across various industries, as AI can help provide better predictive insights. For instance, according to a survey by Market Makers, a hedge fund services provider, 9 out of 10 hedge fund traders are expected to use artificial intelligence to achieve portfolio returns in 2023. Therefore, the use of AI for processing alternative data is expected to create lucrative opportunities to foster alternative data market size during the forecast period.
Alternative Data Market - by Geography, 2022 & 2030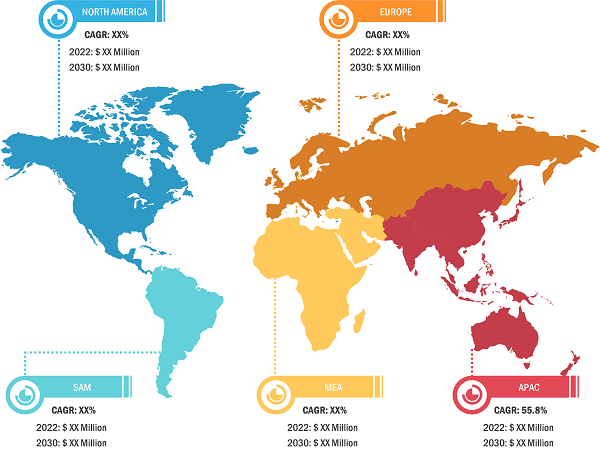 ---
---
Alternative Data Market Size and Forecasts (2020 - 2030), Global and Regional Share, Trends, and Growth Opportunity Analysis Report Coverage: By Data Type (Credit and Debit Card Transactions, Email Receipts, Geo-location (Foot Traffic) Records, Mobile Application Usage, Satellite and Weather Data, Others); Industry (Automotive, BFSI, Energy Industrial, IT and Telecommunications, Media and Entertainment) , and Geography (North America, Europe, Asia Pacific, and South and Central America)
Source: The Insight Partners Analysis
Energy is considered one of the largest and fastest-growing industries. According to Exxon Mobil Corporation, the global energy demand will rise by ~15% in 2050 compared to 2021 due to population and prosperity. The rise in population will generate the demand for electric power, contributing to the growing need and demand from various end-use industries, such as commercial transportation, manufacturing, construction, and infrastructure. All these industries require electricity for workflow at some point. Energy companies can leverage the benefits of alternative data into their R&D, marketing, investment, risk analysis, and other key processes to fuel their business growth. It will help business managers and investors to make informed business decisions with the help of real-time business insights. The benefits of adopting digital solutions in the energy industry can further generate the demand for the use of alternative data. Therefore, the growing energy industry is anticipated to provide opportunities to fuel alternative data market size during the forecast period.
Dataminr Inc, FactSet Research Systems Inc, Moody's Analytics Inc, Preqin Ltd, RavenPack International SL, Refinitiv Ltd, Eagle Alpha Ltd, RetailStat, Visible Alpha LLC, and Yipit LLC are among the key alternative data market players profiled during the report which provide alternative data solutions. Several other major alternative data market players were studied and analyzed during this market research study to get a holistic view of the market and its ecosystem. The alternative data market report provides detailed market insights, which help the key players strategize their growth.
Asia Pacific (APAC) is a diverse region with a large population and a growing digital economy, contributing to the surge in data. APAC has been at the forefront of data computing adoption due to the proliferation of IoT devices, smart cities initiatives, and the need for real-time data processing. APAC has witnessed a significant increase in internet penetration rates, leading to a surge in data consumption and the need for localized data processing. According to GSM Association, the IT industry plays a vital role in extending connectivity worldwide. In 2021, the number of internet subscribers reached 4.2 billion globally. Furthermore, APAC accounted for 59% of internet subscribers in 2021 and is projected to reach ~62% by 2025. The rise of internet penetration is directly linked to increasing internet usage. Moreover, the rollout of 5G networks is expected to increase internet usage by enabling faster data speed, lower latency, and higher data device density. According to GSM Association, the 5G users in APAC reached 8% in 2021, and the number is likely to increase up to 25% by 2025. Therefore, the rise in internet penetration leads to increased data generation, which needs to be processed and analyzed to gain insights, contributing to the alternative data market growth in APAC. Alternative data plays a crucial role in providing insights to enhance business growth, which further leads to its adoption among various companies and foster alternative data market growth.
Moreover, Asia Pacific has a strong manufacturing base, and the manufacturing sector continues to be a huge adopter of IoT. The technology is widely incorporated in various industry verticals across the globe with smart spaces—a key focus for many markets in the region. In recent years, the manufacturing sector has been rapidly adopting digitalization and IoT solutions. In addition, the increasing government focus on establishing smart cities across various countries in the region is driving the demand for digital IoT solutions in areas such as e-government, smart traffic management, and smart power grids. Therefore, the demand for alternative data in the manufacturing sector is increasing to gain additional insights regarding ongoing trends, consumer behavior, and investment purposes is fueling alternative data market size.
Contact Us

Phone: +1-646-491-9876
Email Id: sales@theinsightpartners.com
Download Free PDF Brochure
---
Related Readings
---