Multiple Varieties of Arbitrary Waveform Generators to Provide Growth Opportunities for Arbitrary Waveform Generator Market during 2021–2028
According to our new research study on "Arbitrary Waveform Generator Market Forecast to 2028 – COVID-19 Impact and Global Analysis – by Channel, Technology, Bandwidth, Application, and Geography," the market is projected to reach US$ 624.4 million by 2028 from US$ 355.3 million in 2021; it is estimated to grow at a CAGR of 8.4% from 2021 to 2028.
Arbitrary waveform generators are classified based on the number of channels, bandwidth range, and technology. Different types of generators may be used for different requirements. The wide availability of generators is attracting a larger customer base. For instance, the multi-channel AWGs provide better synchronization, channel summing, and noise generation capabilities. On the other hand, single-channel AWGs are cost-effective and more user-friendly. Similarly, generators are developed using different technologies such as direct digital synthesis and variable clock AWG, to meet the specific requirements of the user. Majority of the arbitrary waveform manufacturers, such as Keysight Technologies, B&K Precision Corporation, and Tektronix Inc., are offering a comprehensive range of products under different segments. The availability of multiple options in the global market and rise in demand from different industries are further driving the arbitrary waveform generator market.
The arbitrary waveform generator market is segmented on the basis of channel, technology, bandwidth, application, and geography. Based on channel, the market is segmented into single channel and dual channel. Based on technology, the market is segmented into direct digital synthesis AWG, variable-clock AWG, and combined AWG. Based on bandwidth, the market is segmented into below 1GHz, 1–5 GHz, 5–10 GHz, 10–25 GHz, 25–32 GHz, 32–50 GHz, and above 50 GHz. Based on application, the arbitrary waveform generator market is segmented into telecommunication, education, healthcare, electronics, and others. Geographically, the market is segmented into five major regions—North America, Europe, Asia Pacific (APAC), the Middle East & Africa (MEA), and South America (SAM).
Impact of COVID-19 Pandemic on Arbitrary Waveform Generator Market
The arbitrary waveform generator market witnessed a substantial decline in the revenue in the first half of 2020 owing to the high number of COVID-19 cases. Post lockdown, the market experienced an increasing demand for electronics devices. The adoption of 5G network has driven the market growth post lockdown. The COVID-19 outbreak has a major impact on manufacturing facilities as production capacities were lowered. The constant demand for electronics helped the arbitrary waveform generator market to resume the growth.
B&K Precision Corporation; BERKELEY NUCLEONICS CORPORATION; KEYSIGHT TECHNOLOGIES; Pico Technology; Rohde & Schwarz; SHF Communication Technologies AG; Tabor Electronics Ltd.; TEKTRONIX, INC.; Teledyne LeCroy; and Texas Instruments Incorporated are among the key players that are profiled during this market study. In addition to these players, several other essential market players were also studied and analyzed to get a holistic view of the global arbitrary waveform generator market and its ecosystem.
Arbitrary Waveform Generator Market — by Geography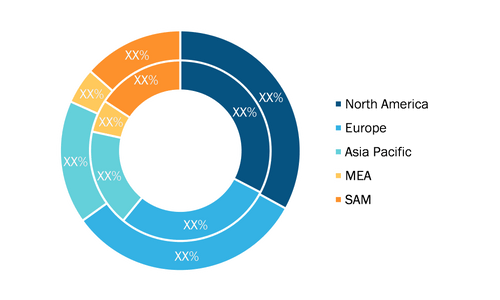 Contact Us
Contact Person: Sameer Joshi
Phone: +1-646-491-9876
Email Id: sales@theinsightpartners.com