Health benefits associated with dairy flavors is projected to escalate the dairy flavor market growth at CAGR of 5.5% during 2019–2027
According to our latest market study on "Asia Pacific Dairy Flavor Market Forecast to 2027– Covid-19 Impact and Analysis by Flavor Type (Butter, Cheese, Cream, Yogurt, Milk, Others); Form (Liquid, Powder, Paste); Application (Bakery, Confectionery, Soups and Sauces, Beverages, Dairy Products, Others);and Country," the market was valued at US$ 926.4 million in 2018 and is projected to reach US$ 1,500.7 million by 2027; it is expected to grow at a CAGR of 5.5% during the forecast period. The report highlights key factors driving the market growth and prominent players, along with their developments in the market.
Dairy flavors are processed from different types of dairy products such as milk, cheese, yogurt, butter, and cream. The organoleptic properties of dairy products, together with the image that they have among the consumers of being healthy, makes these products one of an essential ingredient in the food &beverages industry. The dairy flavors are often combined with many other characterizing flavors and deliver a completely new and unique taste to the final product. The manufacturers are very much focused toward coming up with new dairy-based flavors owing to the rising demand from consumers to consume organic and natural flavors. The dairy flavors help in cutting costs as they proffer similar taste and aroma as that of the original dairy product despite reducing the usage of the volume of the product. They also provide subtle dairy notes such as moldy, pungent, and astringency by increasing their functionality. On the one hand, these dairy flavors appear as a flavor on the ingredient statements, while on the other, they may be labeled depending upon the dairy product name from which they are made.
Dairy flavors like flavored milk, butter, cheese, and yogurt offer various health benefits on consumption. Flavored milk has different types of nutrients such as potassium, calcium, protein, magnesium, vitamin A, B2, and D. Moreover, it has only 3% of added sugar in the diets of children of the age group from 2 to 18. Yogurt flavors, when added to food, improve skin quality and immunity, helps in reducing high blood pressure, and is suitable for digestion. Since yogurt is made from low fat or fat-free milk, the flavors made from yogurt are rich in calcium. Creamy flavors are rich in energy with fat and fat-soluble vitamins like vitamins A, D and K. Clarified butter or ghee when added to food reduces the exposure to cancer-causing agents. Buttermilk, when consumed, helps in lowering cholesterol and fights cholesterol. The concentrated dairy flavor can be utilized around 0.1% to 1% in terms of volume, diminishing the dairy content yet retaining the taste of the original dairy product with which it is made. Thus, the health benefits associated with dairy flavors drives the market growth in Asia Pacific.
The Asia Pacific dairy flavor market is concentrated with a few well-established players such as Dairy Chem Inc., The Edlong Corporation, Kerry Group, Ornua Co-operative Limited, and Synergy Flavors.
Impact of COVID-19 Pandemic on Dairy Flavor Market
COVID-19 outbreak first began in Wuhan (China) in December 2019, and since then it has spread across the globe at a fast pace. China, Italy, Iran, Spain, the Republic of Korea, France, Germany, and the US are among the worst affected countries in terms of confirmed cases and reported deaths as of March 2020. The COVID-19 outbreak has affected economies and industries in various countries due to lockdowns, travel bans, and business shutdowns. The overall market breakdown due to COVID-19 is also affecting the growth of the dairy flavor market due to shutting down of factories, obstacle in supply chain, and downturn in world economy.
Asia Pacific Dairy Flavor Market Breakdown—by Region, 2018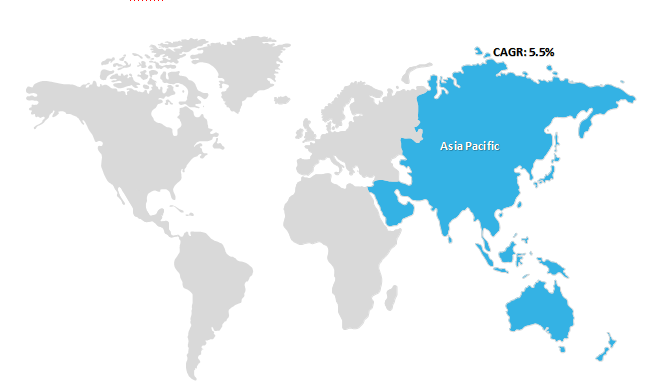 The report includes the segmentation of the Asia Pacific dairy flavor market as follows:
By Product Type
Milk

Cheese

Cream

Yogurt

Butter

Others

By Form

By Application
Beverages

Confectionary

Soups and Sauces

Bakery

Dairy Products

Others

By Country
China

Japan

India

South Korea

Rest of APAC