Increasing Production of ICE Vehicles to Create Growth Opportunities for Automotive Piston Market during 2021–2028
According to our latest market study on "Automotive Piston Market Forecast to 2028 – COVID-19 Impact and Global Analysis – by Material Type, Coating Type, Vehicle Type, and Piston Type," the market was valued at US$ 3879.92 million in 2021 and is projected to reach US$ 5815.15 million by 2028; it is expected to grow at a CAGR of 6.0% from 2021 to 2028.
Internal combustion engine (ICE) vehicles, such as passenger cars and light commercial vehicles (LCVs), account for a major share of the total vehicles' usage in developing countries, such as China, India, South Korea, Mexico, Brazil, and South Africa, which has led to an increase in the manufacturing of various models of these vehicles. The increasing sales of ICE vehicles in APAC and the MEA are encouraging manufacturers to produce better and environment-friendly vehicle components, such as pistons and lubricants. However, growing environmental concerns and aging integrated circuit (IC) technology have resulted in low demand for ICE vehicles to a certain extent, thereby paving the way for new alternatives, such as EVs. Several countries are already phasing out the manufacturing and sales of ICE vehicles, while the vehicles manufacturers are working on effective alternatives to enhance the features of ICE vehicles to meet the evolving consumer demands, including greater fuel economy. Nevertheless, there is a high demand for ICE vehicles in APAC, the MEA, and Latin America due to the lack of required infrastructure for the operation of EVs. The introduction of advanced hybrid systems and low-temperature combustion engines is likely to boost the sales of ICE vehicles, which would drive the automotive piston market in the coming years.
Continuous technological advancements and automation are allowing manufacturing companies to achieve greater productivity and profitability. MAHLE GmbH; Tenneco Inc.; Aisin Seiki Co., Ltd.; Hitachi Automotive Systems, Ltd.; and Rheinmetall AG are among the key companies in the automotive piston market. These market players are engaged in making transportation efficient, environmentally friendly, and comfortable by continuously optimizing the combustion engine and exploring the use of alternative fuels. OEMs are focusing on delivering greater vehicle efficiency and productivity. Technological innovations in ICEs, such as intelligent combustion management systems, and improvements in fuel efficiency to achieve power advantages and low emission levels are emerging as new trends supporting the growth of the global automotive piston market. Other emerging trend in the market is hydrogen-fueled combustion engine technology. The hydrogen-fueled piston engines do not emit CO2 and allow users to achieve zero-emission targets and would create lucrative opportunities for the automotive piston market during the forecast period.


The automotive pistons manufactured using lightweight hybrid composite materials are ~25% lighter than those made from conventional materials. Moreover, the former enables cost-saving of over 62%. The invention and use of carbon–carbon composite materials in piston manufacturing has led to reduction in piston weight of engine components allowing the piston to run at higher speeds. This has encouraged manufacturers in the automotive piston market to opt for carbon–carbon composite materials over conventional materials, such as aluminum, to achieve improved engine performance. Silicon composites and magnesium are also expected to unfold opportunities for new products in recent years. The use of lightweight pistons leads to a reduction in engine weight. It benefits ICE vehicles through greater fuel efficiency and pollution reduction. Government initiatives to promote the use of clean energy are enabling automotive engine manufacturers to adopt lightweight hybrid composite materials that provide improved properties over the commercially available aluminum-based components.
The automotive piston market is segmented on the basis of material type, coating type, vehicle type, and piston type, and geography. Based on material type, the market is bifurcated into compact steel and aluminum. In 2020, the aluminum segment led the market and accounted for a larger market share. Based on coating type, the market is segmented into thermal barrier piston coating, dry film lubricant piston coating, and oil shedding piston coating. In 2020, the thermal barrier piston coating segment led the market and accounted for the largest market share. Based on vehicle type, the automotive piston market is segmented into two wheelers, passenger vehicles, and commercial vehicles. In 2020, the passenger vehicles segment led the market and accounted for the largest market share. Geographically, the market is broadly segmented into North America, Europe, Asia Pacific (APAC), the Middle East & Africa (MEA), and South America (SAM). In 2020, APAC accounted for a significant share in the global market.
Impact of COVID-19 Pandemic on Automotive Piston Market
According to the latest situation report from the World Health Organization (WHO), the US, Spain, Italy, France, Germany, the UK, Russia, Turkey, Brazil, Iran, and China are among the worst-affected countries due to the COVID-19 pandemic. In 2020, the world economy suffered significant consequences, and the effects are expected to endure to some extent in the coming years. The outbreak has led to disruptions in primary industries, such as electronics, semiconductor, and automotive. A sharp decline in the growth of mentioned industries is limiting the growth of the automotive piston market. Factory shutdowns, travel and trade bans, and border lockdowns to combat and contain the spread of infection have affected the working of many commercial and corporate buildings across the world.
A few key players operating in the global automotive piston market are Art Metal Mfg., Ltd, RIKEN Corporation; MAHLE GmbH; Tenneco Inc.; Rheinmetall Automotive Ag. Several other market players have been analyzed to understand the market.
Automotive Piston Market — by Geography, 2020 and 2028 (%)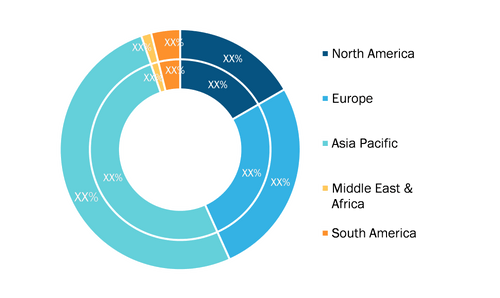 Report : Automotive Piston Market Forecast to 2028 - COVID-19 Impact and Global Analysis By Material Type (Steel and Aluminum); Coating Type (Thermal Barrier Piston Coating, Dry Film Piston Coating, and Oil Shedding Piston Coating); Vehicle Type (Two Wheelers, Passenger Vehicles, and Commercial Vehicles); and Piston Type (Flat-top Piston, Dish Piston, and Dome Piston) and Geography