Increasing use of Biostimulant as an Alternative due to Rise in the Price of Conventional Fertilizers Bolster

Biostimulants Market Growth
According to our latest study on "Biostimulants Market Forecast to 2028 – COVID-19 Impact and Global Analysis – by Product, Mode of Application, Crop Type, and Geography," the Biostimulants Market size is expected to grow from US$ 3,112.49 million in 2022 to US$ 5,796.94 million by 2028; it is estimated to register a CAGR of 10.9% from 2022 to 2028. The report highlights key factors driving the biostimulants market growth and prominent players along with their developments in the market.
Biostimulants are developed to assist farmers in meeting rising agricultural demand on a long-term basis. Biostimulants improve farm productivity and increase crop yield and value. Agricultural biostimulants are mixtures of chemicals, substances, and microorganisms applied to plants or soils to increase crop vigor, production, sensitivity to abiotic pressure, and quality.
Biostimulants Market Breakdown – by Region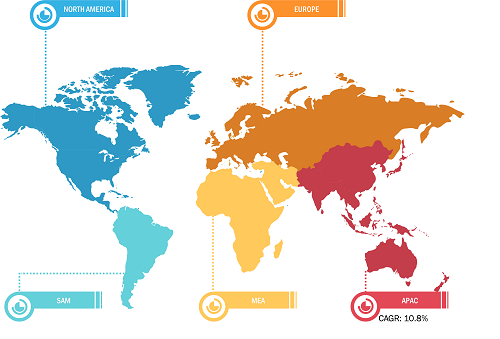 ---
---
Biostimulants Market Size and Forecasts (2022 - 2028), Global and Regional Growth Opportunity Analysis
Biostimulants can be a mixture of substances or microorganisms that help improve the crop condition without affecting any harmful impact on the environment. Biostimulants can be used as a preservative to fertilizers and, thus, reduce fertilizer use. It can also help nutrient uptake, plant growth, and tolerance against abiotic stress. The high use of chemical fertilizers has been affecting water bodies. Nutrients are washed off farms and reach nearby rivers, lakes, and ponds, causing eutrophication. Besides, chemical fertilizers have low use efficiency. It means that plants uptake only a mixture of nutrients from fertilizers. For example, essential nutrients, such as phosphorus, precipitate after being added to the soil and thus remain less available for plants. Also, Nitrogen, another essential nutrient, can become absent due to factors, such as nitrate leaching. According to the American Farm Bureau Federation, in December 2021, significant nutrients used in the production of primary row crops in the US, i.e., Nitrogen (in the forms of anhydrous ammonia, urea, or liquid Nitrogen), Phosphorus and potassium (potash), have experienced varying degrees of upward price pressure. Compared to September 2020 prices, ammonia increased by over 210%, liquid Nitrogen increased by over 159%, urea rose by 155%, and MAP increased by 125%. Similarly, DAP increased by over 100%, and potash rose above 134%. These increasing prices of chemical fertilizers are expected to boost the demand for biostimulants in the coming years.
The key players operating in the biostimulants market include BASF SE, UPL Limited, Valagro, Gowan Company, Total Corbion PLA, FMC Corporation, ILSA S.p.A., Haifa Negev technologies LTD, ADAMA, Rallis India Limited, and AgriTecno Biostimulants and Plant Nutrition. These market players focus on providing high-quality products to fulfill customer demand. For this, they invest significantly in research and development activities.
Impact of COVID-19 Pandemic on Biostimulants Market
The COVID-19 pandemic affected economies and industries in various countries in North America, Europe, Asia Pacific (APAC), South & Central America (SAM), and the Middle East & Africa (MEA) with lockdowns, travel restrictions, and business shutdowns. These shutdowns disturbed global supply chains, manufacturing activities, delivery schedules, and essential and nonessential product sales. Various companies announced possible delays in product deliveries and a slump in future sales of their products in 2020. Further, the bans imposed by various governments in Europe, Asia Pacific, and North America on international travel forced several companies to discontinue their collaboration and partnership plans. All these factors hampered the chemicals & materials industry in 2020 and early 2021, thereby restraining the growth of various markets related to this industry, including the biostimulants market. Before the COVID-19 outbreak, the biostimulants market was mainly driven by the rising demand from the agriculture industry. However, in 2020, various industries had to slow down their operations due to disruptions in value chains caused by the shutdown of national and international boundaries. The COVID-19 pandemic caused supply chain disruptions in key raw materials and disturbed manufacturing processes due to restrictions imposed by government authorities in various countries. However, in 2021, economies resumed their operations gradually, which positively impacted the global marketplace. Moreover, manufacturers were permitted to operate at full capacity, which helped them consolidate their efforts toward closing the gap between demand and supply. As large percentages of citizens of many countries were fully vaccinated by the end of 2021, the manufacturers of biostimulants focused on increasing their production to revive their businesses.
The report includes the segmentation of the biostimulants market as follows:
The global biostimulants market is segmented based on product, mode of application, crop type, and geography. Based on product, the global biostimulants market is segmented into humic substances, amino acids, microbial stimulants, seaweed extracts, and others. Based on the mode of application, the biostimulants market is segmented into foliar spray, seed treatment, and soil application. Based on crop type, the biostimulants market is segmented into cereals and grains, oilseeds and pulses, fruits and vegetables, turf and landscape, and others. Based on geography, the biostimulants market is segmented into North America, Europe, Asia Pacific, the Middle East & Africa, and South & Central America. The North America biostimulants market is further segmented into the US, Canada, and Mexico. The market in Europe is sub segmented into Germany, France, the UK, Italy, Russia, and the Rest of Europe. The Asia Pacific biostimulants market is further categorized into China, India, Japan, Australia, South Korea, and the Rest of Asia Pacific. The market in the Middle East & Africa is further segmented into South Africa, Saudi Arabia, the UAE, and the Rest of Middle East & Africa. The South & Central America biostimulants market is further categorized into Brazil, Argentina, and the Rest of South & Central America.
Contact Us
Download Free PDF Brochure
---
Related Readings
---