Growing demand from aquaculture industry to drive blood meal market growth at CAGR of 3.4% during 2019–2027
According to our latest market study on "COVID-19 Impact and Global Blood Meal Market to 2027 – Analysis and Forecast by Source (Porcine Blood, Poultry Blood, and Ruminant Blood); Application (Porcine Feed, Poultry, Ruminant Feed, Aqua Feed, and Others); Process (Solar Drying, Drum Drying, Ring and Flash Drying, and Spray Drying); and Geography", the blood meal market was valued at US$ 1,825.9 million in 2018 and is projected to reach US$ 2,451.6 million by 2027; it is expected to grow at a CAGR of 3.4% from 2019 to 2027. The report highlights key factors driving the market growth, and prominent players and their developments in the market.
Blood meal is defined dried form of animal blood, which is collected from slaughtering of several livestock species such as cattle, pigs, and chickens under specific conditions. Blood meal is considered as rich source of proteins, and iron and nitrogen, and it is used to supplement feed diets based on cereal grains, plant remains, and forages. The global blood meal market, by application, has been segmented into porcine feed, poultry feed, ruminant feed, aqua feed, and others. In 2018, the poultry feed segment dominated the blood meal market. Poultry feed is food for farm poultry, including chickens, ducks, geese, and other domestic birds. Poultry blood meal is considered to be cost-effective replacement and best performing ingredient. It is widely known for its nutritional profile and is a rich source of protein, iron and lysine content. The rising demand for poultry from the nations across the world has been a factor contributing to the rise and development of the blood meal market
Aquaculture involves farming of fish, crustaceans, molluscs, aquatic plants, and other organisms. Aquaculture involves the farming of both animals and plants inland or in freshwater and coastal areas. Eatable fish and other seafood species are the important source of nutrients and are regarded as the cheapest form of animal proteins. As most capture fisheries across the world are considered to be fully exploited or overexploited, aquaculture is considered as an important sector to meet growing demand for fish. The escalating importance of aquaculture has generated the need to promote the health of species as well as the boost the productivity of the industry using several feed additives, including blood meal. The blood meal produced from spray-drying technique is used as a binder in fish feeds. It is considered as a secondary protein source and an effective replacement of fish meal, in terms of cost and performance. For instance the spray-dried form of blood meal have the capability to substitute 50–75% of the fish meal and in rainbow trout fish, it can replace up to 100% feed ingredients. However, tilapia fed with blood meal exhibited lower performance, compared to those fed with fish meal. It is, therefore, recommendable that only up to 10% of blood meal should be included in production of fish feed. Nevertheless, with the growth of aquaculture industry, the demand for blood meal is rising for the aqua feed application.
The COVID-19 outbreak has been affecting economies and industries in various countries such as China, Italy, Iran, Spain, the Republic of Korea, and France. The global chemical and materials industry is among the major industries that is suffering serious disruptions such as supply chain breaks, technology events cancellations, and office shutdowns as a result of this outbreak. For instance, China is the global manufacturing hub and is the largest raw material supplier for various industries; it is also one of the worst affected countries by the COVID-19 pandemic. The lockdown of various plants and factories in China is affecting the global supply chains and negatively impacting the manufacturing and sales of various chemical and materials. All these factors are anticipated to hinder the growth of the food and beverages industry, thus acting as a factor restraining the growth of various markets related to this industry in the coming months.
The global blood meal market is concentrated with a few well-established players such as Allanasons Pvt Ltd, APC Company, Inc., Apelsa Guadalajara, SA de CV, DAR PRO Ingredients, Ridley Corporation Limited, Sanimax, Terramar Chile, The Boyer Valley Company, Inc., Valley Proteins, Inc., and FASA Group.
Global Blood Meal Market Breakdown - by Region, 2018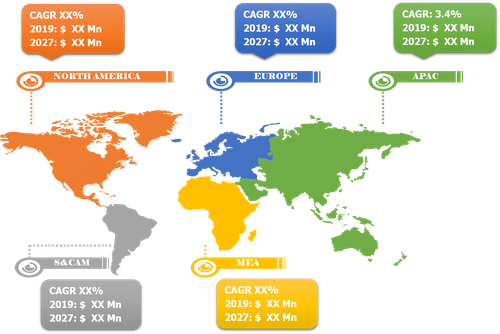 The report includes the segmentation of the global blood meal market as follows:
Blood Meal Market, By Source
Porcine Blood

Poultry Blood

Ruminant Blood
Blood Meal Market, By Application
Porcine Feed

Poultry Feed

Ruminant Feed

Aqua Feed

Others
Blood Meal Market, By Process
Solar Drying

Drum Drying

Ring and Flash Drying

Spray Drying
Blood Meal Market, By Geography
North America
Europe

Germany

UK

France

Italy

Russia

Rest of Europe

Asia Pacific (APAC)

Australia

China

India

Japan

South Korea

Rest of Asia Pacific

Middle East and Africa (MEA)

South Africa

Saudi Arabia

UAE

Rest of MEA

South America

Brazil

Argentina

Rest of South America
Contact Us
Contact Person: Sameer Joshi