Analytical Instruments Segment to Grow at Highest CAGR During 2021–2028
According to our new research study on "Cannabis Testing Market Forecast to 2028 – COVID-19 Impact and Global Analysis – by Product, Type and End User," the market is expected to reach US$ 2,960.20 million by 2028 from US$ 1,512.06 million in 2021. It is estimated to grow at a CAGR of 10.1% from 2021 to 2028. The report highlights trends prevailing in the market, and drivers and hindrances pertaining to the market growth. Factors such as legalization of medical cannabis, increasing awareness through conferences, symposia, and workshops and growing adoption of LIMS in cannabis testing laboratories fuel the growth of the market. However, the stringent regulatory framework for cannabis, and dearth of trained laboratory professionals are the major factors hindering the market growth.
In 2021, the analytical instruments segment held the largest share of the market by 50.96%, by product. Moreover, the consumables segment is estimated to grow at a CAGR of 8.0% from 2021 to 2028. The segment is expected to witness rapid growth owing to increasing use of the consumables as well as capital equipment for cannabis tests because of increasing use of cannabis for medical and recreational use. Also, rapid legalization of the medical cannabis in various parts of the world is likely to favor the growth of the market.
Purpl Scientific; Orange Photonics, Inc; Agilent Technologies, Inc.; SHIMADZU CORPORATION; Merck KGaA; Restek Corporation; WATERS; CannaSafe Analytics; Accelerated Technology Laboratories, Inc.; and Digipath Inc are among the leading companies operating in the cannabis testing market. The companies are adopting inorganic and organic growth strategies to expand their global footprints and product portfolio to meet the rising demands for the cannabis testing. For instance, in January 2021, Agilent Technologies, Inc. announced that it has released MassHunter Workstation Plus 11.0, MassHunter BioConfirm, and MassHunter Networked Workstation 11.0 to comply with regulatory requirements from the EU EMEA and US FDA.
Cannabis testing Market, by Region, 2020 (%)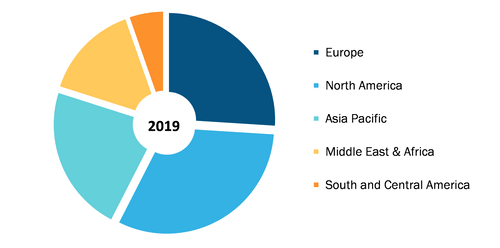 Report : Cannabis Testing Market Forecast to 2028 - COVID-19 Impact and Global Analysis By Product (Analytical Instruments, Consumables, and Software), Type (Potency Testing, Terpene Profiling, Residual Solvent Screening, Microbial Analysis, Pesticide Screening, Heavy Metal Testing, and Genetic Testing), End User (Testing Laboratories, Drug Manufacturers, and Research Institutes), and Portability (Hand held Devices, and Standalone) and Geography
The report segments Global Cannabis Testing market as follows:
By Product
Analytical Instruments

Chromatography Instruments

Spectroscopy

Other Analytical Instruments

Consumables

Software
By Type
By End-User
Testing Laboratories

Drug Manufacturers

Research Institutes
By Portability
Stand alone

Hand held Devices
By Geography
North America

Europe

France

Germany

UK

Spain

Italy

Rest of Europe

Asia Pacific (APAC)

China

India

Japan

Australia

South Korea

Rest of APAC

Middle East & Africa (MEA)

Saudi Arabia

UAE

South Africa

Rest of MEA

South and Central America (SCAM)

Brazil

Argentina

Rest of SCAM
Contact Us
Contact Person: Sameer Joshi
Phone: +1-646-491-9876
Email Id: sales@theinsightpartners.com