Combination Drugs Segment to DriveGrowth of Chronic Cough Market during 2020?2027
According to our new marketresearch study titled ?Chronic Cough Market ?Global Analysis andForecast ? by Drug Class, Route of Administration, and Distribution Channel? the global chronic cough market is expected to reachUS$ 9,854.8 million by 2027 from US$ 5,430.0 million in 2019; it is estimatedto grow at a CAGR of 7.8% from 2020 to 2027. The report highlights the trendsprevalent in the global chronic cough market, and the drivers and deterrents pertainingto its growth.
Based on drug class, the chroniccough market is segmented into antihistamines, corticosteroids, decongestants,combination drug, antibiotics, acid blockers, and others drug class. Thecombination drug segment held the largest share of the market in 2019 and thesame segment is anticipated to register the highest CAGR in the market duringthe forecast period. The growth of the market through combination drug segmentsis estimated to grow due to enhanced sales of combination drugs over thecounter and the use of combination drugs targets more symptoms in a single use.
The growth of the market isattributed to the factors such as increase in rising incidences of chroniccough and growing product developments to treat chronic cough. On the otherhand, product recall is the major factor likely to restraint the market growthduring the forecast period.
Novartis AG; TevaPharmaceutical Industries Ltd; GlaxoSmithKline plc; Bayer AG; Mylan N.V; AmnealPharmaceuticals, Inc; Cipla Inc; Reckitt Benckiser Group plc; SunPharmaceutical Industries Ltd; and Aurobindo Pharma Ltd are some of the prominentplayers operating in the chronic cough market. The market players are focused onorganic strategies to sustain their position in the market. For instance, in October,2019, Aurobindo Pharma received final approval from the United States Food andDrug Administration (USFDA) to manufacture its generic Guaifenesinextended-release tablets in the strengths of 600 mg and 1,200 mg.
Global Chronic Cough Market, By Region, 2019 (%)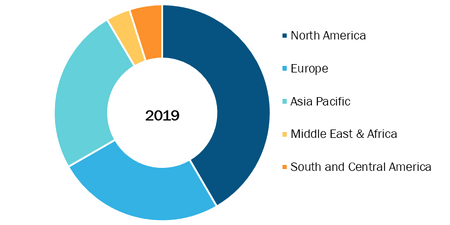 The report segments theglobal chronic cough market as follows:
Global Chronic Cough Market ? By Drug Class
Antihistamines

Corticosteroids

Decongestants

CombinationDrug

Antibiotics

Acid Blockers

Other DrugClass
GlobalChronic Cough Market ? By Route of Administration
GlobalChronic Cough Market ? By Distribution Channel
HospitalPharmacy

Online Pharmacy

Retail Pharmacy
GlobalChronic Cough Market ? By Geography
North America

Europe

UK

Germany

France

Italy

Spain

Asia Pacific (APAC)

Japan

China

India

Australia

South Korea

Middle East and Africa (MEA)

South Africa

UAE

Saudi Arabia

South and Central America (SCAM)
Contact Person: Sameer Joshi