Strategic Development Initiatives by Key Market Players Drives Collagen Peptides Market
According to our new research study titled "Collagen Peptides Market to Forecast 2030 – COVID-19 Impact and Global Analysis – by Source, Form, and Application," the market was valued at US$ 998.95 million in 2023 and is projected to reach US$ 1,490.99 million by 2030; it is expected to register a CAGR of 5.9% from 2023 to 2030.
Collagen peptide manufacturers across the world are investing significantly in strategic development initiatives such as product innovation, mergers & acquisitions, and expansion of their businesses to attract many consumers and enhance their market position. They increasingly invest in product innovation to expand their customer base and meet emerging consumer trends. For instance, in March 2022, Vida Glow, an Australia-based beauty brand, launched natural marine collagen radiance capsules derived from collagen peptide powder made from sustainably sourced fish skin. Additionally, with increasing demand, Vida Glow announced an expansion in the US market in the same month. Moreover, collagen peptide is now increasingly used by animal nutrition manufacturers to enhance the quality of pet food with nutritional enrichment. For instance, in November 2022, Pawable, the UK-based manufacturer, launched "Collar-Gen," a powdered supplement to prevent joint, skin, and digestive issues in dogs. It claims to contain five different types of 100% natural collagen peptides.
Collagen Peptides Market Breakdown – by Region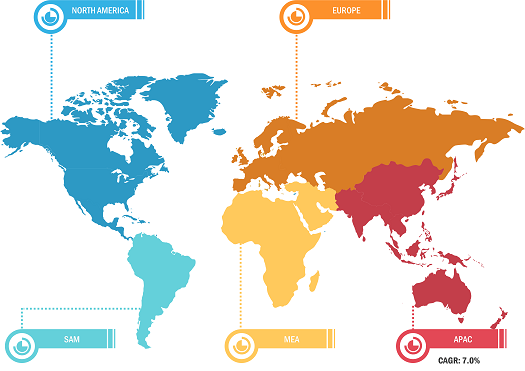 ---
---
Collagen Peptides Market Forecast to 2030 - Global Analysis by Source (Bovine, Porcine, Poultry, Marine, and Others), Form (Dry and Liquid), and Application (Food and Beverages, Pharmaceuticals and Nutraceuticals, Personal Care, and Others)

Various end-use industries are adopting business expansion strategies and scaling production capacity to provide better customer satisfaction. For instance, in July 2020, Rousselot BV and Giusto Faravelli announced a distribution partnership in Italy, effective from October 2020. Under this partnership, Faravelli distributes food and pharmaceutical gelatins, collagen peptides, and biomedical gelatins across Italy. Thus, expanding businesses to other regions or countries to cater to the increasing demand by consumers drives the market growth.
Thus, such product innovations and development strategies by collagen peptide manufacturers extend their reach and gain a competitive edge in international markets.
GELITA AG, Rousselot BV, Titan Biotech Ltd, Tessenderlo Group NV, Ewald-Gelatine GmbH, BioCell Technology LLC, Lapi Gelatine SpA, Weishardt Holding SA, Nippi Collagen NA Inc, and Nitta Gelatin India Ltd are among the key players operating in the global collagen peptides market. These companies have a widespread global presence, which allows them to serve a large range of customers, subsequently contributing to the expansion of their market share. They focus on product launches and geographical expansion to expand their product range in specialty portfolios. Thus, strategic product developments by major players further drive the collagen peptides market growth.
Impact of COVID-19 Pandemic on Collagen Peptides Market
People are increasingly seeking natural and safer alternatives to keep themselves healthy and strengthen their immune systems. The demand for dietary supplements increased dramatically during the initial months of the COVID-19 pandemic. Moreover, as people stayed at home due to government mandates, they focused on their health, fitness, and skincare routine. People started participating in several activities such as yoga, exercises, and Zumba to improve their health. This factor created strong opportunities for the manufacturers of functional food and beverages. Collagen peptide is used in a wide range of functional food and beverages. It is a key ingredient in various nutraceutical supplements as it provides multiple benefits ranging from improving digestive health, significantly reducing wrinkles, improving skin elasticity, and promoting muscle growth to support bone health. These factors impacted the global collagen peptides market growth.
The report segments of collagen peptides market as follows:
Based on source, the collagen peptides market is segmented into bovine, porcine, poultry, marine, and others. Based on form, the collagen peptides market is divided into dry and liquid. Based on application, the collagen peptides market is segmented into food and beverages, pharmaceuticals and nutraceuticals, personal care, and others. Based on geography, the collagen peptides market is segmented into North America, Europe, Asia Pacific (APAC), the Middle East & Africa (MEA), and South & Central America.
Contact Us

Phone: +1-646-491-9876
Email Id: sales@theinsightpartners.com
Download Free PDF Brochure
---
Related Readings
---