According to our latest market study on "Digital Wayfinding Solutions Market Forecast to 2028 – COVID-19 Impact and Global Analysis – by component, deployment, allocation, and geography" the market is projected to reach US$ 664.95 million by 2028 from US$ 234.62 million in 2021; it is expected to grow at a CAGR of 16.0% from 2021 to 2028.
Digital wayfinding solutions assist people traveling within a site or between several locations. The goal is to provide easy-to-follow instructions to users and enable them to get familiar with their surroundings. The digital wayfinding solutions market, characterized by applications such as Waze and Google Maps, aids in electronic navigation using maps and digital routing. It is the next evolutionary step in directional assistance. The wayfinding solutions use external data to assist users in going from one point to another in the most efficient way possible. Touchscreen displays—in the form of big freestanding kiosks, wall-mounted signage, or tablets and smartphones—can be used to show information that may be utilized for providing guidance. Large-scale kiosks and screens are used to provide a full view for as many people as possible to convey generally relevant information. Individuals may also use smaller, personal displays for more specialized wayfinding. Arrows or color markers are commonly used to build familiarity with a certain area. Apart from the color association, signage and arrows that are comparable to road signs are frequently used to direct visitors through an area.


Interactive wayfinding software is a user-friendly digital signage software application that allows businesses to communicate with internal and external audiences. Companies can create wonderful experiences for their customers and staff while providing relevant information on all the possible locations by making indoor navigation and electronic sign management simple for beginners. Advancements in technologies such as 3D mapping, indoor navigation and positioning, and extended reality, and their integration into digital wayfinding solutions are likely to introduce new trends in the market in the coming years. The use of augmented reality in navigation applications is expected to have a favorable impact on the growth of any facility; it also helps the facility owners in retaining their customers and visitors. Users may locate the path they want to take to arrive at their preferred location in the building contributing to the digital wayfinding solutions market growth.
Based on component, the digital wayfinding solutions market is segmented into software and services. In 2021, the software segment led the market with a larger share. Based on deployment, the digital wayfinding solutions market is segmented into on-premise and cloud-based. In 2021, the on-premise segment accounted for a larger market share. Based on application, the digital wayfinding solutions market is segmented into airport, retail, healthcare, museum, and others. In 2021, the retail segment accounted for the largest share of the digital wayfinding solutions market. Based on geography, the digital wayfinding solutions market is segmented into North America, Europe, Asia Pacific (APAC), the Middle East & Africa (MEA), and South America (SAM). In 2021, North America accounted for a significant share of the digital wayfinding solutions market.
Impact of COVID-19 Pandemic on APAC Digital Wayfinding Solutions Market
Governments of APAC countries are coping with the impact of the COVID-19 pandemic on national economies, people's health, and livelihoods in the aftermath of the pandemic, with special concerns about vulnerable individuals and communities. Several Southeast Asian countries have taken dramatic and significant measures to provide an economic safety net for citizens and businesses in distress—including direct cash disbursements, short and medium-term forgivable loans and payment deferments, and unemployment insurance—to avoid an economic collapse and potential depression. Further, the global crisis has altered the shopping habits of people. The enactment of lockdown measures by governments worsened the operations of brick-and-mortar stores in the region. However, when stores and exceptionally tiny local businesses began to reopen, the retail industry was obliged to undergo a digital transition. Digital wayfinding has played an essential part in this transformation, and it is likely to continue to influence the strategies of the retail industry in the coming years contributing to the digital wayfinding solutions market growth.
22 Miles, Inc.; Acquire Digital; Click Grafix; ConnectedSign; Gozio Inc.; Jarma Technologies LLC; LamasaTech Ltd; Ping HD; TrouDigital; Visix, Inc.; Xtreme Media Pvt. Ltd.; Everbridge Inc.; and Digital Wayfinding Solution (Advertise Me Pty Ltd) are a few key players operating in the digital wayfinding solutions market. Several other market players have also been analyzed to understand the global digital wayfinding solutions market growth.
Digital Wayfinding Solutions Market, by Geography, 2021 and 2028 (%)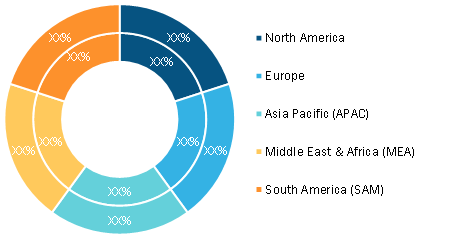 ---
---
Digital Wayfinding Solutions Market Forecast to 2028 - COVID-19 Impact and Global Analysis By Component (Software and Services), Deployment (On-Premise and Cloud-Based), Application (Airport, Retail, Healthcare, Museum, and Others), and Geography



Contact Us
Phone: +1-646-491-9876
Email Id: sales@theinsightpartners.com

Download Free PDF Brochure
---
Related Readings
---