Growing demand for dried tart cherry from various end-use industriesto escalate market growth at 5.5%CAGR during 2020–2027
According to our latest study on "Dried Tart CherryMarket Forecast to 2027 – COVID-19 Impact and Analysis – by Product Type (Freeze Dried, Sun Dried, Infused Dried, and Others),Nature (Conventional and Organic),End Use (Bakery Products, Confectionaries, Dairy Products, Beverages, Cereal andSnack Bars, and Others),and Distribution Channel (Hypermarkets and Supermarkets, Convenience Stores, Online, and Others)," the marketwas valued at US$ 3,069.35million in 2019 and is projected to reach US$ 4,684.44million by 2027; it is expected to grow at a CAGR of 5.5% during 2020–2027.The report highlightskey driving factorsand prominent market players along with their developmentsin the market.
Tart or sour cherry is used across various end-use industries as healthy food, flavoring, or snacking options. Tart cherry is regarded as a super fruit loaded with numerous health benefits. Moreover, the versatility of cherry to be used and consumed in any form makes it a perfect choice for end-use industries. With its signature tangy taste, the tart cherry is known for its intense flavor, and a high is a source of melatonin. In the form of freeze-dried, the nutrients, intense flavor, color, shape are well-retained in tart cherry. Baking with cherries is considered to be part of summer luxury and is highly used in cakes, sweet-bread, cupcakes, brownies, crumb cakes cookies, muffins, pie, etc. Freeze-dried sour cherries are used with vanilla, cinnamon, almond, coffee, and coconut, along with savory foods such as duck, lamb, and salads. These cherries also go along with cereal and chocolate to enhance their visual appearance. Cherries are also used to make jams, yogurts, and oatmeal, amongst others.
Dried tart cherry is mainly being used in several food applications owing to their health benefits. Their cherries boost the immune system and help inhibit several diseases. Dried tart cherry and products have high nutritional value. The rising awareness about the nutritional benefits of these cherries has been a significant factor driving the growth of the global dried tart cherry market. Moreover, consumer inclination toward a healthy lifestyle and improved standard of living are fueling the growth of the market. Shifting consumer focus on natural or organic cosmetic products has driven the manufacturer to use natural ingredients such as tart cherries. Tart cherries are known for their antioxidants and anti-inflammable properties. This makes it useful in several cosmetic products such as face masks and face creams. It is used as an anti-wrinkle cream to improve the skin texture and to prevent premature aging. It is also used in several other cosmetics such as lipsticks and other cosmetic products.
Lockdowns, travel bans, and business shutdown measuresimplemented in the wake of COVID-19 pandemic have led to limitationsin the supply of food and beverage products. This represents a significant loss for dried tart cherry manufacturers.
Cherry Central;CherryActive Australia;Cherryvite Ltd;Enko Meyve Orman Ürünleri San.Tic.Ltd.;Fruit d'Or;Graceland Fruit, Inc.;Payson Fruit Growers;Royal Ridge Fruits;Shoreline Fruit;and Smeltzer Orchard Company, LLC are among the well-established players in the global dried tart cherrymarket.
Dried Tart Cherry Market Breakdown by Region, 2019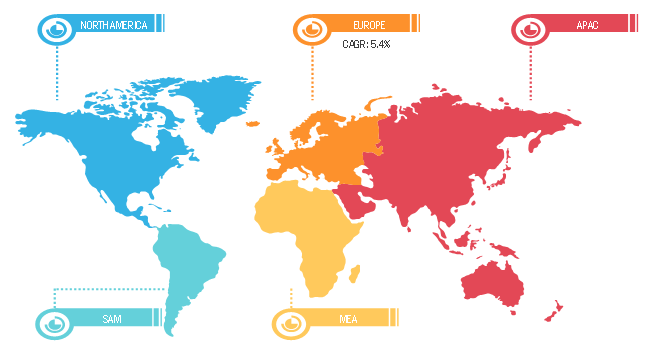 The report segments the global dried tart cherrymarket as follows:
By Product Type
Freeze Dried

Sun Dried

Infused Dried

Others
By Nature
By End Use
Bakery Products

Confectionaries

Dairy Products

Beverages

Cereal & Snack Bars

Others
By Distribution Channel
By Geography
Contact Us
Contact Person: Sameer Joshi
Phone: +1-646-491-9876
Email Id: sales@theinsightpartners.com