The global endpoint security market size is expected to reach US$ 25,073.13 million by 2028, registering at a CAGR of 9.0% from 2022 to 2028, according to a new research study conducted by The Insight Partners.
Nation-states, hacktivists, organized crime, and purposeful and unintentional insider threats pose a hazard to organizations of all sizes. Endpoint security prevents data theft or data loss from devices and exploites endpoints or entry points of end-user devices such as PCs, laptops, and mobile devices. Endpoint security systems prevent cybersecurity threats on a network or on the cloud. Endpoint security solutions also provide complete protection against complex malware and zero-day threats.
North America held the largest share in the global endpoint security market in 2021. North America is a hub for verticals such as IT & telecommunication, BFSI, healthcare, education, and energy & utilities. These sectors have a large client base, which provides significant opportunities for endpoint security solution providers in the region. The leading position of North America in the endpoint security market is attributed to the increasing adoption of advanced technologies such as machine learning, industrial automation, and digitalization across various organizations. Endpoints of devices such as desktops, laptops, mobile phones, digital printers, point-of-sale systems, and Internet of Things (IoT) devices are exploited by cyber-criminals as easy targets of cyberattacks. The rise in remote working, or work-from-home models, has further bolstered the demand for robust endpoint security measures.
Endpoint Security Market — by Geography, 2022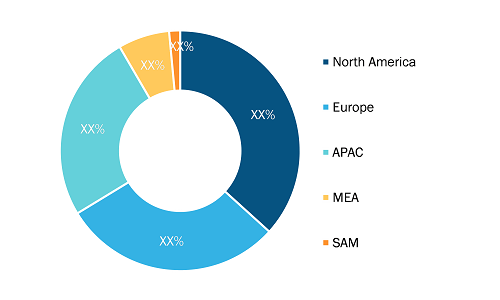 ---
---
Endpoint Security Market Forecast to 2028 - COVID-19 Impact and Global Analysis By Solution (Antivirus, Antispyware, and Antimalware; Firewall; Endpoint Device Control; Intrusion Prevention; and Endpoint Application Control), Services (Consulting, Training & Support, and Managed Services), Deployment (Cloud and On-premise), and Vertical (Government & Defense, BFSI, Retail, IT & Telecom, Healthcare, Energy & Utilities, Education, and Others)
Source: The Insight Partners Analysis
The increased implementation of IoT devices and social media and multimedia platforms has resulted in the overwhelming flow of data in structured and unstructured formats. According to an IBM Marketing Cloud study, machine-based and human-generated data volumes are escalating 10-times faster than conventional business data. Further, as per the Ericsson Mobility Report, the mobile data traffic per smartphone in North America is expected to grow from 14.6 GB/month in 2021 to 52 GB/month by 2027 (27% growth). The increasing number of connected devices and the adoption of IoT technologies across different industries are expected to fuel the growth of the endpoint security market in North America during the forecast period.
The US is the largest consumer-driven endpoint security market share and has the largest economy across the world. High GDP per capita and a positive outlook toward adopting advanced technology are among the major factors propelling organizations from various verticals to invest significantly in research operations and tools, including connected devices and IoT platforms as a service solution. The growing demand for the internet and increasing incidences of cyber-attacks & data breaches, recent advancements in IoT security coupled with the rising demand for cloud applications and data protection are a few major factors driving the growth of the endpoint security market. Regarding technology adoption and supporting infrastructure, the US is a key adopter and innovator. Also, the country serves as a profitable endpoint security market size for endpoint security. Furthermore, there is a high demand for security in various industries such as IT & Telecom, BFSI, healthcare, education, and energy & utilities, and they have a large client base, which is expected to provide lucrative opportunities for the endpoint security market players during the forecast period. Increasing market advances are predicted to offer multi-channel output across industries relevant to client requirements to achieve a security strategy. Thus, these factors are likely to fuel the expansion of the endpoint security market growth in the US in the coming years.
The endpoint security market share is segmented on the basis of solution, services, deployment, and vertical. Based on solution, the endpoint security market is segmented into antivirus, antispyware, and antimalware; firewall; endpoint device control; intrusion prevention; and endpoint application control. Based on services, the endpoint security market is segmented into consulting, training & support, and managed services. By deployment, the endpoint security market is bifurcated into cloud and on-premise. Based on vertical, the endpoint security market is segmented into government & defense, BFSI, retail, IT & telecom, healthcare, energy & utilities, education, and others.
Microsoft; Fortinet, Inc; Cisco Systems, Inc; AO Kaspersky Lab; and McAfee, LLC are a few key players profiled during the study on the endpoint security market. Several other major market players were studied and analyzed during this market research study to get a holistic view of the market and its ecosystem. The endpoint security market report provides detailed market insights, which helps the key players strategize their growth.
The US was the world's worst-affected country due to the COVID-19 pandemic in 2020 and 2021. In various countries of North America, restrictions imposed on travel and business activities hampered the progress of key industries, such as IT & telecom, BFSI, and healthcare. The unfavorable financial conditions also led to limitations on overall manufacturing processes and research and development activities in the region. Further, operational disruptions in SMEs across the region dropped the demand for connected devices. On the other hand, the imposition of lockdown led to the proliferation of the trends such as bring-your-own-devices (BYOD) and work from home, which propelled the demand for endpoint security solutions in North America in 2020.
Contact Us

Phone: +1-646-491-9876
Email Id: sales@theinsightpartners.com
Download Free PDF Brochure
---
Related Readings
---