According to The Insight Partners market research study of 'Europe Critical Care Equipment Forecast to 2027 - COVID-19 Impact and Analysis by product, application, and end-user' the Europe critical care equipment market is expected to reach US$ 11,868.33 million in 2027 from US$ 5,611.47 in 2019. The market is estimated to grow with a CAGR of 9.1% from 2020-2027. The report provides trends prevailing in the Europe critical care equipment market and the factors driving market along with those that act as hindrances.
Based on the product, the Europe the critical care equipment market, is segmented into ventilators, patient monitor systems, infusion pumps, and others. The patient monitoring systems segment held the largest share of the market in 2019, whereas the ventilators segment is anticipated to register the highest CAGR in the market during the forecast period. The patient care monitor systems enable the medical staff to observe patients without being physically present at their bedside, whether in the hospital or their home. Various types of sensors are used to monitor the patient vitals ranging from heart rate, oxygen saturation, body temperature, ECG, Respiration, Non-invasive blood pressure, etc. However, the ventilators segment is anticipated to have highest CAGR as they provide support for patients who cannot breathe on their own or who require assistance to maintain adequate ventilation. While ventilators are typically used in the critical care units of hospitals, they may be used in other care areas as well. Invasive ventilators type of ventilators gently forces normal air (or a mixture of air and added oxygen) through a breathing tube into a patient's airways and down into their lungs. Mechanical ventilation not only ensures that a patient receives sufficient oxygen but also helps move carbon dioxide out of the lungs.
The growth of the market is attributed to some key driving factors such as rise in number of medical device industries and increasing number of covid-19 cases across Europe are key driving factors. However, shortages of staff and protective equipment due to the covid-19 pandemic is expected to obstruct the growth of the market to a certain extent during the forecast years.
Braun Melsungen AG, Baxter International Inc, and Getinge AB are among the leading companies operating in the Europe critical care equipment market.
Europe Critical Care Equipment Market, By Country (% share)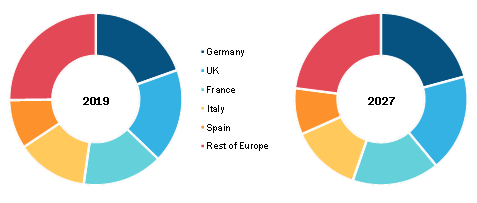 The report segments Europe Critical Care Equipment Market as Follows:
By Product
Cardiology

Pulmonology

Neurology

Orthopaedic

Others
Hospitals

Ambulatory Care Centers

Home Care

Others
Europe

Germany

UK

France

Spain

Italy
Contact Us
Contact Person: Sameer Joshi