Growing Awareness Regarding Chronic Diseases to Escalate Europe Omega-3 Supplements Market Growth
According to our latest market study on "Europe Omega-3 Supplements Market Forecast to 2027 – COVID-19 Impact and Global Analysis – Form (Capsules, Soft gels, Others); Source (Fish Oil, Krill Oil, Algae Oil, Others); Distribution Channel (Supermarkets and Hypermarkets, Specialty Stores, Online Stores, Others )," the market was valued at US$ 5,405.73 million in 2019 and is projected to reach US$ 9,418.50 million by 2027; it is expected to grow at a CAGR of 7.2% from 2020 to 2027. The report highlights key factors driving the market growth and prominent players along with their developments in the market.
Omega-3 supplements contains highly concentrated oils comprising the EPA and DHA along with other essential vitamins and other nutrients. These supplements are mainly derived from oils such as fish oil, calamari oil, krill oil and algal oil. These supplements are available in capsules, soft gels, gummies, and candies. The plethora of health benefits and attributes offered by omega-3 supplements are the key factors driving the growth of the omega-3 supplements market. However, the European consumers mostly rely on natural food resources for their nutrition intake; thus, the consumption of omega-3 supplements in Europe is moderate compared to other countries such as Australia, US, and China. Nonetheless, rising incidences of cardiovascular diseases and growing awareness toward cognitive health is encouraging the European consumers to increase their intake of Omega-3; thus, supplementing the growth of the omega-3 supplements market.
Omega-3 is a polyunsaturated fatty acid that is obtained by the consumption of plant and animal sources as it cannot be synthesized in the human body. These sources include marine and plant-based sources. Omega-3 supplements contain highly concentrated omega-3 fatty acids such as EPA, DHA, and numerous vitamins and minerals that the human body needs to maintain overall health and wellness. In the past few years, consumers' stressful and hectic lifestyles and dietary habits have significantly limited their nutritional intake. The deficiency of omega-3 fatty acids has led to many chronic diseases such as Arthritis, Asthma, Cystic Fibrosis, Alzheimer's Disease, and Other Dementias. For instance, according to the WHO, 58% of Germans aged 65 years and above reported suffering from at least one chronic disease, a proportion that is slightly above other EU countries. In Germany, chronic diseases accounted for 92% of all deaths. EPA and DHA in omega-3 supplements help reduce the risk of heart diseases improving metabolic and cardiovascular health. It has anti-inflammatory properties, and it further supports the immune system by promoting the functionality of immune cells. Rising awareness regarding chronic health has increased the daily intake of omega-3 supplements, thus driving the market growth.
Now Foods; RIMFROST AS; Pharma Nord B.V.; Nordic Naturals, Inc.; Aker BioMarine AS; and Reckitt Benckiser (RB); are among the well-established players in the Europe Omega-3 Supplements market.
Impact of COVID-19 Pandemic on Europe Omega-3 Supplements Market
The COVID-19 first began in Wuhan (China) during December 2019 and since then it has spread at a fast pace across the globe. As of August 2020, the US, Brazil, India, Russia, Spain, and the UK are some of the worst affected countries in terms confirmed cases and reported deaths. The COVID-19 has been affecting economies and industries in various countries due to lockdowns, travel bans, and business shutdowns. Food and beverage is one the world's major industries suffering serious disruptions such as supply chain breaks, technology events cancellations, and office shutdowns as a result of this outbreak. Although, China is the global hub of manufacturing and largest raw material supplier for various industries, it is also one of the worst affected countries due to COVID-19. The lockdown of various plants and factories in China is affecting the global supply chains and negatively impacting the manufacturing, delivery schedules, and sales of various materials. Various companies have already announced possible delays in product deliveries and slump in future sales of their products. In addition to this, the global travel bans imposed by countries in Europe, Asia, and North America are affecting the business collaborations and partnerships opportunities. All these factors are anticipated to affect the industries in a negative manner, which, in turn act as a restraining factor for the growth of various markets related to this industry in the coming months.
Europe Omega-3 Supplements Market Forecast to 2027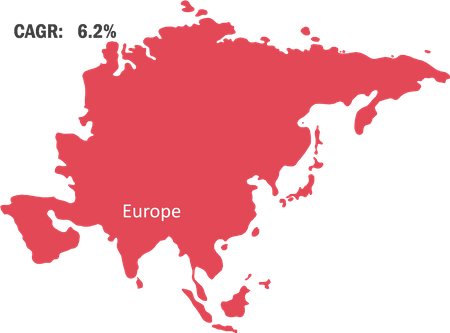 The report includes the segmentation of the Europe Omega-3 Supplements market as follows:
Europe Omega-3 Supplements Market, by Form
Europe Omega-3 Supplements Market, by Source
Fish Oil

Krill Oil

Algae Oil

Others
Europe Omega-3 Supplements Market, by Distribution Channel
Europe Omega-3 Supplements Market, by Geography
Europe

Germany

France

UK

Italy

Rest of Europe
Contact Us
Contact Person: Sameer Joshi
Phone: +1-646-491-9876
Email Id: sales@theinsightpartners.com