Developments and Investments across Air Taxis to Provide Growth Opportunities for eVTOL Aircraft Market During 2024-2028
According to our latest market study on "eVTOL Aircraft Market Forecast to 2028 – COVID-19 Impact and Global Analysis – by Lift Technology, Propulsion Type, Application, and Operation Mode," the market size is expected to grow from US$ 519.81 million in 2024 to US$ 1,756.28 million by 2028; it is anticipated to grow at a CAGR of 35.6% from 2024 to 2028.
The eVTOL aircraft market is currently developing and has not been commercialized yet. However, the developments across the eVTOL aircraft market are rapidly growing as many companies involved in the manufacturing and production of eVTOL aircraft are majorly focusing on testing and certifications of their eVTOL products to cater to the growing market demand. Moreover, a few vendors have already grabbed major contracts from different customers to gain early mover advantages in the booming market. For instance, in 2021, Archer announced that it had a contract for selling 200 eVTOL aircraft models; similarly, EVE (Embraer) has gained a US$ 5.2 billion opportunity by having conditional pre-orders of 1,735 new eVTOL aircraft models whose production is expected to start by 2026. Additionally, the demand for urban air mobility is also rising across a few major countries, leading to the introduction of new eVTOL aircraft markets. Furthermore, the increasing investments in the development of eVTOL platforms for different applications such as air taxis, cargo transport, tourism, and medical logistics is one of the major factors expected to aid the growth of the eVTOL aircraft market over the coming years. It will also drastically change the preference for transportation modes worldwide.
According to the market analysis, Europe is expected to account for the largest market share in the eVTOL aircraft market by 2024. This is driven by countries such as Germany and France that are investing heavily in the development and procurement of advanced eVTOL systems for commercial operations. Further, the need to increase operational efficiency, reduce human intervention for intercity and intracity transportation using eVTOLs, and increase in investment for eVTOL development by several vendors worldwide are a few prominent factors expected to strengthen the market growth of the eVTOL aircraft market. For instance, in March 2022, Volocopter, the pioneer of urban air mobility, raised US$ 170 million in the initial signing of its Series E funding round led by WP Investment, a South Korean investor, at a pre-money valuation of US$ 1.7 billion. In addition, Volocopter is developing new and sustainable mobility options for several cities in European countries. With its family of aircraft, such as the VoloCity, VoloConnect, and VoloDrone, the company is taking a unique approach by developing urban air mobility (UAM) as a holistic ecosystem.
The eVTOL aircraft market is segmented into lift technology, propulsion type, application, and operation mode. Based on lift technology, the eVTOL aircraft market is segmented into multirotor, lift plus cruise, vectored thrust, and others. Based on propulsion type, the market is segmented into hybrid, fully electric, and electric hydrogen. Based on application, the market is categorized into air taxi; cargo transport; last mile delivery; critical missions; inspection, surveying, and mapping; and others. Based on operation mode, the eVTOL aircraft market is segmented into piloted, optionally piloted, and autonomous.
eVTOL Aircraft Market - by Geography, 2024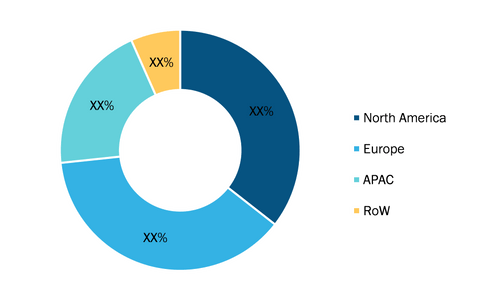 The top five players expected to dominate the global eVTOL aircraft market in 2024 include Lilium GmbH, EHang, Eve Air Mobility, Joby Aviation, and Volocopter GmbH. Several other important market players were studied and analyzed during the course of this market research study to get a holistic view of the market and its ecosystem. The eVTOL aircraft market report provides detailed market insights, which helps the key players strategize their growth.
The overall impact of the COVID-19 pandemic on the aviation industry is severe. The global aviation industry is expected to lose ~US$ 200 billion from 2020 to 2022. The impact of the pandemic has led to declined aircraft production, disrupted supply chain during the FY 2020, postponement of new orders, transportation challenges for sourcing materials or parts, and labor challenges for the aviation industry vendors. This had also adversely affected the eVTOL industry. As the eVTOL industry is still in its development phase and is required to have a rising economic growth to sustain the developments across the eVTOL industry, the ongoing projects such as testing, certification, and production of prototypes have been severely impacted during the pandemic.

Contact Us
Contact Person: Sameer Joshi
Phone: +1-646-491-9876
Email Id: sales@theinsightpartners.com