Innovations in Forging Equipment & Process and Improving Economic Conditions to Provide Growth Opportunities for Forging Market during 2020–2027
According to our latest market study on "Forging Market Forecast to 2027 – COVID-19 Impact and Global Analysis – by Techniques, Materials, and Industries," the market was valued at US$ 72,890.07 million in 2019 and is projected to reach US$ 100,404.83 million by 2027; it is expected to grow at a CAGR of 5.1% from 2020 to 2027.
In the forging industry, automation allows rapid increase in the production volumes and switching between batches, along with bringing improvements in product quality. Recent developments in robotics present several advantages for designers of high-volume forging lines. The adoption of forging techniques is high among end-user industries, such as the automotive, medical, and aerospace. The adoption of automation is increasing at a high rate with growing competition among companies and rising need of increased productivity. With advancements in robotics, the integration of automation technologies with forging processes and equipment would gain pace in the coming years. Further, developments in robotic software to uplift the performance of object-handling tasks would improve forging process efficiency. Thus, developments in robotics are among the major trends emerging in the forging market.
Geographically, APAC led the forging market in 2019 owing to rising foreign investment in the region's developing economies. For instance, India's Mahindra & Mahindra announced its collaboration with REE Automotive in September 2020 for the development and growth of commercial electric vehicles. Similarly, in February 2020, Singapore's aerospace industry announced that it would receive investments worth US$ 360 million over a five-year period. Further, China led the APAC forging market in 2019 owing to a large number of forged products exported by China to American and European markets. However, in the recent years, forging small and medium enterprises (SMEs) have been negatively affected by the high cost of machinery and low profit margin. The forging market is segmented into techniques, materials, and industries. In terms of techniques, the closed die forging is estimated to hold over 70% of the global forging market share. Closed die forging is used for applications requiring high degree of precision, including automotive parts and forged fittings. Based on materials, the steel alloys segment held the largest market share in 2019. The dominance of the steel alloys segment can be attributed to low prices and easy availability of carbon steel. Additionally, high impact strength and improved ductility are boosting the segment growth. Based on industries, the automotive industry held the largest share. The forged automotive parts or components are stronger as compared to parts manufactured through casting or machining. Also, forged parts used in automotive require little or no machining, which helps automotive manufacturers in saving cost and time. The wind power segment is anticipated to witness the highest CAGR owing to increasing investments in wind power energy across the globe.
Impact of COVID-19 Pandemic on Forging Market
The emergence and rapid spread of the novel coronavirus has adversely affected numerous developed and developing countries across the world. The continuous surge in the count of COVID-19 patients is threatening several industries worldwide. Moreover, it is becoming apparent with the COVID-19 pandemic spreading across the US that few can escape its scope, presenting significant challenges to all industries. This had temporarily closed down all production plants across all industries and has affected the supply chain and logistics industry of the country adversely. Owing to nationwide lockdown across major economies, such as the US and Canada, the supply chain of major techniques of forging was adversely affected, thereby impacted the manufacturing of the same.
Alcoa Corporation; All Metals & Forge Group; CFS Machinery Co., Ltd.; Consolidated Industries, Inc.; Farinia Group; Fountaintown Forge, Inc.; Pacific Forge Incorporated; Patriot Forge Co.; Precision Castparts Corp.; and Scot Forge are among the companies operating in the forging market.
Forging Market — by Geography, 2019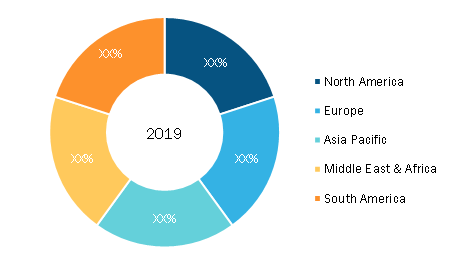 The report segments the global forging market as follows:
By Techniques
Closed Die Forging

Open Die Forging

Seamless Forging
By Materials
Nickel-Based Alloys

Titanium Alloys

Aluminum Alloys

Steel Alloys

Others
By Industries
Automotive

Aerospace

Railway

Heavy Equipment

Wind Power
By Geography
North America

Europe

France

Germany

Italy

UK

Russia

Rest of Europe

Asia Pacific

China

India

South Korea

Japan

Australia

Rest of APAC

Middle East & Africa

South Africa

Saudi Arabia

UAE

Rest of MEA

South America

Brazil

Argentina

Rest of SAM
Contact Us
Contact Person: Sameer Joshi
Phone: +1-646-491-9876
Email Id: sales@theinsightpartners.com