Growing Demand for Convenience Food Items to Escalate Fruit Snacks Market Growth
According to our latest market study on "Fruit Snacks Market Forecast to 2027 – COVID-19 Impact and Global Analysis – by Type (Sweets and Savoury, Beverages, Dairy, and Others), Fruit Family (Apple, Mango, Banana, Pineapple, Berry, Mixed, and Others), and Distribution Channel (Supermarkets and Hypermarkets, Convenience Stores, Online Retailing, and Others)," the market was valued at US$ 5,057.87 million in 2019 and is projected to reach US$ 9,174.86 million by 2027; it is expected to grow at a CAGR of 7.8% from 2020 to 2027. The report highlights key factors driving the market growth and prominent players, along with their developments, in the market.
Fruit snacks are processed and sugar-rich confectionery food, especially meant for children. The main ingredient in these snacks is refined sugar, extracted from white grape juice and apple juice. These snacks are similar to the gummy candies and come in several flavors such as strawberry, raspberry, orange, and white grape. Fruit snacks are full of nutritional content as they contain essential nutrients such as potassium, vitamins, magnesium, and fiber, which help mitigate cardiovascular diseases, high blood pressure, and obesity.
Surging demand for fruit snacks is attributed to the rise in purchasing power, and growing consumer preference toward healthy and ready-to-eat convenience food items. Further, with the growing food & beverages industry and improving economic conditions, consumers globally are inclined toward convenience foods. Consumers prefer fresh and less processed ready-to-eat products that are equally healthy and nutritious. With the expansion of distribution channels, convenience foods have found a shelf in the supermarkets and retail outlets. Additionally, the change in working demographics and busy lifestyles are among the other factors promoting the demand for convenience food items. Besides, major companies are coming up with the improved quality of fruit snacks and approaching efficient distribution channels to serve the broader customer base.
Bare Snacks; Crispy Green Inc.; General Mills Inc.; Ferrero; Mount Franklin Foods, LLC; Nutty Goodness, LLC ; Seneca Foods; Sunkist Growers, Inc.; SunOpta; and Welch's are among the well-established players in the fruit snacks market.
Impact of COVID-19 Pandemic on Fruit Snacks Market
The COVID-19 outbreak was first reported in Wuhan (China) in December 2019, and since then, it has spread at a fast pace across the globe. As of December 2020, the US, India, Brazil, Russia, France, the UK, Italy, Spain, Argentina, Colombia, Germany, and Mexico are among the worst-affected countries by this pandemic. The pandemic has affected economies and industries in various countries due to travel bans, lockdowns, and business shutdowns. Food and beverages is one of the world's major industries suffering severe disruptions such as supply chain breaks, technology events cancellations, and office shutdowns due to the pandemic crisis. The lockdown of various plants and factories in North America, Europe, Asia Pacific, South America, and the Middle East and Africa has disturbed the global supply chains, and manufacturing, delivery schedules, and product sales. Also, the travel bans imposed by countries in Europe, Asia, and North America are affecting business collaborations and partnership opportunities. With the adverse effect on the food and beverages industry, the COVID-19 pandemic restraining the growth of various markets related to this industry.
Geographic Overview of Fruit Snacks Market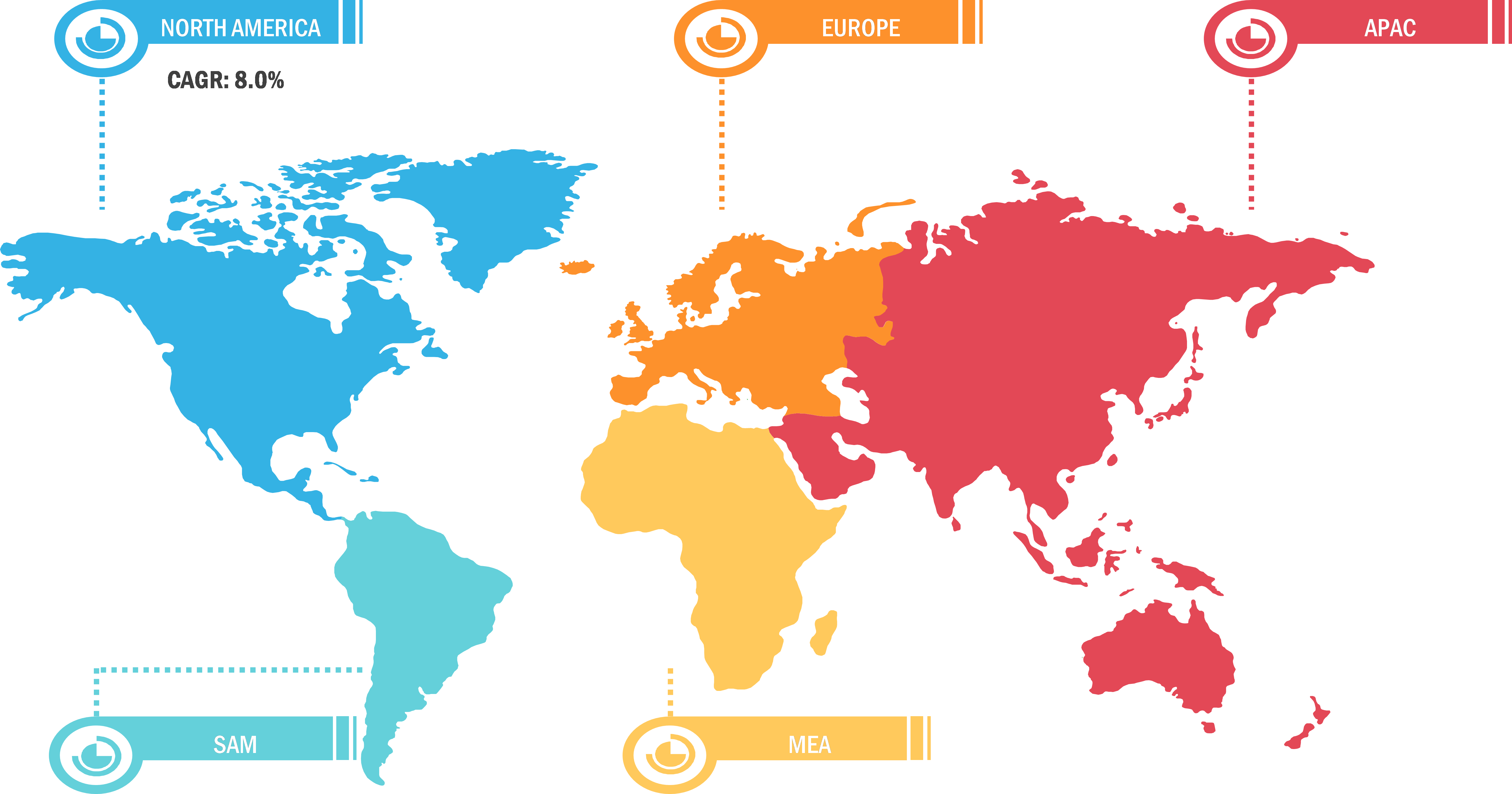 ---
---
Fruit Snacks Market Forecast to 2027 - COVID-19 Impact and Global Analysis By Type (Sweets and Savoury, Beverages, Dairy and Others); Fruit Family (Apple, Mango, Banana, Pineapple, Berry, Mixed and Others); and Distribution Channel (Supermarkets and Hypermarkets, Convenience Stores, Online Retailing and Others)
The report includes the segmentation of the global fruit snacks market as follows:
Fruit Snacks Market, by Type
Sweets and Savoury

Beverages

Dairy

Others
Fruit Snacks Market, by Fruit Family
Apple

Mango

Banana

Pineapple

Berry

Mixed

Others
Fruit Snacks Market, by Distribution Channel
Supermarkets and Hypermarkets

Convenience Stores

Online Retailing

Others
Fruit Snacks Market, by
Geography
North America

Europe

Germany

France

UK

Italy

Russia

Rest of Europe

Asia Pacific (APAC)

Australia

China

India

Japan

South Korea

Rest of

Asia Pacific

Middle East &Africa (MEA)

South Africa

Saudi Arabia

UAE

Rest of Middle East &Africa

South America

Brazil

Argentina

Rest of South America
Contact Us

Phone: +1-646-491-9876
Email Id: sales@theinsightpartners.com

Download Free PDF Brochure
---
Related Readings
---