Rising adoption of low and ultralow density SMC products projected to escalate gas turbine market growth at CAGR of 3.9%
Latest market study on "Global Gas Turbine Market to 2027 – Analysis and Forecast By Technology (Open Cycle and Combined Cycle); Capacity (Below 40 MW, 40-120 MW, 120-300 MW, and Above 300 MW); Application (Power Generation, Oil and Gas, and Industrial), and Geography" accounted for US$ 21,015.97 million in 2018 and is expected to grow at a CAGR of 3.9% during 2019–2027 to reach US$ 29,447.30 million by 2027. The report highlights key driving factors and also the prominent players and their developments in the market.
Gas turbine is an internal combustion engine comprising combustion chambers that releases expanding gases, which further drive the blades of a turbine. The gas turbine converts natural gas and other liquids into mechanical energy. This energy then fuels generators to produce electrical energy. Various advantages associated with gas turbines are high power to weight ratio and low operations pressure. Despite being small in size, the gas turbines possess a high power rating. They reduce carbon emissions and release fewer emissions into the air compared to other engines.
A gas turbine refers to a combustion engine that is eco-friendly as it not only runs on natural gas and it produces less exhaust gas pollution compared to the internal combustion engines. The gas-fired turbines are faster, more efficient, and less polluting than coal-fired and nuclear power plants. Gas turbines make use of natural gas, light gas, and bioethanol for its working. An increase demand for natural gas fired power plants, rising concerns regarding emissions released by GHG and stringent government norms for the adoption of gas-fired turbines have stimulated the demand for gas turbines.
Besides this, regional government offering incentives to companies using natural gas-based turbines for power generation, oil & gas, aviation, and process plants also pay impetus to the gas turbine market. In some countries, nuclear power stations have been closed amid the political pressure and wrapped financial markets, which has led to the use of gas turbines. Gas turbines are a type of internal combustion, in which the burning of an air-fuel mixture produced hot gases that spins the blades of the turbine to produce electricity. The hot gases during fuel combustion produce energy and not the fuel itself; therefore, gas turbines are less polluting compared to coal or nuclear sources. The natural-gas driven gas turbine produces nearly three times less carbon dioxide emission compared to coal-driven turbines. In comparison with alternatives such as coal and nuclear energy sources, gas turbines require low operational costs and generate cleaner power.
Ansaldo Energia S.p.A, General Electric Company, Harbin Electric Company Limited, Kawasaki Heavy Industries, Ltd., Man Energy Solutions, Mitsubishi Hitachi Power Systems, Ltd., Siemens AG, Solar Turbines Incorporated, Wärtsilä Corporation, and Bharat Heavy Electricals Limited (BHEL)are some of the well-established players in global gas turbine market.
Global Gas Turbine Market Breakdown—by Region, 2018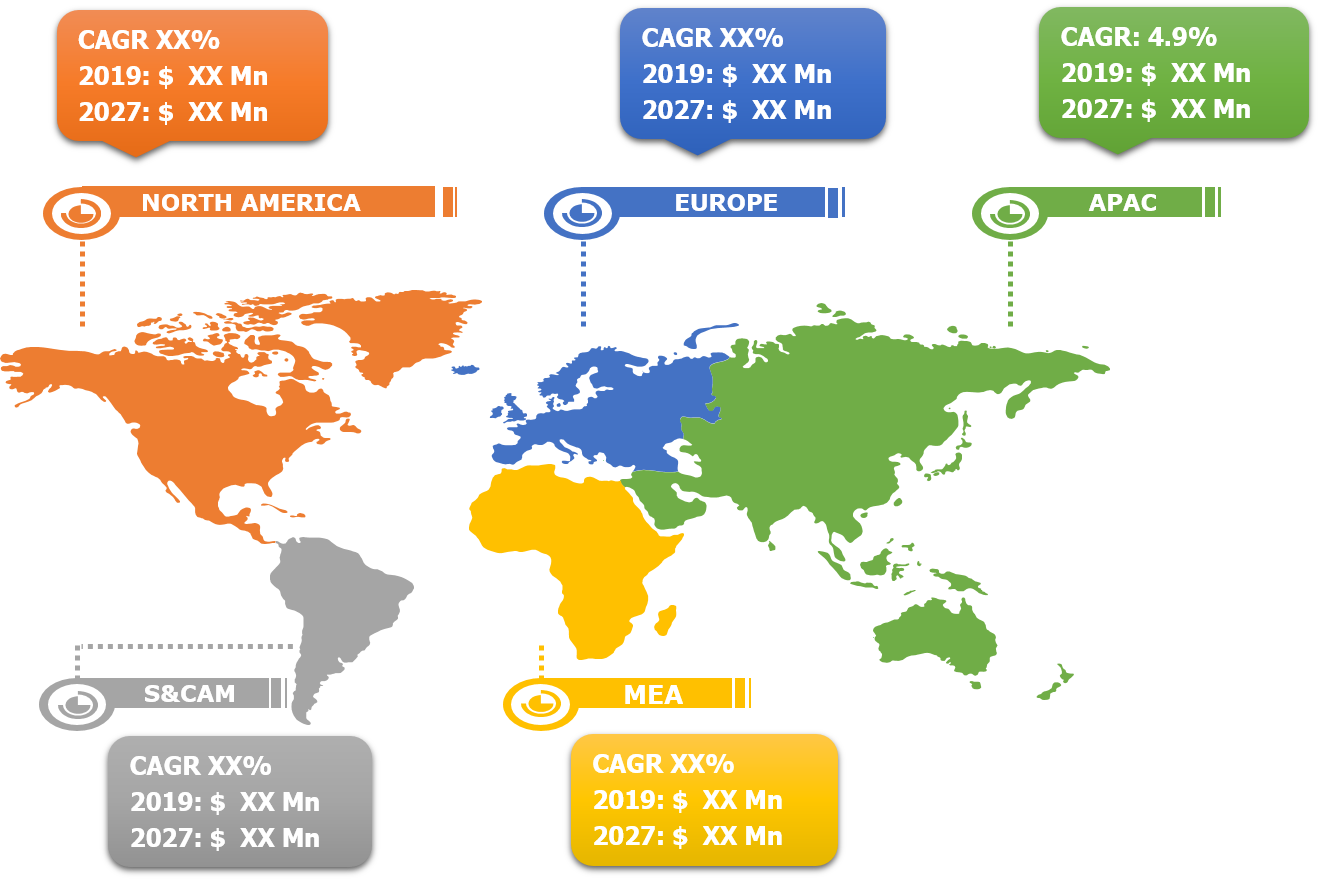 The report segments the global gas turbine market as follows:
By Technology
By Capacity
Below 40 MW

40-120 MW

120-300 MW

Above 300 MW
By Application
Power Generation

Oil & Gas

Industrial
By Geography
North America

Europe

Germany

UK

France

Italy

Russia

Rest of Europe

Asia Pacific (APAC)

Australia

China

India

Japan

South Korea

Rest of Asia Pacific

Middle East &Africa (MEA)

South Africa

Saudi Arabia

UAE

Rest of MEA

South America

Brazil

Argentina

Rest of South America
Contact Us
Contact Person: Sameer Joshi