Rising Applications in Pharmaceutical and Healthcare Industry to Provide Growth Opportunities for IR Spectroscopy Market


According to our latest market study on "IR Spectroscopy Market Forecast to 2027 – COVID-19 Impact and Global Analysis – by Technology, Product Type, and End-User," the market was valued at US$ 1,244.57 million in 2020 and is projected to reach US$ 1,998.22 million by 2028; it is expected to grow at a CAGR of 6.3% from 2021 to 2028.
IR spectroscopes are prominently used in healthcare & pharmaceutical industries. Owing to rising investments in diagnostics and biomedical research, the scope of IR spectroscopy market is expanding. As clinical and research instrumentation, optical spectroscopy, and sensing are the major part of life sciences, IR spectroscopy provides ideal means for real-time analysis and non-destructive sampling in labs. Additionally, increasing demand for IR spectroscopy from various pharmaceutical companies for integrating new age cloud-based devices is further propelling the market growth.
Geographically, North America held the largest share of the IR spectroscopy market in 2020, followed by Europe and Asia Pacific. Further, Asia Pacific is projected to witness the highest growth rate during the forecast period. The IR spectroscopy market is segmented into technology, product type, end-user, and geography. Based on technology, the market is categorized into near-infrared, mid-infrared, and far-infrared. The mid-infrared segment represented the largest share of the overall market. Based on product type, the market is segmented into benchtop spectroscopes, micro spectroscopes, portable spectroscopes, and hyphenated spectroscopes. In 2020, the benchtop spectroscopes segment accounted for a substantial share in the global IR spectroscopy market. Based on end-use industry, the market is segmented into healthcare, chemicals, oil & gas, food & beverages, and other end-users. The healthcare segment represented the largest share of the overall market.
Impact of COVID-19 Pandemic on IR Spectroscopy Market
The COVID-19 crisis is affecting the industries worldwide. The global economy took the worst hit in 2020 and it is likely to continue in 2021. The outbreak has created significant disruptions in primary industries such as food & beverages, medical, energy & power, electronics & semiconductor, petroleum, and chemicals. A sharp decline in the growth of mentioned industrial activities is impacting the growth of the global IR spectroscopy market as they are the major supply and demand sources for IR spectroscopy products and solutions. The factory shutdowns, travel bans, trade bans, and border lockdowns to combat and contain the outbreak have impacted manufacturing, supply, and sales of various electronic components that are required for the manufacturing of IR spectroscopy.
Agilent Technologies, Inc.; Bruker Corporation; Hitachi, Ltd.; HORIBA LTD.; JASCO International Co., Ltd.; PerkinElmer Inc.; Shimadzu Corporation; Thermo Fisher Scientific Inc.; Lumex Instruments; and Carl Zeiss AG are among the few major companies operating in the IR spectroscopy market.
IR Spectroscopy Market — by Geography, 2020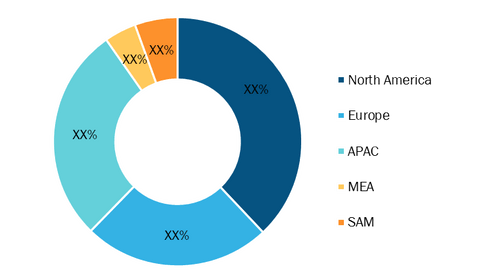 Report : IR Spectroscopy Market Forecast to 2028 - COVID-19 Impact and Global Analysis By Technology (Near-Infrared, Mid-Infrared, and Far-Infrared), Product Type (Benchtop Spectroscopes, Micro Spectroscopes, Portable Spectroscopes, and Hyphenated Spectroscopes), and End user (Healthcare, Chemicals, Oil & Gas, Food & Beverages, and Other End users), Geography
The report segments the global IR spectroscopy market as follows:
IR Spectroscopy Market – by Technology
Near-infrared

Mid-infrared

Far-infrared
IR Spectroscopy Market – by Product Type
Benchtop Spectroscopes

Micro Spectroscopes

Portable Spectroscopes

Hyphenated Spectroscopes
IR Spectroscopy Market – by End-User
Healthcare

Chemicals

Oil and Gas

Food and Beverages

Other End-Users
IR Spectroscopy Market – By Region
North America

Europe

France

Germany

Italy

UK

Russia

Rest of Europe
Asia Pacific

China

India

South Korea

Japan

Australia

Rest of APAC

Middle East & Africa

South Africa

Saudi Arabia

UAE

Rest of MEA

South America

Brazil

Argentina

Rest of SAM
Contact Us
Contact Person: Sameer Joshi
Phone: +1-646-491-9876
Email Id: sales@theinsightpartners.com