According to our latest market study on "Java Content Management System Software (CMS) MarketForecast to 2027 – COVID-19 Impact and Global Analysis– by Product Type (Monthly Subscription andAnnual Subscription) andApplication (SMEs andLarge Enterprises),"the market was valued at US$ 1,534.7 million in 2021 and is projected to reach US$ 2,818.5 million by 2027; it is expected to grow at a CAGR of 10.2% from 2020 to 2027.
In 2019, North America led the global Java content management systemSoftware(CMS) market with 40.78% revenue share, followed by Europe and APAC.North America is the most technologically advanced region, and it comprises significant economies such as the US, Canada, and Mexico. Continuous technological advancementsled by notable investmentsin R&D activitiesfrom tech giantsdrive the region's competitive market.The growth of theJava CMS software market in North America is mainly attributed to the high penetration rate of digitalization (~81%) across the region. Further, the increasing number of SMEs, positive outlook for adopting new technologies, and favorable economic policies for technological developments make North America a crucial region for the market players. The US and Canada comprise a high number of bloggers in the world owing to robust digital infrastructure. Moreover, the number of bloggers in Mexico is surging due to the increasing penetration of internet, smartphones, and cameras. Large enterprises and small and mid-size enterprises (SMEs)—especially from the food, hospitality, automotive, media, and entertainment industries—are heavily investing in digital tools to offer an improved experience to their customers. The players operating in the Java content management system (CMS)Software marketfocus on both organic and inorganic growth strategies to sustain a competitive environment in the market. For instance, in January 2020,dotCMS partnered with Content Bloom, a Canada-based digital agency with offices in the US, the UK, Benelux, and India. The partnership will help Content Bloomdeliver compelling solutions that enable brands to shine in an increasingly complex digital landscape.
Europe stood second in the Java content management system (CMS)Softwaremarketwith a decent market share in 2019, and it is anticipated to registera steady CAGR from 2020 to 2027.The demand for software development services is rising from the European industrial sector. Companies in manufacturing, food &beverages, energy &power, finance, real estate, construction, hospitality, and media &entertainment industries are heavily investing in digital technologies to optimize various business development activities. Further, the governments of European countries support digitalization. Therefore, the need for digital content management is consequently increasing, which fuels the adoption of Java content management system (CMS) Softwarein the region.

Companies operating in thejava content management system (CMS) software marketadopt inorganic market strategies, mainly acquisition, to expand their businessacross the world, meet the growing demand from end users, andmaintain their brand name globally.
Impact of COVID-19 Pandemicon Java Content Management System (CMS) Softwaremarket
The COVID-19 outbreak was first reportedin Wuhan, China,inDecember 2019. The outbreak is adverselyaffecting economies and industries in various countries due to lockdowns, travel bans, and business shutdowns. The continuous growth in the number of infected patients is leading the government to impose lockdown across the nation's borders. The majority of the ICT companies are either temporarily shut or operating with minimum staff. However, due to lockdown and work from home (WFH) scenarios, the business of content management providers might get hindered as companies are postponing the purchase of new solutions.
Java Content Management System (CMS) SoftwareMarket–Geographic Breakdown, 2019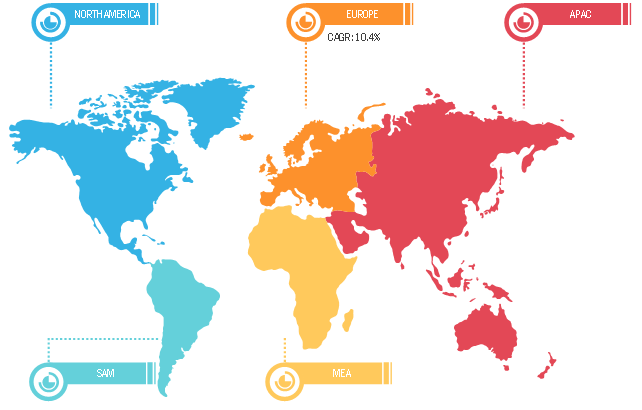 The report segments the global Java Content Management System (CMS) software Market as follows:

By Product Type
Monthly Subscription

Annual Subscription

By Application

By Geography
North America
Europe

France

Germany

Italy

UK

Russia

Rest of Europe

Asia Pacific (APAC)

China

India

South Korea

Japan

Australia

Rest of APAC

Middle East &Africa (MEA)

Saudi Arabia

UAE

South Africa

Rest of MEA

South America (SAM)

Brazil

Argentina

Rest of SAM
Contact Us
Contact Person: Sameer Joshi
Phone: +1-646-491-9876
Email Id: sales@theinsightpartners.com