Injection Vaccine to Dominate Mediterranean Fish Vaccine Market During 2022–2030
According to our new research study on "Mediterranean Fish Vaccine Market Forecast to 2030 – COVID-19 Impact and Regional Analysis – by Vaccine Type, Route of Administration, Species, and Clinical Indication," the Mediterranean fish vaccine market size is expected to grow from US$ 96,323.46 million in 2022 to US$ 2,09,030.80 million by 2030; the market is estimated to register a CAGR of 10.2% from 2022 to 2030. Government initiatives to develop the Mediterranean aquaculture industry and the surging demand for aquatic animal-derived food products are among the key factors driving the market growth. However, strict regulatory policies for the approval of vaccines hinder the Mediterranean fish vaccine market growth.
Mediterranean Fish Vaccine Market, by Country, 2022 (%)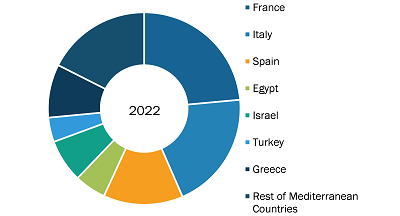 ---
Mediterranean Fish Vaccine Market to Grow at a CAGR of 10.2% to reach US$ 2,09,030.80 million from 2022 to 2030
Download Free Sample
---
Mediterranean Fish Vaccine Market Forecast to 2030 - Regional Analysis by Vaccine Type (Inactivated Vaccine, Live-attenuated Vaccine, Toxoid Vaccine, Subunit Vaccine, Conjugate Vaccine, and Recombinant Vector Vaccine), Route of Administration (Immersion Vaccine, Injection Vaccine, and Oral Vaccine), Species (Turbot, European Anchovy and Seabass, Salmon, Mediterranean Sea Bass, Common Dentex and Common Pandora, Sea Bream, Rainbow Wrasse, Sparus Aurata, Trout, Mediterranean Swordfish and Bluefin Tuna, Grouper and Amberjack, and Others), and Country

Source: The Insight Partners Analysis
The Mediterranean fish vaccine market, by route of administration, is segmented into immersion vaccine, injection vaccine, and oral vaccine. The injection vaccine segment held the largest Mediterranean fish vaccine market share in 2022. Injection is the most common method of vaccination. Injecting vaccines intramuscularly or intraperitoneally using a needle usually requires manual efforts. Compressed air devices have also been tested as another injection method, but they are not commonly used. Injection vaccines need fish of sufficiently large size, and even with automation, the vaccination becomes labor-intensive for fish farming businesses and stressful for the fish. These issues with the injection method have led to the development of several semiautomated techniques where the fish are forced through an enclosed space and, as they are wedged in, they are auto-injected with the vaccine. The use of these techniques is common, owing to the possibility of a large number of lesions at the injection site. Vaccination by injection delivers the most direct antigens to the immune system through intraperitoneal and intramuscular injection. The vaccine can be concentrated and delivered with adjuvants and other beneficial compounds (e.g., bacterial antigens/bacterial cells, carriers, etc.), which may not be possible with other methods.
The immersion vaccine segment is anticipated to register the highest CAGR in the Mediterranean fish vaccine market during the forecast period. An immersion vaccine is a safe and general route of administering a vaccine. It involves immersing the fish in a solution containing the vaccine. Through this route, antigens in the surrounding liquid are made accessible to all mucosal surfaces and skin. It is an affordable and low-stress method that needs less manual interference relative to the injection of vaccines. This is especially effective in inducing mucosal immunity but less effective in developing humoral immunity. Vaccination through the immersion route is generally restricted to smaller fish, as large fishes require immersion liquid in huge volumes. Since injection cannot be used on small fish, oral or immersion delivery methods are preferred for early vaccination. A hyperosmotic solution and ultrasound for the immersion liquid have led to further enhancements in the efficacy of immersion vaccines.
Zoetis Inc, Merck & Co Inc, HIPRA SA, ICTYODEV SAS, Acuipharma Aquaculture Health SL, Phibro Animal Health Corp, Vaxxinova International BV, Kyoto Biken Laboratories Inc, Elanco Animal Health Inc, and Ceva SA are among the key companies operating in the Mediterranean fish vaccine market.
The report segments the Mediterranean fish vaccine market as follows:
Based on vaccine type, the Mediterranean fish vaccine market is segmented into inactivated vaccine, live-attenuated vaccine, toxoid vaccine, subunit vaccine, conjugate vaccine, and recombinant vaccine. Based on species, the market is segmented into turbot, European anchovy and seabass, salmon, Mediterranean Sea bass, common dentex and common pandora, sea bream, rainbow wrasse, sparus aurata, trout, Mediterranean swordfish and bluefin tuna, grouper and amberjack, and others (Beadlet anemone, Blacktailed wrasse, Black scorpionfish, Cardinalfish, Caulerpa prolifera, Damselfish, Deep-snouted pipefish, and Dotted seaslug). By clinical indication, the Mediterranean fish vaccine market is bifurcated into bacterial infection and viral infection. Based on country, the Mediterranean fish vaccine market is segmented into France, Italy, Spain, Egypt, Turkey, Greece, Israel, and Rest of the Mediterranean.
Contact Us

Phone: +1-646-491-9876
Email Id: sales@theinsightpartners.com
Download Free PDF Brochure
---
Related Readings
---