Increasing Adoption of Light-Weight Night Vision Devices to Provide Growth Opportunities for Military Optronics Surveillance & Sighting Systems Market During 2021-2028
According to our latest market study, titled "Military Optronics Surveillance & Sighting Systems Market Forecast to 2028 – COVID-19 Impact and Global Analysis – by Technology, Device Type, Platform, and Geography," the market is expected to grow from US$ 15,099.84 million in 2021 and reach US$ 21,394.01 million by 2028. It is estimated to rise at a CAGR of 5.10% from 2021 to 2028.
The global military optronics surveillance & sighting systems market is spread across five main regions North America, Europe, Asia Pacific (APAC), the Middle East and Africa (MEA), and South and Central America (SCAM). In 2020, North America led the global market with a substantial revenue share, followed by Europe and APAC.
A night vision device provides soldiers with greater situational awareness by illuminating the surroundings during their night-time operations, while thermal imaging help soldiers locate a target in poor visibility conditions. Earlier, night vision devices used relatively heavier components, adding weight to soldiers. However, various market players are focusing on innovation to produce lightweight products keeping their comfort in mind. For example, ACTinBlack has developed a lightweight binocular night vision device with high optical performance and an ergonomic design.
Due to the increasing innovation and the rising threat of terrorist attacks at night, the uptake of night vision devices with thermal imaging is also increasing. The demand for highly advanced individual warfighter systems is gaining momentum in various regions. It is more in demand in Europe and North America, where land forces are looking forward to equipping soldiers with optical devices, personnel protective equipment, and intelligence capabilities, enabling them to perform with utmost competence on the modern battlefield.
Moreover, high budget allocation for advanced military systems and equipment procurement, territorial disputes among the countries, and increasing attacks at the borders make imagery a crucial aspect in decision-making processes. This factor is expected to raise the adoption of night vision optoelectronic devices in the military and defense sector over the next few years.
The global military optronics surveillance & sighting systems market is segmented into technology, device type, and platform. Based on technology, the market is segmented into image intensification, military laser systems, and electro-optics/infrared. On the basis of device type, the market is categorized into night vision devices, handheld thermal imaging devices, integrated observation equipment, standalone infrared, seismic and acoustic sensors, and others. In terms of platform, the market is classified into ground, airborne, and naval. Geographically, the market is segmented into North America (US, Canada, and Mexico), Europe (France, Germany, Italy, UK, Russia, and the Rest of Europe), Asia Pacific (Australia, China, India, South Korea, Japan, and the Rest of APAC), the Middle East & Africa (South Africa, Saudi Arabia, UAE, and the Rest of MEA), and South America (Brazil, Argentina, and the Rest of SAM).
Impact of COVID-19 Pandemic on Military Optronics Surveillance & Sighting Systems Market
The US is the largest spending country in military technologies across the world, making North America the leading market for military technologies. Despite the COVID-19 pandemic, the worldwide military expenditure has witnessed a growth of nearly 4% wherein majority of countries, worldwide, have increased their military budget. According to the study, the US accounted for around 29% of the total military optronics surveillance & sighting systems market in 2020 and witnessed a decline of 3.4%, owing to the pandemic challenges that vendors faced. Other countries in this region also faced the demand & supply gap across their respective military technologies markets.
Military technology manufacturers observed drop in deliveries for new defense technologies. Together with cancelation or rescheduling of military orders and delivery, labor shortage, and several other factors, this hampered their businesses and ability to deliver substantial volumes of new products to the customers. The increase in order backlogs and the disrupted supply chain led to a decline in the revenues of the military optronics surveillance & sighting systems market in 2020.
HENSOLDT; Lockheed Martin Corporation; Thales Group; L3Harris Technologies, Inc.; Israel Aerospace Industries Ltd.; Raytheon Technologies Corporation; Safran; Ultra; Teledyne FLIR LLC; and Rafael Advanced Defense Systems Ltd. are some of the key companies operating in the global military optronics surveillance & sighting systems market.
Military Optronics Surveillance & Sighting Systems Market — by Geography, 2020 and 2028 (%)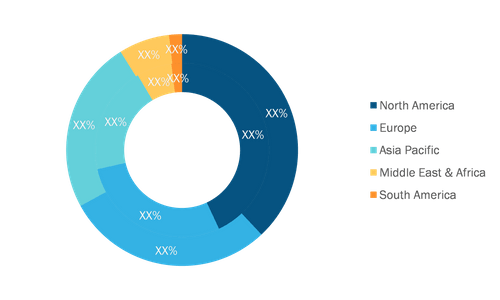 Contact Us
Contact Person: Sameer Joshi
Phone: +1-646-491-9876
Email Id: sales@theinsightpartners.com