Non-Broadcast applications using multi-viewer monitoring systems to provide growth opportunities for the market during 2021–2028
According to our latest market study on "Multi-Viewer Monitoring System Market Forecast to 2028 – COVID-19 Impact and Global Analysis – by Component, Application, and End User," the market is expected to grow from US$ 1,113.1 million in 2021 and is projected to reach US$ 1,554.1 million by 2028; it is expected to grow at a CAGR of 4.9% from 2021 to 2028.
Multi-viewer monitoring system finds application in various industries requiring broadcasting or multi-channel monitoring facilities. Based on application, the multi-viewer monitoring system market can be broadly categorized into live production, playout, and others. Multiviewers are a fundamental block in all production, postproduction, and delivery applications. Moreover, multi-viewer monitoring systems are used for on-premises playout monitoring of a large number of channels in real-time.
Other applications of multi-viewer monitoring system include OTT monitoring, headend DTH and cable, transmission and network operation center, and non-broadcast applications. Due to the rapid growth of streaming platforms, there is an emerging requirement to monitor a wide range of OTT formats, including UDP, RTP, HLS, LSS, HDS, and MPEG-DASH, as well as audio, video, ancillary data, ID3 tags data, and any HTTP-related errors. This increasing competition in the market has forced DTH and cable service providers to stand out in the market through monitoring of different types of signals, user experience, and signal confidence, among others. With the rise in number of channels, transmission and network operation centers require intelligent solutions to monitor multiple signal types. Further, sportsbooks and casinos, sports and entertainment venues, security centers, government and military installations, academic institutions, and houses of worship, are reaping the benefits of multiviewer monitoring system solutions.
Based on component, the multi-viewer monitoring system market is segmented into hardware, software, and services. The hardware segment held the maximum share in 2020. Based on end user, the multi-viewer monitoring system market is segmented into media & entertainment, military, enterprises, retail, and other end users.

Impact of COVID-19 Pandemic on Multi-viewer Monitoring System Market
Owing to favorable government policies to encourage innovation, the presence of a large industrial base, and high purchasing power, North America is one of the most important regions for adopting and developing new technologies, particularly in developed countries such as the US and Canada. As a result, any influence on industry growth is projected to have a negative influence on the region's economic growth. Businesses in the region have been significantly impacted by COVID-19 in four key areas: supply chain/operations, personnel, 2020 investments, and product offering. According to Worldometer, there were 30,774,033 cases documented in the US alone as of March 24th, 2021. Due to the extreme measures adopted during the pandemic, overhead expenditures, including expenditure for sales, research & development (R&D), and administration of various providers, declined unfavorably.
investment in security & surveillance, retail, and media & entertainment is usually high across the region, the COVID-19 pandemic has reduced the investments by the end users in innovative and advanced products and technologies. Also, the sudden outbreak of COVID-19 led to temporary closure of manufacturing units, thereby impacting the manufacturing of multi-viewer monitoring systems by the market players. Additionally, the disruption of supply chain has adversely impacted the supply of both manufacturing components and finished products across the region. Thus, the outbreak of the COVID-19 pandemic has an adverse impact on the market across the world.
Barco; Cinegy LLC; Evertz; Grass Valley Canada; Lawo AG; Mividi, Inc.; RGB Spectrum; Rohde and Schwarz, Inc.; Stream Labs; and TAG V.S. LTD. are among the major companies operating in the multi-viewer monitoring system market.
Multi-Viewer Monitoring System Market — by Geography, 2020 and 2028 (%)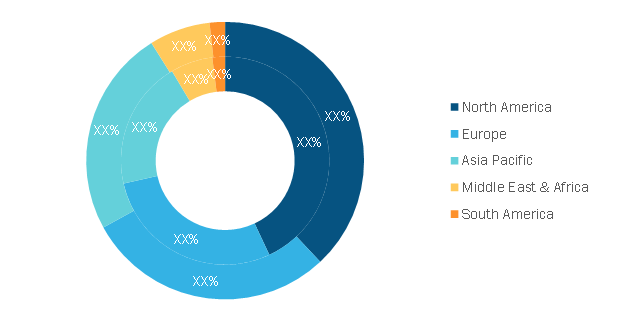 Contact Us
Contact Person: Sameer Joshi
Phone: +1-646-491-9876
Email Id: sales@theinsightpartners.com