According to our latest market study on "Nuclear Decommissioning Services Market Forecast to 2027 - COVID-19 Impact and Global Analysis and Forecast By Reactor Type (Pressurized Water Reactor, Boiling Water Reactor, Gas Cooled Reactor); Strategy (Immediate Dismantling, Deferred Dismantling, Entombment); Application (Commercial Power Reactor, Research Power Reactor, Prototype); Capacity (Below 100 MW, 100 1,000 MW, Above 1,000 MW); and Geography," the market was valued at US$ 5.82 billion in 2019 and is projected to reach US$ 9.43 billion by 2027; it is expected to grow at a CAGR of 6.3% from 2020 to 2027.
The global nuclear decommissioning services market is poised to surge during the forecast period, owing to the presence of a large number of decommissioning service providers, coupled with the rising number of nuclear power plants attaining the completion of operational life cycle. Europe led the nuclear decommissioning services market in 2018 and 2019 and is expected to continue its dominance during the forecast period. North America and APAC trail Europe in the nuclear decommissioning services market. The European region comprises large number of nuclear power plants that are reaching the respective end of the operational lifespan. This has led respective governments to decommission the operations of the facilities. Germany and France are among the key countries playing crucial roles in the enhancement of nuclear decommissioning services market. The governments of these two countries have announced a decommission plan for several nuclear facilities over the next two years. This factor is showcasing the growth in requirement for decommissioning service providers, which in turn reflects the upward inclination of nuclear decommissioning services market.
Asia Pacific region also consists of a notable number of nuclear facilities, majorly in Japan and South Korea. The Japanese government has announced to phase out 40% to 50% of its nuclear facilities over the next decade. China and India on the other hand, are still maturing in the field of nuclear decommissioning, which holds a promising future for several nuclear decommissioning services market players in the countries and abroad.
Impact of COVID-19 on Global Nuclear Decommissioning Services Market
The outbreak of COVID-19 continues to impact the global energy & power industry and subsequently has negative impact over the growth of nuclear decommissioning market. For instance, COVID-19 emerged in China and has affected several nearing countries such as Japan, South Korea, and India. Japan and South Korea account for the largest share in nuclear power plant establishments in the APAC region. Both the counties have shut down several nuclear power plants over the last two years, including Fukushima Daiichi (Japan) and Kori-1 (South Korea). The outbreak has had a significant effect on the decommissioning services of the nuclear facilities. On the other hand, China has approved decommissioning of the country's first nuclear power reactors in late 2019 and the decommissioning activity was set to start in2020. The outbreak of COVID-19 has delayed the start of decommissioning activities on the site.
Nuclear Decommissioning Services Breakdown, by Region, 2019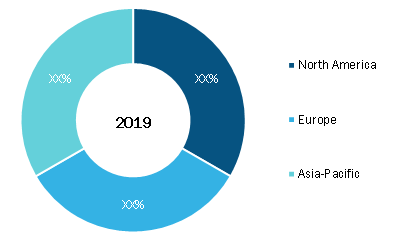 Report : Nuclear Decommissioning Services Market Forecast to 2027 - COVID-19 Impact and Global Analysis by Reactor Type (Pressurized Water Reactor, Boiling Water Reactor, Gas Cooled Reactor); Strategy (Immediate Dismantling, Deferred Dismantling, Entombment); Application (Commercial Power Reactor, Research Power Reactor, Prototype); Capacity (Below 100 MW, 100 - 1,000 MW, Above 1,000 MW)
The report segments the global nuclear decommissioning services market as follows:
By Reactor Type
By Strategy
Immediate Dismantling

Deferred Dismantling

Entombment
By Application
Commercial Power Reactor

Prototype Power Reactor

Research Reactor
By Capacity
Below 100 MW

100 - 1,000 MW

Above 1,000 MW
Contact Us
Contact Person: Sameer Joshi
Phone:+1-646-491-9876
Email Id: sales@theinsightpartners.com