Rising Awareness About Benefits of Using Pyranometer Drives Pyranometer Market Growth
According to our latest market study on "Pyranometer Market Size Forecast to 2030 – Global and Regional Share, Trends, and Growth Opportunity Analysis – by Type and Application," the pyranometer market size was valued at US$ 97.20 million in 2022 and is expected to reach US$ 183.42 million by 2030; it is estimated to record a CAGR of 8.3% from 2022 to 2030.
Pyranometers determine the level of solar radiation that reaches plants, which is important for crop growth and yield. Further, the device aids farmers in analyzing the amount of solar radiation received by crops, as it is considered important for photosynthesis. The demand for pyranometers in the agriculture sector is driven by rising food demand and the necessity to improve crop productivity. Moreover, the World Meteorological Organization (WMO) and the International Organization for Standardization (ISO) have classified pyranometers into three types depending on various applications. According to ISO 9060, a pyranometer can be classified as Class A, Class B, or Class C based on its specifications such as response time, thermal offsets, non-stability, non-linearity, directional response, spectral response, temperature response, and tilt response, as well as the calibration method.
Pyranometer Market — by Geography, 2022 & 2030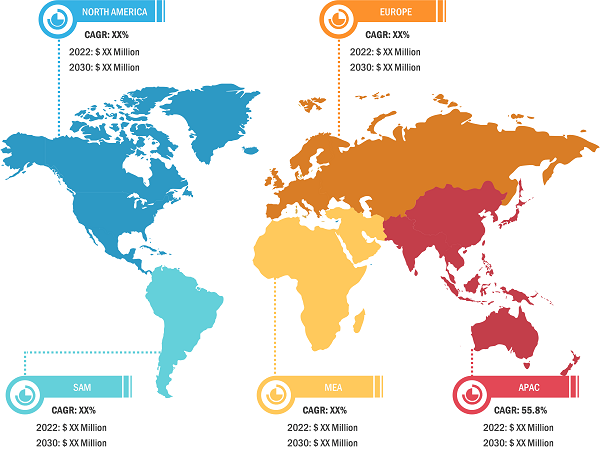 ---
---
Pyranometer Market Size and Forecasts (2022 - 2030), Global and Regional Share, Trends, and Growth Opportunity Analysis Report Coverage: By Type (Photovoltaic Pyranometers and Thermopile Pyranometers) and Application (Photovoltaic Systems, Meteorology, and Climate Stations)

Source: The Insight Partners Analysis
In addition, the pyranometer market growth is driven by the development of new technologies, such as pyranometers with built-in data loggers and wireless communication capabilities. These new technologies and government initiatives to build new solar energy production facilities are making pyranometers more user-friendly and versatile, further boosting their demand. Also, several companies provide pyranometers. For instance, Apogee manufactures two types of pyranometers—original silicon-cell models and thermopile pyranometers. Both products have been upgraded to ISO 9060:2018 Class C (formerly known as second class). Silicon-cell solar radiation sensor models are ideal for applications that do not necessitate increased accuracy in cost-effective thermopile pyranometers. Therefore, a wide variety of pyranometers available in the market is also expected to boost the product demand for different applications in photovoltaic systems, meteorology, and climate stations, which is likely to contribute to the pyranometer market growth during the forecast period.
Several manufacturers specialize in designing, producing, and supplying pyranometers in the pyranometer market ecosystem. Many major players manufacture pyranometers such as Thermal Sensors BV, Delta Ohm Srl, Li-Cor Inc, Eppley Laboratory Inc, OTT Hydromet Corp, Lambrecht Meteo Gmbh, Apogee Instruments Inc, Campbell Scientific Inc, Delta-T Devices Ltd, Eko Instruments Co Ltd, and Hoskin Scientific Ltd. These companies design, produce, and sell pyranometers, which can range from established players to emerging startups.
In the ecosystem of the pyranometer market, distributors play a crucial role in connecting manufacturers of pyranometer with end users. Many entities are involved in distributing pyranometers to various industries and end-users, such as meteorological agencies, renewable energy companies, and research institutions. Distributors often establish extensive networks to reach a wide range of customers. They might have regional, national, or global reach, making it easier for manufacturers to expand their market presence in the pyranometer market.
Hukseflux Thermal Sensors BV, Delta Ohm Srl, Li-Cor Inc, Eppley Laboratory Inc, OTT Hydromet Corp, Lambrecht Meteo Gmbh, Apogee Instruments Inc, Campbell Scientific Inc, Delta-T Devices Ltd, Eko Instruments Co Ltd, and Hoskin Scientific Ltd are among the key pyranometer market players profiled during the report which provide pyranometers. Several other major pyranometer market players were studied and analyzed during this market research study to get a holistic view of the pyranometer market market and its ecosystem. The pyranometer market report provides detailed market insights, which help the key players strategize their growth.
The pyranometer market in North America is witnessing an upward trend due to high government investment in the photovoltaic power plant. As the pyranometer is used to monitor the performance and effectiveness of a photovoltaic power plant, its adoption across this plant is huge. Many initiatives have been taken by governments of various countries in North America to shift from traditional power supply to solar power supply due to the continuous depletion of fossil fuels. These photovoltaic power plants can fulfil the growing need for power supply for solar distillation, water heating, indoor as well as outdoor lighting, etc.
For instance, in January 2022, OTT HydroMet, a brand of Kipp & Zonen in the US, launched an innovation to solar monitoring, i.e., SMP12. SMP12 is an ISO- and IEC-compliant product that provides integrated heating with surge protection and has zero moving parts. This innovation provides enhanced surge protection, helping the plant operators harness the impact of poor grounding and unstable power sources on the monitoring system. The new advancement of the pyranometer helps customers reduce the failure risk and maintain performance.
Further, pyranometers play a pivotal role in monitoring the performance and efficiency of these photovoltaic power plants, making their adoption widespread. In November 2022, Enel North America announced its plan to build one of the largest solar power plant manufacturing facilities in the US. Establishing this solar power plant manufacturing facility further highlights the region's aim to capture solar energy. This plan indicates the growing market for photovoltaic power plants, with the pyranometer being the crucial element of the solar plates. Enel is expected to produce more than 3–6 GW of cells and high-performance bifacial PV modules. All these developments are boosting the pyranometer market for solar power plant applications.
Contact Us

Phone: +1-646-491-9876
Email Id: sales@theinsightpartners.com
Download Free PDF Brochure
---
Related Readings
---