The Quantum Cryptography Market size is expected to reach US$ 314.13 million by 2028; registering at a CAGR of 19.3% from 2022 to 2028, according to a new research study conducted by The Insight Partners.
High Inclination Toward Adopting Next-Generation Wireless Network Technologies to Boost Growth of Quantum Cryptography Market During 2022–2028
Encryption techniques are evolving significantly due to rising sophisticated cyber-attacks. There is an increased demand for quantum cryptography solutions that are more secure than traditional security solutions. Moreover, quantum cryptography is gaining attention due to increasing digitalization, surging cyber-security risks, and other threats such as data security and breaches. Industries across different verticals are facing increasing frequency and sophistication of cyber-attacks due to the proliferation of the Internet, connected devices, and online services. Leading technology giants are increasingly investing in resources and raising their research & development activities to tap commercial opportunities of providing quantum cryptography services and solutions to the government and private sectors. Furthermore, the rising frequency of cyber-attacks, increasing focus on cyber-security, and the evolution of sophisticated wireless networks are a few factors that propel the quantum cryptography market growth.
Furthermore, quantum cryptography solutions permit individuals to maintain the same level of confidence and trust in the digital world as they have in the physical world. Quantum encryption solutions further empower millions of people to interact electronically with each other through cell phones, e-mails, ATMs, and many more. Moreover, owing to network susceptibilities across various industries such as BFSI, government & defense, telecommunication & IT, healthcare, and automotive— there is an increased implementation of quantum cryptography solutions, thereby becoming major trends in the quantum cryptography market.
Though the COVID-19 pandemic has devastated several industries, it has a moderate impact on the quantum cryptography market. The growing advent of digitalization increased cybercrimes across all industry verticals. Furthermore, the demand for quantum cryptography solutions that cover easy usage, decrease resource requirement, offer constant improvement, and provide secure communication grew significantly during the global health crisis.
Quantum Cryptography Market — by Region, 2022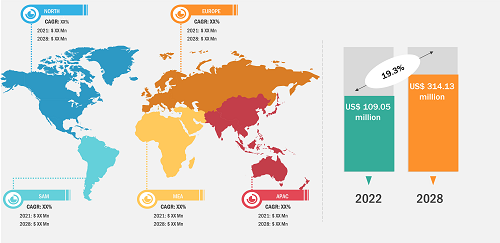 Report : Quantum Cryptography Market Forecast to 2028 - COVID-19 Impact and Global Analysis by Offering (Solutions and Services), Application (Network Security, Application Security, and Database Security), and End User (IT & Telecommunication, BFSI, Government & Defense, Healthcare, and Others)

Source: The Insight Partners Analysis
Based on offering, the quantum cryptography market is bifurcated into solutions and services. The solutions segment dominated the market with a larger market share in 2021. The quantum cryptography market for the solutions segment is further bifurcated into hardware and software. These solutions are built and developed to deter quantum computers' constantly growing security threats. In the world of digitalization, hacking digital transferable is becoming easy with the use of sophisticated technologies.
The protection against potential quantum threats is oppressed by using quantum cryptography solutions. BFSI, military & government, and telecommunication are among the most threatened industries from the quantum risk perspective. Therefore, these industries implement advanced and technologically robust solutions to prevent loss. As a result, these factors positively impact the growth of the quantum cryptography market for the solution segment.
ID Quantique, Infineon Technologies, Magiq Technologies, IBM Corporation, NuCrypt, Anhui Qasky Quantum Technology Co. Ltd., Qubitekk, Quintessence Labs, Qutools GmbH, and Toshiba Corporation are a few key players operating in the quantum cryptography market.
In April 2021, Japan's National Institute of Information and Communications Technology (NICT) and Toppan Printing, a global leader in communication, security, packaging, décor materials, and electronics solutions, agreed to conduct joint research on bringing post-quantum public key cryptography to quantum secure cloud technology. Moreover, quantum secure cloud technology fuses quantum cryptography and secret sharing technologies to facilitate secure data communication, storage, and use.
In January 2020, Qubitekk, Inc., a quantum communication pioneer, signed an agreement with QinetiQ, a British multinational defense technology company, to strengthen its patent portfolio around Quantum Key Distribution technology. Moreover, the agreement aims to sell QinetiQ entire Quantum Key Distribution (QKD) patent portfolio to Qubitekk, Inc.
Contact Us
Contact Person: Sameer Joshi
Phone: +1-646-491-9876
Email Id: sales@theinsightpartners.com