Diagnostic Nuclear Medicine Segment to Lead Radiopharmaceuticals Market During 2021–2028
According to our latest study on "Radiopharmaceuticals Market Forecast to 2028 – COVID-19 Impact and Global Analysis – by Type, Product Type, Application, and End User," the market is projected to reach US$ 13,818.17 million by 2028 from US$ 7,550.74 million in 2021; it is expected to grow at a CAGR of 9.0% from 2021 to 2028. The report highlights the key factors driving the market growth and prominent players with their developments in the market. The growth of the radiopharmaceuticals market is primarily attributed to the rising prevalence of chronic diseases, suitability of alpha radioimmunotherapy in targeted cancer treatment, and advancements in nuclear imaging techniques. However, short shelf-life of radiopharmaceuticals and availability of substitutes hinder the market growth.
Based on type, the radiopharmaceuticals market is bifurcated into diagnostic nuclear medicine and therapeutic nuclear medicine. The diagnostic nuclear medicine segment is holding a larger share of the market and is expected to register a higher CAGR during the forecast period. The market growth for this segmented can be attributed to the availability of diagnostic devices and ease offered by these devices for the diagnosis of various disorders. Moreover, increasing incidence of cardiac diseases, cancer, and neurological disorders is expected to fuel the demand for better diagnosis of these disorders. Radiopharmaceuticals provide better diagnostic information about the functioning of a specific organ, as it uses radiation.
Cardinal Health, GE Healthcare, Curium, Lantheus Medical Imaging, Bayer AG, Bracco Imaging, Eczacýbaþý-Monrol Nuclear Products, Nordion, Advanced Accelerator Applications, and NTP Radioisotopes are among leading companies operating in the radiopharmaceuticals market.
Radiopharmaceuticals Market, by Region, 2021 (%)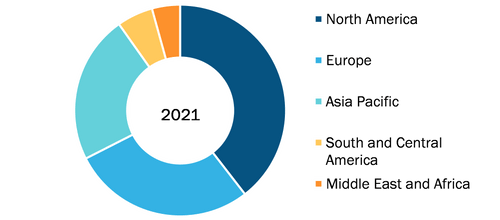 The report segments radiopharmaceuticals market as follows:
The radiopharmaceuticals market is segmented on the basis of type, product type, application, and end user. Based on type, the market is bifurcated into diagnostic nuclear medicine and therapeutic nuclear medicine. The diagnostic nuclear medicine is further bifurcated into SPECT (Single-Photon Emission Computed Tomography) applications and PET (Positron Emission Tomography) applications. The therapeutic nuclear medicine is further segmented into alpha emitters, beta emitters, and brachytherapy isotopes. Based on product type, the market is segmented into Technetium-99m, Thallium-201, Gallium-67, Iodine-131, Copper-64, and other. Based on application, the market is segmented into oncology, cardiology, neurology, and others. By end user, the market is segmented into hospitals, imaging centers, academic and research centers, and others.
By Geography
North America

Europe

France

Germany

UK

Spain

Italy

Rest of Europe

Asia Pacific (APAC)

China

India

Japan

Australia

South Korea

Rest of APAC

Middle East and Africa (MEA)

Saudi Arabia

UAE

South Africa

Rest of MEA

South and Central America (SCAM)

Brazil

Argentina

Rest of SCAM
Contact Us
Contact Person: Sameer Joshi
Phone: +1-646-491-9876
Email Id: sales@theinsightpartners.com