Devices Segment Held Largest Share of Global Remote Patient Monitoring Market in 2021
According to our new market research study on "Remote Patient Monitoring Market Forecast to 2028 – COVID-19 Impact and Global Analysis – by Type, End User, and Geography," the market is expected to reach US$ 188,952.22 million by 2028 from US$ 29,062.30 million in 2021. It is estimated to grow at a CAGR of 30.7% from 2021 to 2028. The key factors that are driving the growth of market are the growing prevalence of chronic diseases, rising awareness regarding healthcare, and surging demand for home-based treatments. However, security and privacy issues, and unaddressed regulatory concerns restrain the market growth.
The global remote patient monitoring market, based on type, is segmented into software, devices, and services. In 2021, the devices segment accounted for the largest share in the market and is expected to retain its dominance during the forecast years. The market growth for this segment is attributed to the high-volume demand for vital sign remote patient monitoring devices across various countries worldwide. In addition, the surge in demand for respiratory and multifunctional monitoring devices due to the COVID-19 outbreak also contributes to the market growth for this segment. Furthermore, medical device manufacturers are constantly focusing on the improvement of the quality and innovations in these devices, which would help the segment to hold a dominant share in the remote patient monitoring market during the forecast years.
Healthcare has taken a centerstage in the backdrop of COVID-19 outbreak in terms of its capacity and reach in countries such as India, Australia, South Africa, Saudi Arabia, the UAE, Oman, Qatar, Kuwait, and others. The shortage of hospitals and skilled professionals, along with the risk of unnecessary exposure, has led to the adoption of meaningful remote patient monitoring and management solutions. There has been a significant push by governments of various countries to enable healthcare facilities for the underserved communities and geographies through technology-adopted imperatives. For instance, in April 2020, The Ministry of Health & Family Welfare India (MoHFW) in collaboration with NITI Aayog allowed consultations through multifarious communication channels via audio, video, and text for registered medical practitioners to prescribe medications. The government's proactive steps for clarification of the regulatory regime surrounding this vital industry has given a booster shot during a critical COVID-19 pandemic. Furthermore, in March 2021, the Australian Government added several temporary Medicare items to help healthcare professionals deliver remote patient monitoring and telehealth services via video conferencing and phone calls. The Australian Health Protection Principal Committee (AHPPC) approved and recommended the policy to continue till December 2021.
The COVID-19 outbreak has been adversely affecting most of the businesses globally since December 2019. Due to the pandemic, international trade and supply chain are disrupted. However, overall prospects for the growth of the remote patient monitoring market are considered positive. Increasing government support and reimbursement policies for various remote patient monitoring devices to reduce and avoid human contact during the pandemic and promote telehealth and monitoring services have bolstered the growth of remote patient monitoring market.
Koninklijke Philips N.V., NIHON KOHDEN CORPORATION, Medtronic, General Electric, Cerner Corporation, Siemens Healthineers AG, Boston Scientific Corporation, Omron Healthcare, Abbott, and VitalConnect are among the leading companies operating in the remote patient monitoring market.


Remote Patient Monitoring Market, by Region, 2021 (%)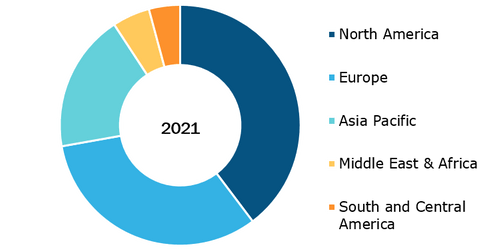 Report : Remote Patient Monitoring Market Forecast to 2028 - COVID-19 Impact and Global Analysis By Type (Software, Devices, and Services) and End User (Providers, Payers, Patients, and Others) and Geography
The Report Segments Remote Patient Monitoring Market as Follows:
Software

Devices

Cardiac Monitoring Devices

Neurological Monitoring Devices

Respiratory Monitoring Devices

Multiparameter Monitoring Devices

Blood Glucose Monitoring Devices

Fetal and Neonatal Monitoring Devices

Weight Monitoring Devices

Other Monitoring Devices

Services
By End User
Providers

Hospitals

Home Care Settings

Ambulatory Care Centers

Others

Payers

Patients

Others
By Geography
North America

Europe

France

Germany

UK

Russia

Italy

Asia Pacific (APAC)

China

India

Japan

Australia

Taiwan

South Korea

Middle East and Africa (MEA)

Saudi Arabia

UAE

South Africa

South and Central America (SCAM)
Contact Us
Contact Person: Sameer Joshi
Phone: +1-646-491-9876
Email Id: sales@theinsightpartners.com