Rising demand for convenience foods to drive rice syrup market growth at CAGR of 4.3% during 2019-2027
According to our latest market study on "Global Rice Syrup Market Forecast to 2027 - Covid-19 Impact and Global Analysis - by Rice Type (Brown Rice, White Rice); Category (Organic, Conventional); Application (Bakery and Confectionary; Beverages; Dessert and Dairy Products; Meat, Poultry, and Seafood Products; Infant Formula; and Others); and Geography," the market was valued at US$ 635.8 million in 2018 and is projected to reach US$ 928.4 million by 2027; it is expected to grow at a CAGR of 4.3% from 2019 to 2027.The report highlights key factors driving the market growth along with prominent players and their developments in the market.
Rice syrup is the processed form of cultured rice. The rice is fermented using beta and alpha amylase enzymes that break down the starch content into simple molecules of sugar such as glucose, maltose, and fructose. Owing to the presence of excessive concentration of starch, the rice syrup finds its application as sweeteners or sweet enhancers in food processing. However, processing and refining processes reduce the nutritional values of the syrup. The market is driven by the wide application of rice syrup as an alternative sweetener. Rice syrup is available as a liquid solution of a nutritive sweetener. Besides, upsurge in the popularity of organic rice syrup as a result of growing health consciousness among consumers also drives the growth of the rice syrup market.
The demand for rice syrups is increasing due to growing consumer preference toward processed or convenience foods. Convenience foods require minimal or no processing and are used to minimize the efforts needed for preparing food. Rice syrup is used as an ingredient added to convenience food items such as bakery and confectionery products, dairy products, ready-to-eat foods, frozen desserts, and on-the-go beverages to improve their taste. With the growth of the food and beverages industry, and the rise in income levels, consumers in developed and developing countries are inclining more toward convenience foods. Over the past few years, the demand for convenience foods has increased with the increasing consumer focus toward ready-to-eat food and beverage products. Also, with the diversification of distribution channels, convenience foods have found a shelf in the retail outlets and supermarkets. Further, change in working demographics, leading to busy lifestyle, is among the other factors promoting the demand for convenience food items. With the increase in demand for convenience food items, the demand for rice syrups is also set to rise.
The global rice syrup market is concentrated with a few well-established players such as Axiom Foods, Inc., Malt Products Corporation, California Natural Products, Cargill Incorporated, Gulshan Polyols Ltd., Habib Rice Products Ltd., Lundberg, Meurens Natural, Windmill Organics Ltd., and Wuhu Deli Foods Co., Ltd.
Impact of COVID-19 Pandemic on Rice Syrup Market
The COVID-19 outbreak first began in Wuhan (China) in December 2019, and since then, it has spread at a fast pace worldwide. As of March 2020, China, Italy, Iran, Spain, the Republic of Korea, France, Germany, and the US are among the worst-affected countries in terms confirmed cases and reported deaths. The outbreak has been affecting economies and industries in various countries due to lockdowns, travel bans, and business shutdowns. Food and beverages is one of the major industries suffering serious disruptions such as office and factory shutdown, supply chain breaks, and technology event cancellations, as a result of this outbreak.
Rice Syrup Market Breakdown - by Region, 2018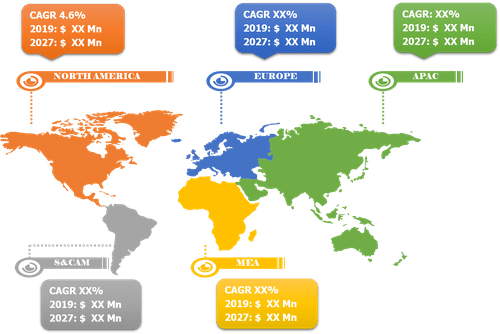 The report includes the segmentation of the global rice syrup market as follows:
By Rice Type
By Category
By Application
Bakery and Confectionary

Beverages

Dessert and Dairy Products

Meat, Poultry and Seafood Products

Infant Formula

Other Applications
By Geography

North America

Europe

Germany

UK

Italy

France

Rest of Europe

Asia Pacific (APAC)

China

Japan

India

South Korea

Rest of Asia Pacific

Middle East and Africa (MEA)

South America

Brazil

Argentina

Rest of South America
Contact Us
Contact Person: Sameer Joshi