Growing demand for homeautomation to lead smart locksmarket growth at 14.2%CAGR during 2019?2027
According to our latestmarket study on "Global Smart Locks Market to 2027 - Analysis andForecastby Type (Padlocks, Deadbolt, Lever Handle, Others); CommunicationTechnology (Wi-Fi, Bluetooth, NFC, Others); Application (Residential,Commercial, Industrial); and Geography," themarket was valued at US$ 1.44billion in 2019 and is projected to reach US$ 4.10 billionby 2027; it is expected to grow at a CAGR of 14.2% from 2019 to 2027.The reporthighlightskey factors driving the market growth, and prominent players andtheir developmentsin the market.
The growing adoption ofsmartphones in developing markets creates new and exciting opportunities forvarious ongoing technological developments. The smartphone adoption has anenormous impact on the smart lock technology industry. The rising smartphonepenetration is stimulating the growth of connected devices, which allow usersto remotely access their door locks and operate with the help of severalconnected mobile applications. Previously, security managers had only a choicebetween PIN codes and smart cards; however, smartphones proliferation to thepoint of ubiquity has offered a new option to the manufacturers; access tosmartphones is more secure than traditional keys. Smart locks provide wirelessconnectivity, which can send security alerts to the user on smartphones,allowing them to remotely monitor the system. Smart locks integrated with IoTsensors help to collect valuable information into smartphones; the whole systemhelps to reduce risks and possibilities of any burglary or theft. Hence, hugeadoption of smartphone across all the regions is fueling the growth of theglobal smart locks market.
IoT technology isincreasing swiftly and is projected to comprise 18 billion connected devices by2022 worldwide. It comes in a broad spectrum of different ecosystems, withnumerous requirements and capabilities. From the past few years, IoT has createda substantial impact on home security as it enables user to control their lockswith the help of smartphone, from anywhere. Several manufacturers have embracedIoT and the desire for innovative smart home security to offer consumers with anadvanced security for authorized and a guest user. Several businesses areintroducing systems, which offer enhanced security systems in order toincorporate IoT in the overall smart home security environment. Smart locksleverage IoT-based sensors in order to run keyless entry devices, which enablesuser to access doors remotely through a smartphone or any internet-connecteddevice. Additionally, to remain competitive in the market, timely updates andadvancements are made in the smart locks by the smart locks service providersto sustain in the market. For instance, Schlage introduced its new SchlageEncode Smart Wi-Fi Deadbolt, at the 2019 International Consumer Electronics Showthat features built-in Wi-Fi connectivity.
COVID-19 Impact on Smartlocks Market
According to latestsituation report from World Health Organization (WHO), the US, Spain, Italy,France, Germany, the UK, Russia, Turkey, Brazil, Iran, and China are some ofthe worst affected countries due to COVID-19 outbreak. The outbreak first beganin Wuhan (China) during December 2019 and since then it has spread at a fastpace across the globe. As per latest WHO figures of 25th June 2020, there arearound 9.28 million confirmed COVID-19 cases globally with ~478,691 totaldeaths and the number is growing at varying rates in different countries. TheCOVID-19 crisis is affecting the industries worldwide and the global economy isanticipated to take a worst hit in the year 2020 and likely in 2021 as well. Theglobal electronic and semiconductor industry is one of the major industriesthat is facing serious disruptions due to COVID-19 outbreak, which in turn is negativelyimpacting the growth of global smart locks Market. The factory shutdowns,travel bans, trade bans, and border lockdowns to combat and contain theoutbreak have impacted the smart locks market.
Smart Locks Market Breakdown byRegion, 2019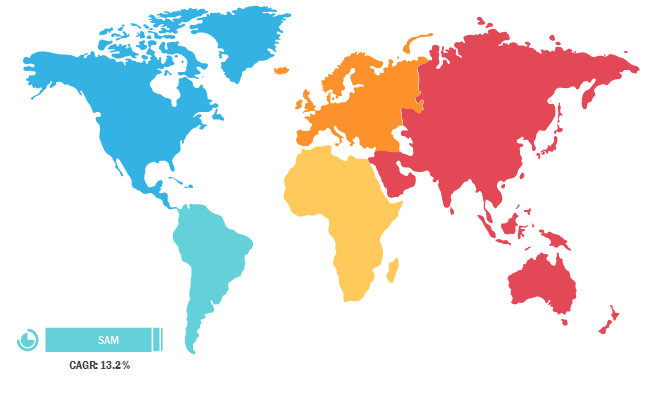 The report segments theglobal smart locks market as follows:
Padlocks

Deadbolts

Lever Handle

Others
By CommunicationTechnology
By Application
Residential

Commercial

Industrial
North America

Europe

Germany

UK

France

Italy

Rest of Europe

Asia Pacific (APAC)

China

India

Japan

South Korea

Rest of APAC

Middle East &Africa(MEA)

South Africa

Saudi Arabia

UAE

Rest of MEA

South America(SAM)

Brazil

Argentina

Rest of SAM
ContactUs
Contact Person: SameerJoshi
Phone: +1-646-491-9876
Email Id: sales@theinsightpartners.com