Increase in Popularity of Sparkling Wine Fuels Growth of Market
According to our latest study "Sparkling Wine Market Forecast to 2028 – COVID-19 Impact and Global Analysis – by Type (White, Red, and Rose), Packaging Type (Bottles and Cans), and Distribution Channel (Supermarkets and Hypermarkets, Specialty Stores, Online Retail, and Others)," the market is projected to reach 55.80 billion by 2028 from 41.64 billion in 2021; it is expected to grow at a CAGR of 4.3% from 2021 to 2028. The report highlights key factors driving the market and prominent players, along with their major developments, in the market.
Sparkling wine is a variant of wine with a high carbon dioxide content, which adds additional bubbling to it. Champagne is one of the most widely popular types of sparkling wine. It is the wine manufactured in the Champagne region in France; however, many sparkling winemakers in the US use this name for their locally manufactured products.
Rapid socioeconomic changes and fast-paced urbanization are bolstering the demand for sparkling wine. With continuous rise in living standards and buying power, customers desire to purchase high-quality, luxurious items. Moreover, changes in lifestyle transform their food habits and meal preferences. Thus, the demand for sparkling wine in parties, marriages, and social gatherings is on rise. With the growing preference for drinks with low or no alcohol content, the popularity of this wine is increasing among millennials, teenagers, and working populations, and in bachelors and people living in hostels. Furthermore, social media and the Internet have a significant impact on all generations, while increase in parties and social events are leading to the high consumption of sparkling wine globally, primarily in developed nations such as the US, Canada, Mexico, Germany, France, and Italy.
Bacardi & Company Limited; Bronco Wine Co.; Casella; Constellation Brands, Inc.; Henkell Freixenet; Chandon; Schramsberg Wineyards; Pernod Ricard Winemakers; The Sparkling Wine Co.; Treasury Wine Estates Ltd; Bottega Spa; Campari Group; and Codorniu are among the key players in the sparkling wine market.
Sparkling Wine Market Overview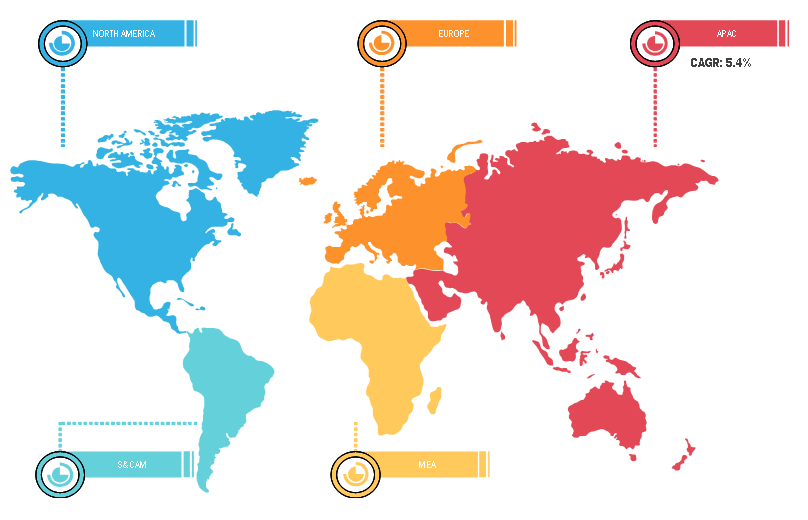 Impact of COVID-19 Pandemic on Sparkling Wine Market
Sparkling winemakers have been significantly affected by the scarce availability of workers during the COVID-19 pandemic, which hampered their production capacity. In addition, the shutdown of wholesale markets has compelled manufacturers to rely primarily on supermarkets and e-commerce dealers to sell their sparkling wine products. Despite the pandemic, there has been a rise in the sales of rose and sparkling wine. Further, with the reopening of several markets, acceleration of vaccination development, and initiatives taken by various governments to support economic and industrial growth, the performance of the sparkling wine market is anticipated to improve in the coming years. In addition, e-commerce platforms have contributed significantly to the enhancement of sparkling wine sales amid the COVID-19 crisis. More than 85% of wineries that sell their products online have increased their online sales approach in order to capture the newfound growth within the online channel for sparkling wines.
Based on type, the sparkling wine market has been further segmented into white, red, and rose. Based on packaging type, the market has been subsegmented into bottles and cans. Based on distribution channel, the sparkling wine market is further segmented into supermarkets and hypermarkets, specialty stores, online retail, and others. On the basis of geography, the market is broadly segmented into North America, Europe, Asia Pacific, the Middle East & Africa, and South America. The market in North America is further segmented into the US, Canada, and Mexico. The European market is subsegmented into Germany, France, Italy, the UK, Russia, and the Rest of Europe. The Asia Pacific sparkling wine market, by country, is segmented into Australia, China, India, Japan, South Korea, and the Rest of APAC. The market in the Middle East & Africa is subsegmented into South Africa, Saudi Arabia, the UAE, and the Rest of MEA. The sparkling wine market in South America is further segmented into Brazil, Argentina, and the Rest of SAM.

Contact Us
Contact Person: Sameer Joshi
Phone: +1-646-491-9876
Email Id: sales@theinsightpartners.com