Increasing Consumer Inclination Toward Natural Sweeteners to Escalate Market Growth During 2021–2028
According to the latest market study on "Stevia Market Forecast to 2028 – COVID-19 Impact and Global Analysis – by Type (Whole Leaf, Powder, and Liquid) and Application (Dairy and Frozen Dessert, Bakery and Confectionery, Tabletop Sweeteners, Beverages, and Others)," the market was valued at US$ 539.68 million in 2021 and is projected to reach US$ 965.82 million by 2028; it is expected to grow at a CAGR of 8.7% from 2021 to 2028. The report highlights key driving factors and prominent market players along with their developments in the market.
Stevia is a plant that is native to the tropical regions in Western North America to South America, including countries like Brazil and Paraguay. The leaf extract of the stevia plant is used as a natural sweetener having various health benefits such as it helps in lowering blood glucose and blood pressure levels. Stevia in the market is available in the form of powder, liquid, or leaf where the powder is made up of intensely sweet glycosides derived from the leaves of stevia. Stevia finds its application as a natural and non-caloric sweetener.
With the increasing incidence of diabetes and obesity worldwide, consumers are progressively shifting toward natural sweetening products. According to the International Diabetes Foundation, 641 million people will have diabetes by 2040, rising from 415 million in 2015. Obesity is a prevalent disease that leads to diabetes along with other chronic diseases such as hypertension, metabolic syndrome, cardiovascular risk, and retinopathy. The authorities across the world are focusing on a healthier lifestyle, which includes a reduction in the number of calories consumed, especially added sugar. The World Health Organization (WHO) has recommended a decrease in added sugars in the daily lifestyle. To lower the amount of sugar intake, consumers prefer natural sweeteners such as stevia, which helps in weight management by reducing added sugar and calories. Along with this, in Europe, consumers are increasingly consuming products having no added sugar. According to the 2020 New Nutrition Business survey, two-thirds of European consumers are trying to lower their sugar intake due to the increasing rate of obesity and diabetes, which has led to an increased demand for stevia in Europe. Thus, an increase in consumer inclination toward natural sweeteners is driving the growth of the stevia market
The ongoing COVID-19 pandemic has been impacting the sugar consumption patterns and its alternatives, as there is a reduced demand for the sweeteners from beverage and other FMCG companies amid the lockdown across multiple countries. Food & beverage industry is the bulk consumer of stevia and is likely to affect the consumption owing to the lockdown in various countries, which has implemented a shut down on various manufacturing units. Food & beverage products, which includes bakery products, confectionery, dairy products, and soft drinks containing food additives such as sweeteners are being pushed back as the supermarkets re-allocated stock priorities toward staples and essential supplies due to COVID-19 outbreak. This was mainly due to the mass lockdown instructions given by several countries' governments to avoid the spread of the pandemic in their respective countries. Lockdown and quarantine measures along with import and export restrictions imposed by states and governments are impacting the stevia exporters due to the disruption in supply chains. The pandemic has been a reason for major shifts in consumer preferences, which has led to an increased awareness about having a healthy lifestyle. Consumers due to the pandemic are substituting conventional ingredients with healthier alternative, which is increasing the demand for natural sweeteners such as stevia. With an increase in the diet trend of no added sugars and low carbohydrates among consumers during the pandemic has led to an increase in demand for stevia. During the pandemic there has been rapid surge in demand for less sugary and immunity-boosting products, which is due to people seeking solutions to boost overall health and wellbeing. The COVID-19 pandemic has prompted the customers to become health-conscious and turn to low-calorie or sugar-free food. Hence, increasing health consciousness and high demand for sugar-reducing solutions among the global population due to the COVID pandemic has had a positive impact on the stevia market. Thus, COVID-19, had a significant impact on the stevia market across the world.
Cargill, Incorporated; Ingredion Incorporated; Tate & Lyle PLC; GLG LIFE TECH CORP; ADM; Sunwin Stevia International, Inc.; S&W Seed Company; Morita Kagaku Kogyo Co., Ltd.; Zhucheng Haotian Pharm Co., Ltd.; and PureCircle are among well-established players in the global stevia market. Companies in the market are adopting strategies such as product developments, plant expansions, and mergers and acquisitions to expand their footprint worldwide and meet the growing demand from end users. For instance, in 2019, PureCircle developed and is now expanding use of a new stevia leaf variety which offers notable advantages compared to previous generations of stevia plants. Carefully cultivated by PureCircle and successfully field-tested, more significant quantities of its great-tasting next-generation stevia ingredients. With that greater yield, the new stevia variety provides further cost-effectiveness as more significant quantities of ingredients can be sourced from each leaf.
Geographic Overview of Stevia Market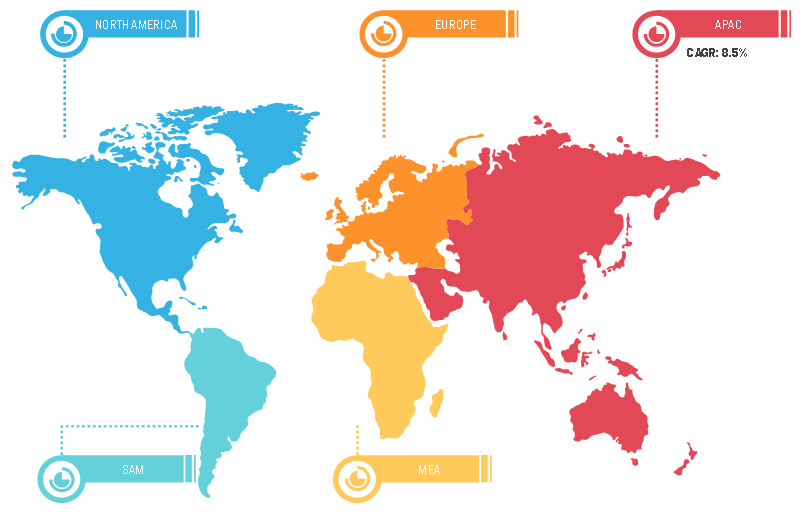 The Report Segments the Global Stevia Market as Follows:
Based on type, the stevia market is segmented into whole leaf, powder, and liquid. Based on application, the stevia market is segmented into dairy and frozen dessert, bakery and confectionery, tabletop sweeteners, beverages, and others. Geographically, the stevia market is segmented into five main regions—North America, Europe, Asia Pacific, Middle East and Africa, and South America.

Contact Us
Contact Person: Sameer Joshi
Phone: +1-646-491-9876
Email Id: sales@theinsightpartners.com