Humanization of Pets to Escalate Market Growth during 2020–2028


According to our latest market study on "Vegan Pet Food Market Forecast to 2028 – COVID-19 Impact and Global Analysis – by Product Type (Dry Food, Wet Food, and Others), Pet Type (Dogs and Cats), and Distribution Channel (Supermarkets and Hypermarkets, Specialty Stores, Online Retail, and Others)," the market was valued at US$ 8,667.97 million in 2020 and is projected to reach US$ 15,651.22 million by 2028; it is expected to grow at a CAGR of 7.7% from 2021 to 2028. The report highlights key factors driving the market growth and prominent players, along with their developments, in the market.
Vegan pet food is produced with plant-based and natural ingredients without having a trace of animal derived raw material and ensuring no cruelty or exploitation of animals in any sorts. The key trends in pet food market are influenced by the human food trends such as clean labels, veganism, alternative proteins, and healthier ingredients. Vegan pet owners prefer to feed vegan pet food even to their pets, which is propels the growth of global vegan pet food market. Also, the increasing humanization of pets has had a major impact on the market growth.
People value their pets and are also ready to spend significant money on keeping them healthy. The pet owners who are vegan prefer to feed vegan food to their pets. Most of the pet owners always opt for products that have clean labels, sustainability claims, and functional nutrition. Pet lovers also increasingly look for labels and packaging that reflect their personal food choices and demands. Majority of the global population consider their pet as a family member. Out of other pets such as birds, rabbits, fish, and others, dogs and cats are the most preferred owing to their friendly nature. More than half of the population in America owns a dog or a cat in their home. Dogs are known for their loyalty and bravery. The US has the highest dog population per capita, and there is one dog for every four people. In addition, some of the families own more than just one dog, making them an integral part of the household. Moreover, the number of pet-friendly workplaces in the US are increasing at a significant rate.
Many children are asked by their parents to take care of their pets by themselves. It provides companionship and helps them develop a sense of responsibility. Some young couples also decide to start their family by adopting a dog and treating it like their own child. In every family, pets play a different role as they are trained in a different manner in different countries. This growing humanization of pets increases the awareness regarding the quality and ingredients of the pet food provided by the owners, which propels the demand for the vegan pet food. Furthermore, people are more concerned about the slaughter of defenseless creatures and the decimation of the environment because of animal agriculture. Some people adore their pet so much and they understand that the animals also have emotions such as pain, hunger, love, joy, fear, thirst, and loneliness, like humans. Hence, they prefer vegan diet both for themselves and for their pets. Hence, the rising humanization drives the growth of the global market for vegan pet food.
A few well-established players operating in the global vegan pet food market are Antos B.V., Benevo, Bond Pet Foods, Inc.; V-dog, Soopa Pets, Vegan4dogs, Wild Earth, Yarrah, Isoropimene Zootrofe Georgios Tsappis Ltd., and Halo Pets.
Impact of COVID-19 Pandemic on Vegan Pet Food Market
The market is being disrupted by COVID-19 because of the slowdown of raw material production, supply chain instability, postponing of trade shows and conferences on dog & cat health, hampered trade movements, and other reasons. The outbreak has distorted operational efficiency and disrupted the value chains due to the sudden shutdown of national and international boundaries, creating revenue loss and damage. The disturbed value chain during the initial days of the pandemic has had a negative impact on raw material supply and further impacting the vegan pet food market. However, most people are now working from home, and this change in lifestyle has further inspired families to welcome new pets to their families. And vegan pet owners are highly looking for sustainable vegan pet food for their pets. Also, there is no evidence yet that pets contribute to the spread of COVID-19; hence families feel safe to welcome new companion animals for emotional support during this time.
Moreover, in the pandemic, people are ordering products online for themselves, even for their pets; this is further giving an opportunity to the market players to recover their loss and to grow business through online platforms. Pet food and vegan pet food manufacturers already operate within strict sanitation guidelines; however, many of them are taking extra precautions to diminish person-to-person contact. Some of the safety measures followed by the companies include limiting direct contact with truck drivers & visitors, strengthening & communicating proper hygiene practices, and conducting complete sanitations & eliminating personnel contact during shift changes. Based on such factors, the negative impact of COVID-19 pandemic has not been significant in the vegan pet food market.
Global Vegan Pet Food Market – by Region, 2020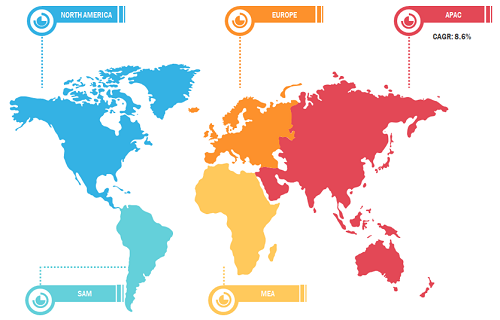 Report : Vegan Pet Food Market Forecast to 2028 - COVID-19 Impact and Global Analysis By Product Type (Dry Food, Wet Food, Others), Pet Type (Dogs, Cats), and Distribution Channel (Supermarkets and Hypermarkets, Specialty Stores, Online Retail, Others)
The report includes the segmentation of the global vegan pet food market as follows:
By Product Type
By Pet Type
By Distribution Channel
By Geography
North America
Europe

Germany

France

Italy

UK

Russia

Rest of Europe

Asia Pacific

China

Australia

India

Japan

South Korea

Rest of Asia Pacific

Middle East & Africa
South & Central America
Contact Us
Contact Person: Sameer Joshi
Phone: +1-646-491-9876
Email Id: sales@theinsightpartners.com