The active grille shutter market is projected to reach US$ 3,094.60 million by 2028 from US$ 2,161.67 million in 2021. It is expected to grow at a CAGR of 5.3% during 2022–2028.
Automobile production has been growing at a steady pace globally. China and the US have been leading the race, followed by Germany and India. The elevating demand for passenger vehicles with growing disposable income and the adoption of modern lifestyles contributes to the growth of the automotive sector worldwide. Most modern high-end passenger vehicles are increasingly adopting active grille shutters. These components aid in improving the aerodynamics of vehicles, thereby enabling the reduction of fuel consumption. Moreover, they can help maintain engine temperature in harsh environmental conditions. The increasing knowledge and awareness of the benefits of active grille shutters is driving consumers' preference for passenger vehicles installed with these components. Additionally, there is a fast-growing demand for electric passenger vehicles. These vehicles also require active grille shutters for maintaining optimal battery temperatures. All such factors have been collectively driving the active grille shutter market size.
Strategic Insights
Report Coverage - Active Grille Shutter Market
Report Coverage
Details
Market Size Value in
US$ 2,161.67 Million in 2021
Market Size Value by
US$ 3,094.60 Million by 2028
Growth rate
CAGR of 5.3% from 2022 to 2028
Forecast Period
2022-2028
Base Year
2022
No. of Pages
166
No. of Tables
85
No. of Charts & Figures
79
Historical data available
Yes
Segments covered
Propulsion Type, Vane Type, and Vehicle Type
Regional scope
North America, Europe, Asia Pacific, Middle East & Africa, South & Central America
Country scope
US, Canada, Mexico, UK, Germany, Spain, Italy, France, India, China, Japan, South Korea, Australia, UAE, Saudi Arabia, South Africa, Brazil, Argentina
Report coverage
Revenue forecast, company ranking, competitive landscape, growth factors, and trends
Free Sample Copy Available
– Active Grille Shutter Market
Impact of COVID-19 Pandemic on Active Grille Shutter Market Growth
The continuous growth in the COVID-19 patient pool compelled government authorities across the US and other countries to impose stringent travel bans and social restrictions in the first three quarters of 2020, which led to significant disruptions in automobile manufacturing operations. Containment measures also led to the limited availability of the workforce, which further hampered manufacturing, supply, and sales. Hence active grille shutter market size witnessed significant decline during this period. The active grille shutter market players also experienced a slowdown in growth owing to the presence of limited workers in manufacturing facilities, temporary shutdown of factories, and reduced demand from vehicle manufacturers in 2020.
Lucrative Regions for Active Grille Shutter Market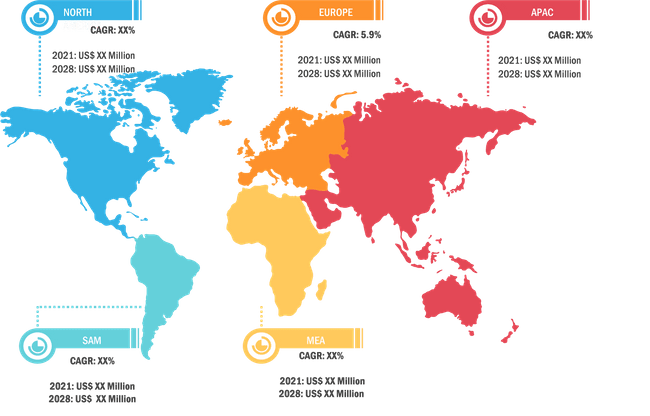 Get more information on this report :
Market Insights – Active Grille Shutter Market
In 2020, more than 10 million electric cars were on the roads in the world. Most new EV registrations were for battery electric vehicles (BEV). The increased popularity of BEVs can be attributed to their ability to operate with reduced carbon emissions and the lower cost of ownership compared to internal combustion engine (ICE) vehicles. Moreover, several government authorities have announced subsidies and launched initiatives, as part of stimulus packages to counter the ill-effects of the pandemic, for encouraging the use of EVs. Governments across the world spent US$ 14 billion on such initiatives to promote EVs. As reported by International Energy Agency (IEA), the global EV sales rose to 6.6 million in 2021.
An increase in the adoption of EVs and hybrid EVs is expected to have a direct impact on the sales of active grille shutters. Electric vehicles are powered by batteries, which tend to heat up frequently. This results in a regular need to bring down their high temperatures, as batteries heated up for prolonged periods may affect their longevity. The integration of active grille shutters helps maintain the optimum temperature of batteries. Additionally, their use in the front-end modules can significantly improve the performance of EVs by lowering air drag. Such advantages propelled the installation of active grille shutter in electric vehicle, which further boosted the active grille shutter market growth globally.
Propulsion Type-Based Insights
The active grille shutter market, by propulsion type, is bifurcated into internal combustion engine (ICE) and electric. The ICE segment is expected to account for the largest market share, while the electric segment is expected to register a higher CAGR in the market during the forecast period. ICEs are highly durable diesel- or gasoline-driven engines that provide drivability to ~250 million vehicles in North America alone. Some vehicle models also use alternative fuels or renewable resources, such as ethanol and natural gas. The design of ICEs has some parts that are fixed while some are moving, e.g., pistons. After the expansion of combustion gases in a power stroke, the motion of a piston aids in the rotation of a crankshaft, further offering a forward motion to the wheels of vehicles. Aerodynamics has been gaining significant importance in vehicle design as air can notably reduce the efficiency of ICE vehicles. Active grille shutters aid in improving the aerodynamics of vehicles, while maintaining the optimum temperature of engines with the help of electronically controlled slats that manage to control the flow of air through grilles, engine compartments, and radiators. Such advantages have been promoting the segments growth in active grille shutter market.
The active grille shutter market is segmented into propulsion type, vane type and vehicle type. Based on propulsion type, the market is segmented into internal combustion engine (ICE) and electric. On the basis of vane type, the active grille shutter market is bifurcated into horizontal and vertical. Based on vehicle type, the active grille shutter market is segmented into passenger vehicles, light commercial vehicles (LCV) and heavy commercial vehicles (HCV). Based on geography, the active grille shutter market is primarily segmented into North America, Europe, Asia Pacific (APAC), Middle East and Africa (MEA), and South America (SAM). HBPO GmbH; Magna International Inc.; Röchling SE & Co. KG; Shape Corporation; SRG Global; Standard Motor Products Inc.; STARLITE Co., Ltd.; Techniplas US LLC; Valeo SA; and Wirthwein AG are among the key active grille shutter market players.
Active grille shutter market players mainly focus on market penetration to increase market share.
In 2022, Wirthwein AG announced the establishment of Xi'an Wirthwein Plastic Technology Co., Ltd. in China. It is the fourth factory of the company in this country; the other three are located in Kunshan and Shenyang.
In 2022, Techniplas US LLC acquired Nanogate Group (Nanogate), a publicly traded company and prominent manufacturer of highly engineered plastics systems and components.
Frequently Asked Questions