The band saw blades market was valued at US$ 1,162.48 million in 2022 and is expected to reach US$ 1,347.80 million by 2028; it is estimated to grow at a CAGR of 2.5% from 2022 to 2028.
Band saw blades are mainly used in the metalworking and woodworking industries but can cut various materials. The blades offer consistent cutting behavior with evenly distributed tooth loads and can cut irregular or curved shapes, such as jigsaws. Most band saws have two wheels that rotate in the same plane, one of which is powered but may have three or four wheels to distribute the load. Since the saw blade is offered in different sizes and tooth pitches (number of teeth per inch or TPI), the machine is extremely versatile. It can cut a variety of materials, including wood, metal, and plastic. Band saw works by contacting the workpiece that cuts the saw blade and passing the cutting teeth through the workpiece. The latest band saws incorporate a dust collector, rack, and pinion saw blade holder adjustment system. The global band saw blades market size is growing moderately owing to the economic development and improvement in the construction & housing sector.
Strategic Insights
| Report Coverage | Details |
| --- | --- |
| Market Size Value in | US$ 1,162.48 Million in 2022 |
| Market Size Value by | US$ 1,347.80 Million by 2028 |
| Growth rate | CAGR of 2.5% from 2022 to 2028 |
| Forecast Period | 2022-2028 |
| Base Year | 2022 |
| No. of Pages | 153 |
| No. of Tables | 83 |
| No. of Charts & Figures | 82 |
| Historical data available | Yes |
| Segments covered | TPI, Material, and Application |
| Regional scope | North America; Europe; Asia Pacific; Latin America; MEA |
| Country scope | US, UK, Canada, Germany, France, Italy, Australia, Russia, China, Japan, South Korea, Saudi Arabia, Brazil, Argentina |
| Report coverage | Revenue forecast, company ranking, competitive landscape, growth factors, and trends |
| Free Sample Copy Available | |
Impact of COVID-19 Pandemic on Band Saw Blades Market Share
The COVID-19 outbreak dramatically impacted the global economy during its initial days and peak in 2020. The crisis hampered the business activities in manufacturing industries. Before the outbreak, the band saw blades market size was experiencing substantial growth owing to the growing population, increasing disposable income, and easy availability of credit and financing in the industrial equipment sector. In pre-pandemic scenario, there were significant investments in the development of band saw blades that could strengthen the band saw blades market growth. However, the eruption of pandemic had slowed down the investments and shut production units, which hampered the band saw blades market growth. During the initial days of the pandemic, the crisis has restricted all business deals, collaborations, and partnerships, which shattered the market significantly. The COVID-19 pandemic has had a swift and severe impact on the globally integrated manufacturing industry. The pandemic disrupted the parts exports from China, interrupted large scale manufacturing across Europe, and closed assembly plants in the US. All these factors are declining the demand for band saw blades market across the world. However, with ease in restrictions and reopening of business units, the demand for woodworking and meat processing is rising and achieving the new normal. From 2021, market players have significantly invested in adopting advanced technologies in the industrial equipment and machinery industry. The pandemic has forced businesses to restructure their business models focusing on strengthening strategies to achieve economies of scale. Furthermore, the COVID-19 pandemic has invoked a rising need for featured band saw blades solutions that enable the high precision and performance, which are trending among various consumers. Therefore, although the global band saw blades market growth plummeted initially due to the adverse impact of the COVID-19 pandemic and the related regulations, it has achieved a strong recovery from the pandemic and expected to gain strong recovery in the coming years owing to the rise in the adoption of advanced technology across the globe.
Lucrative Regions for Band Saw Blades Market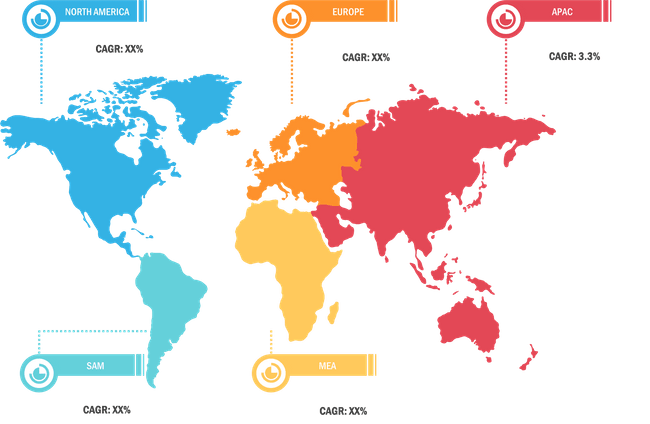 Get more information on this report :
Band Saw Blades Market Insights
Growing Demand for High-Speed Bi-Metal Band Saw Blades
Bi-metal band saw blades are made of two metals wherein steel is welded via an electron beam to a flexible backer. Growing demand for high-speed bi-metal band saw blades to ensure optimal blade performance bolsters the growth of the band saw blades market. Increasing applications of bi-metal band saw blades to cut carbon steel, tool steel, structural steel, stainless steel, pipe and tube, die steel, angles and flat stock, and mixed metal propel the demand for these blades among small to large manufacturers and fabricators. Such factors are anticipated to boost the demand for high-speed bi-metal band saw blades, which in turn will increase the global band saw blades market share.
TPI-Based Market Insights
Based on TPI, the band saw blades market is segmented into less than 3 TPI, 4 TPI to 6 TPI, and more than 7 TPI. A blade with the right number of teeth per inch (TPI) is crucial for high cutting efficiency and low cost per cut. Therefore, TPI selection is the most important decision when selecting a band saw blade. Growing demand for the right shape and size of the band saw blades for metals and harder material workpiece that might not straddle the work and break teeth as well as reduce gullet overload and strip teeth is propelling the band saw blades market growth. Furthermore, increased cost of manufacturing and improvements in sawing technology are forcing manufacturers to design optimum TPI saw blades for maximum cutting efficiency and to keep manufacturing costs under control, which is significantly driving the band saw blades market growth for the segment.
Material-Based Market Insights
Based on material, the band saw blades market is segmented into bi-metal, carbon steel, and others. Different types of bi-metal, carbon steel band saw blades is observing a significant growth as material is a crucial factor while selecting the best solution for cutting a variety of ferrous and nonferrous materials. The bi-metal segment is anticipated to register the highest CAGR during the forecast period as the blade is ideal for intensive production cutting. Easy penetration, excellent chip clearance, low noise levels, and quality surface finish are among the benefits of bi-metal band saw blades that make it an ideal choice for stainless steels and nickel-based and nonferrous alloys. Further, rise in disposable income; increase in investments in manufacturing; adoption of technological advancements, such as artificial intelligence (AI), in saw blade products are likely to provide lucrative opportunities for the growth of the band saw blades market during the forecast period.
The players operating in the band saw blades market adopt strategies, including mergers, acquisitions, and market initiatives, to maintain their positions in the market. A few developments by key market players are listed below:
In May 2021, BAHCO presented the new generation of BAHCO-exclusive bandsaw calculator. Every BAHCO user can access the new web-based BandCalcTM, which is responsive and multiplatform. Additionally, they upgraded it with additional features that improve the efficiency and effectiveness of bandsaw calculation.
In June 2021, LENOX, an industry leader in band saw performance for more than a century, announced that The LENOX 360TM System is the newest invention to track bandsaw performance data. Due to its real-time data capture capabilities, this innovative technology is perfect for steel service centers and fabrication facilities since it enhances decision-making and maximizes efficiency.
The global band saw blades market is segmented on the basis of TPI, material, and application. Based on TPI, the market is segmented into less than 3 TPI, 4 TPI to 6 TPI, and more than 7 TPI. In terms of material, the band saw blades market is segmented into bi-metal, carbon steel, and others. By application, the market is segmented into wood cutting and meat processing.
BAHCO (SNA Europe); Dongbei Special Steel Group Co., Ltd; Friedrich Bickenbach GmbH & Co. KG; Gi - Esse Salvador S.r.l.; HABUR -SAWS GmbH; KYOCERA UNIMERCO; LENOX; NACHI FUJIKOSHI CORP; The Bandsaw Shop; and L. S. Starrett Company are among the key band saw blades market players considered for the research study. In addition, several other significant market players have been studied and analyzed in this research report to get a holistic view of the global market and its ecosystem.
Frequently Asked Questions