The composites market size is expected to grow from US$ 88,710.42 million in 2022 to US$ 124,185.35 million by 2028; it is estimated to grow at a CAGR of 5.8% from 2022 to 2028.
Composites are light in weight as compared to most woods and metals. The lightweight property of composites makes their usage important in automobiles and aircraft, where less weight offers better fuel efficiency. Nowadays, designers of airplanes are greatly concerned with weight, as reducing a craft's weight reduces the amount of fuel it needs and increases the speed it can reach. Moreover, composites resist damage from the weather and harsh chemicals. They can be molded into complicated shapes more easily than most other materials.
In 2022, Asia Pacific held the largest revenue share of the global composites market. The demand for composites in Asia Pacific is increasing due to the growing use of composites in various end-use industries such as automotive, wind energy, construction, sporting goods, and many others. The growing building & construction industry is a strong contributor to the composites market growth in the region. Asia Pacific is witnessing urbanization, along with the rising construction of residential and commercial projects. Moreover, the per capita income in the region has increased, coupled with the development of affordable residential buildings. This has resulted in rapid urbanization in Asia Pacific. The beneficial government policies related to residential property developments in several countries of the region propelled urbanization. Moreover, countries such as China and India are amongst the world's top five countries with installed wind power. All these factors positively contribute to the composites market growth in the region.
Strategic Insights
Report Coverage - Composites Market
Report Coverage
Details
Market Size Value in
US$ 88,710.42 million in 2022
Market Size Value by
US$ 24,185.35 million by 2028
Growth rate
CAGR of 5.8% from 2022 to 2028
Forecast Period
2022-2028
Base Year
2022
No. of Pages
160
No. of Tables
115
No. of Charts & Figures
114
Historical data available
Yes
Segments covered
Fiber Type, Resin Type, and End-Use Industry
Free Sample Copy Available
Impact of COVID-19 Pandemic on Composites Market
Industries such as automotive, aerospace, construction, marine, and energy have been the major contributors to the demand for composites. In 2020, these industries had to slow down their operations due to disruptions in the value chain caused by the shutdown of national and international boundaries. The shortage of manpower resulted in the deceleration of composite production and distribution operations. Disruptions in the global supply chain and shutdown of resin production facilities led to a severe spike in the prices of composites. Lockdowns imposed by different countries in 2020 hampered the ability of industries to maintain inventory levels. Moreover, sanitary measures and other COVID-19 precautions significantly reduced production capacity, creating a shortage of composite inventory. However, in 2021, the global marketplace began recovering from the losses incurred in 2020 as governments of different countries announced relaxation in social restrictions. Moreover, rising vaccination rates contributed to improvements in the overall conditions in different countries, which led to conducive environments for industrial and commercial progress. According to the World Economic Forum, the COVID-19 pandemic has the potential to bring innovations in home designs and is expected to provide new opportunities in the field of house renovation. This factor is projected to provide lucrative opportunities for the composites market growth during the forecast period.
Global Composites Market Breakdown – by Region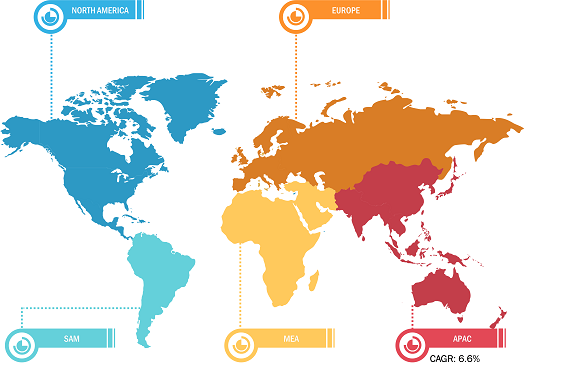 Get more information on this report :
Market Insights
Increasing Demand for Lightweight Materials from Automotive & Aerospace Industry
Automotive manufacturers prefer lightweight materials for manufacturing automobiles while ensuring safety and performance. Lightweight materials have excellent potential for increasing fuel efficiency. A 10% decrease in vehicle weight can result in a 6–8% enhancement in fuel economy. Advanced materials such as carbon fiber composites have the potential to reduce the weight of automotive components by 50-75%. The application of composites in the automotive sector continues to grow. Plastic composites have excellent acoustic and thermal properties compared to composites of nonrenewable origin, making them ideal for vehicle's interior parts. Further, they are suitable for the manufacturing of non-structural interior components, including seat fillers, seat backs, headliners, interior panels, and dashboards. In addition, aircraft manufacturers are making efforts to enlarge primary thermoplastic structures in business jets and commercial aircraft. They have been the early adopters of long fiber-reinforced thermoplastics.
Fiber Type Insights
Based on fiber type, the global composites market is segmented into carbon fiber composites, glass fiber composites, and others. The global composites market share for the glass fiber composites segment was the largest in 2022. Glass fiber composites are produced by various manufacturing technologies and are used for a wide range of applications. Glass fibers showcase several properties, namely, high strength, flexibility, durability, and resistance to chemical damage. It can be in the form of roving, chopped strands, yarns, fabrics, and mats. Each type of glass fiber has distinct properties and is used for various applications in the form of polymer composites. Glass fiber composite materials are highly preferred for industrial applications due to their favorable characteristics such as high strength-to-weight ratio, good dimensional stability, good resistance to heat & corrosion, good electrical insulation properties, ease of fabrication, and relatively low cost.
Global Composites Market, by Fiber Type – 2022 and 2028

Get more information on this report :
The key players operating in the global composites market include DuPont de Nemours Inc, Gurit Holding AG, Hexion Inc, Mitsubishi Chemical Holdings Corp, Nippon Electric Glass Co Ltd, Owens Corning, SGL Carbon SE, Teijin Ltd, Solvay SA, and Toray Industries Inc. Players operating in the global composites market focus on providing high-quality products to fulfill customer demand. They are also focusing on strategies such as investments in research and development activities and new product launches.
Report Spotlights
Progressive industry trends in the composites market to help players develop effective long-term strategies
Business growth strategies adopted by developed and developing markets
Quantitative analysis of the composites market from 2020 to 2028
Estimation of global demand for composites
Porter's Five Forces analysis to illustrate the efficacy of buyers and suppliers operating in the industry
Recent developments to understand the competitive market scenario
Market trends and outlook, as well as factors driving and restraining the growth of the composites market
Assistance in the decision-making process by highlighting market strategies that underpin commercial interest, leading to the market growth
The composites market size at various nodes
Detailed overview and segmentation of the market, as well as the composites industry dynamics
The composites market size in various regions with promising growth opportunities
Global Composites Market
Based on fiber type, the global composites market is segmented into carbon fiber composites, glass fiber composites, and others. Based on resin type, the global composites market is bifurcated into thermoset and thermoplastic. The thermoset segment is further segmented into polyester, vinyl ester, epoxy, polyurethane, and others. The thermoplastic segment is subsegmented into polypropylene, polyethylene, polyvinylchloride, polystyrene, polyethylene terephthalate, polycarbonate, and others. Based on end-use industry, the global composites market is segmented into automotive, aerospace & defense, wind, construction, marine, sporting goods, and others.
Company Profiles
DuPont de Nemours Inc
Gurit Holding AG
Hexion Inc
Mitsubishi Chemical Holdings Corp
Nippon Electric Glass Co Ltd
Owens Corning
SGL Carbon SE
Teijin Ltd
Solvay SA
Toray Industries Inc.
Frequently Asked Questions