The point of care diagnostics market is evolving due to the need for more patient-centric treatments. Clinical microbiology refers to gaining a pathogen's knowledge and using it to treat human health conditions. Growing infections and pathogen diagnoses have become a key reason for the growth of clinical microbiology. Therapeutic methods have grown over time in terms of technology for recognizing microbial etiologies. Point of care molecular diagnostics (POC) is a technology that focuses on the detection of pathogens. It has been transformed into an enhanced capacity to handle multiple tests and detect pathogens at the same time.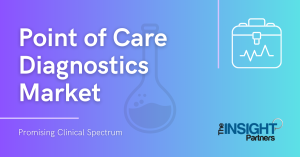 The use of POC diagnostics enabled pathogen-specific treatments. The use of standard drugs can address the issues. These tests are gaining attention in primary care due to their ease and applicability in remote setups. These tests avoid the need for research lab setups which makes them adequate in case of accidents and front-line treatments.
Personalized medicine is a growing trend in healthcare. The focus is on developing clinical plans on per patient basis. The point of care diagnostics can help doctors detect diseases at early stages and follow an evidence-based treatment. POC tests are effective in treating rising antimicrobial resistance (AMR). It further avoids the consumption of medication. POC diagnostics has emerged as a promising solution in clinical research. Growing sedentary lifestyles and consumption patterns are inviting new discomforts. HIV, Malaria, and TB are some infectious diseases hindering global medical well-being.
Among developing countries, this rate of infectious diseases is further alarming due high cost of diagnostics. As a result, the development of inexpensive diagnostics treatments targeted by leading healthcare companies. The volume of point of care diagnostics tests has increased since its introduction. Growth is foreseen to continue driven by newly emerging healthcare delivery methods.
In chronic conditions such as cancer, and diabetes, continuous monitoring of patients is essential. The development of user-friendly medical devices is an emerging need calling for action. Traction of remote patient monitoring is seen to resolve the diagnostics cost issues to some extent. Especially by making it accessible and flexible for patient
In vitro diagnostics is still dominated by tests carried out in labs. Automated analytics processes have emerged in centralized labs to treat various samples. To overcome the limitations of centralized lab testing, point of care diagnoses have been developed. The in vitro diagnostics market is foreseen to grow in the coming years due to newly developed IVD technologies for POC testing.
"Global Point of care diagnostics market is forecast to grow from USD 36,000.4 million in 2021 to USD 82,958.3 million in 2028. The projected growth rate for POC diagnostics arsenal is 12.7% from 2021-2028"
Point of care (POC) testing devices enable in vitro testing for patients at their sites without any delay. Faster and more efficient diagnoses are the perks of POC diagnostics tests. Improvising human health in developing countries. New advanced technologies leveraged by market players to develop new POC testing devices. These modern testing tools are rapidly evolving to do away need for trained staff and research lab framework needed for diagnostics. Speed of diagnostics is the key driver of demand behind spurring the point of care diagnostics market.
Molecular diagnostics is crucial in unfolding many insights related to the organic condition of patients. Molecular studies in samples of blood, urine, and saliva. Point of care molecular diagnostics are used for research lab-grade testing and offer high precision. The POC molecular diagnostics device market is rapidly growing due to a variety of technologies meeting clinical needs. DNA sequencing and amplification aim to detect pathogens. The focus on learning human genetic variations has supported the growth of the POC molecular diagnostics market.
What are the Secrets to a Competitive Edge in the Point Of Care Diagnostics Market?
Investing into Advanced Nanomaterials- The Next POCT Market Move
Advanced Nanomaterials introduced in biosensors have the advantage of improved attributes such as selectivity, low cost, and precision. Growth in nanotechnology goes hand-in-hand with the point of care diagnostics market. Investing in nanotech prospects could be the next breakthrough for point of care diagnostics market players to provide faster and more precise results.
Nanomaterials offer promising scope for improvement in point of care diagnostics due to their unique structure and chemical character. Integration of nanomaterials with distinct electrical and magnetic properties is seen to revolutionize the point of care diagnostics market. Investing into nanomaterial space POC devices could be improved in terms of speed and precision.
Development of Integrated Testing Platforms Patient-centric Care
From wearable injectors monitoring drug delivery to self-tests, technology has changed the diagnostics paradigm. Advanced technologies such as AI and IoT increasing the integration of smartphones with POC diagnostic devices widening the application scope of test strips. Integrated testing procedures analyze disease biomarkers without compromising on diagnostics standards. Machine learning has been a crucial technology in miniaturizing biosensors capable of bioanalytical insights. System integration, automation devices, artificial intelligence, and lab-on-chip are the impetus for improving the point of care diagnostics market.
Glucose biosensor strips use immobilized antibodies to identify infectious pathogens. This technology is foreseen to make POC testing devices more compact and precise. The category of bench-top devices has improved to reduce complexity and size ideal for lab setups. Moreover, companies have moments in critical care analysis. Immunology analyzers are newly emerging point of care diagnostics test devices. PCR tests are currently done using a considerably small device at the user's convenience. This area is foreseen to grow at a commercial scale in the coming decade.
Multiple Diagnostics Programs for High Throughput
Companies with multiplexing capacities are foreseen to lead this pursuit. Many POCT test devices are expanding to novel applications. Market players investing in devices that can together offer multiple analytics insights. Multiplex POC devices have greater throughput and reduce the cost of testing per sample.
The entry of robotics in medical diagnostics has opened ways for precise and faster analysis of diseases. These high-tech healthcare marvels are capable of producing precise results and managing lab workflow.
Tapping into Challenges in Future Point of Care Diagnostics Market
Difficulties in Use are restraining the adoption of POC test devices
Even though point of care diagnostic devices offer precise outcomes, their ease of use is still a debatable topic. Ongoing effort in lab training can be frightening with difficult-to-use instruments. Ease of use is a crucial problem ahead of users and lab staff posing a convenience for companies to rethink on designs of these devices.
Reduce different sample Requirements
Fields of clinical research have taken ample time to integrate research lab testing devices to produce results on serum and plasma. Now it's time for companies to up their innovation game to achieve simultaneous success much quicker. POCT requires multiple samples to perform tests, businesses have a challenge in developing a device that demands a single sample and measures all requirements.
Supplier-based Staff Training for Right Patient Care
The foundation of the point of care diagnostics market is based on quality and convenience. However, ensuring the right patient care doesn't depend on technology or devices alone. Training to users is also a very crucial factor. Offering an adequate amount of training to staff to harvest desired results. Suppliers in point of care diagnostics devices are investing in supplier-based training to offer staff assistance in the initial stages.
Crafting Point of Care Networks
The hub and spoke model of the network is preferred by regions such as the UK. Collaboration of labs to consolidate workload and test standards. POC diagnostics Market players can benefit from moments to vitally collaborate with multiple pharmacies, local doctors, and community diagnostics centers. These organic growth strategies can help companies to acquire large on-site testing space.
World Health Organization announced a global partnership to open 120 million affordable Covid-19 rapid tests for low to middle-income countries. Similar catalytic funding initiatives assist in the procurement of point of care diagnostics. The government's focus patient-centric healthcare foundation is foreseen to increase procurement from leading point of care diagnostics market players estimated to create lucrative space for companies.
What's in the Future for the Point of Care Diagnostics Market?
The journey of point of care tests in the past half-century has been commendable from centralized labs to self-tests. However, there is a lot more to come. As healthcare is foreseen to capture multivariate applications and revenue pockets in the coming decade, investing in POC diagnostics seems promising. Companies need to demonstrate cost-effective patient outcomes. We expect an expansion of point of care tests beyond healthcare. They will be applicable in testing studies such as food safety, and environment monitoring.
Many POC test devices studied to date and made available commercially. However, there is a need for further research in the extension of these tests beyond the medical field. Lab tests are estimated to remain dominant in future diagnostics as well. A strategic deployment plan is needed for integrated cost-effective POC tests.
The majority of healthcare companies are relying on electronic health record systems. POC tests have the potential to manage several health conditions. This advanced medical technology is here to transform medical tech by promoting easy diagnostics of health conditions. This is further foreseen to have a handful of advantages that contribute to the enlistment of the medical sector across the globe.
Point of care diagnostics market attractive arsenal to invest with space in resource scarcity and remote regions devoid of shipping, and distribution framework. POC tests are anticipated to remain paramount in non-lab tests. Driven by quality parameters point of care diagnostics market is foreseen to grow in the coming decade.