Surge in Demand for Passenger Vehicles Boosts Active Grille Shutter Market Growth
According to our latest market study on "Active Grille Shutter Market Forecast to 2028 – COVID-19 Impact and Global Analysis – by Propulsion Type, Vane Type, and Vehicle Type," the market is expected to grow from US$ 2,161.67 million in 2021 to US$ 3,094.60 million by 2028; it is anticipated to grow at a CAGR of 5.3% from 2022 to 2028.
Active grille shutter contributes to the improvement of vehicle aerodynamics. The shutters are designed in a way that they can control extreme airflow conditions. Urbanization has increased at a significant pace across the world in recent years, leading to a hike in the average disposable income of the urban population, allowing people to improve their lifestyles. Improved lifestyles further boost the demand for electric passenger vehicles, thus encouraging manufacturers to strengthen their production in a bid to cater to customers optimally. The production of passenger and commercial vehicles, among others, has increased steadily in developed and developing economies after the considerable drop in 2020. Automotive vehicle sales, especially passenger vehicles, are contributing considerably to the rising demand for aftermarket active grille shutter sales.
The active grille shutter market in APAC is segmented into China, India, Japan, South Korea, and Rest of APAC. The presence of a strong automotive sector and the increasing number of car manufacturers bolster the growth of the active grille shutter market in APAC. The automotive sector in the region is flourishing on the back of effective policies rolled out by governments and adoption of modern technologies by automakers. Moreover, the EV industry is experiencing significant growth in the region, which is driving the use of new and upgraded active grille shutters, especially in longer range EVs. Such factors are likely to drive APAC's active grille shutter market size during the forecast period.
The global active grille shutter market ecosystem comprises the following stakeholders: plastic and polymer suppliers, electrical component suppliers, other raw material and component suppliers, AGS manufacturers, automobile manufacturers, aftermarket part providers, and end users. Plastics and polymers are the key ingredient used to manufacture the blades of shutter and grille. Electrical component suppliers provide actuators and wiring harnesses, which provide motility to the grille shutters. Other raw material and component suppliers range from paint suppliers to bearing manufacturers. Valeo and Magna International manufacture active grille shutters for various automobile manufacturers and aftermarket part providers. End users of these grille shutters mainly include automobile purchasers.
The active grille shutter market is segmented into propulsion type, vane type, and vehicle type. Based on propulsion type, the market is segmented into internal combustion engine (ICE) and electric. On the basis of vane type, the active grille shutter market is bifurcated into horizontal and vertical. Based on vehicle type, the active grille shutter market is segmented into passenger vehicles, light commercial vehicles (LCVs), and heavy commercial vehicles (HCVs).
Active Grille Shutter Market Share - by Region, 2021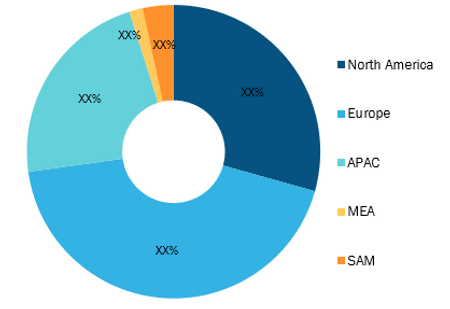 Report : Active Grille Shutter Market Forecast to 2028 - COVID-19 Impact and Global Analysis By Propulsion Type [Internal Combustion Engine (ICE) and Electric], Vane Type (Horizontal and Vertical), and Vehicle Type [Passenger Vehicles, Light Commercial Vehicles (LCVs), and Heavy Commercial Vehicles (HCVs)]

HBPO GmbH; Magna International Inc.; Röchling SE & Co. KG; Shape Corporation; SRG Global; Standard Motor Products Inc.; STARLITE Co., Ltd.; Techniplas US LLC; Valeo SA; and Wirthwein AG are among the key players profiled during this study on the active grille shutter market. In addition, several other important market players were studied and analyzed during this study to get a holistic view of the market and its ecosystem.
After the onset of the COVID-19 pandemic, major countries in Asia Pacific, such as India, China, Australia, and Japan, experienced a sharp decline in their GDPs in 2020 due to the sudden closedown of the majority of economic activities across the region. Limitations and travel restrictions imposed by governments, and the rapid spread of SARS-CoV-2 led to the limited availability of a workforce, which hampered automobile component production levels. All these factors negatively impacted the automobile industry, as well as active grille shutter market growth. European The sales of automobiles in Europe declined by ~23% in 2020; companies in the region delivered 12 million in 2020, which was less by ~3 million than the deliveries reported in 2019. Key players in the active grille shutter market witnessed a sharp decrease in demand for their products. Thus, the COVID-19 pandemic resulted in a drop in the active grille shutter market size in 2020 and the first few quarters of 2021.
Contact Us
Contact Person: Sameer Joshi