Rising Adoption of Bar Codes for Protecting Brand Reputation Drives Growth of Authentication and Brand Protection Market
According to our latest market study on "Authentication and Brand Protection Market Forecast to 2028 – COVID-19 Impact and Global Analysis – by Type (Overt, Covert, Forensic, and Digital), Technology (Security Printing & Tamper Proof Labels, Security Inks & Coatings, OVDS and Holograms, Unique Codes, Bar Codes, RFID, Authentication ICs, and Others), and Application (Consumer Electronics, Automotive, Medical, Chemical, Food & Beverages, Tobacco, and Others)," the market was valued at US$ 2,971.50 million in 2020 and is projected to reach US$ 5,322.57 million by 2028; it is expected to grow at a CAGR of 7.9% from 2021 to 2028. The report highlights key factors driving the market growth, and prominent players with their developments in the market.
The authenticity of printed packages, products, or materials can be determined by incorporating a proprietary HD barcode into the said entities during their production. HD barcode differs from other costly authentication methods in their ability to embed vast amounts of data, with volumes 58,000-times greater than UPC codes or 175-times more than QR barcodes, all contained within small, configurable 2D barcodes. By linking HD barcodes to proprietary smartphone app, followed by reading the codes digitally, full-color product images can be accessed on smartphones. These barcodes are different from public 2D barcodes as a unique identification number is assigned to each manufacturer, which can only be used by them and authorized personnel. The manufacturers are also provided with "code generation" software, which is kept separate from readers to print the HD barcodes. The manufacturers generate an "unrevealed password" that is active only when creating the codes. The structure of the system does not follow a set pattern, which allows an individual to decode an HD Barcode.
Impact of COVID–19 Pandemic on Authentication and Brand Protection Market
The pandemic COVID-19 has resulted in the disruption of commerce in North American countries, dur to shutdown of stores or operational limitations on the same. Retailers and brands are facing various short-term challenges regarding health and safety, supply chain, labor force, cash flow, consumer demand, and marketing. In North America, stores started closing at the beginning of March, and this trend is expected to continue as cities and states battle to contain the spread of the virus. Furthermore, COVID-19 pandemic is rapidly accelerating the tradition of digital commerce. As people are being told to follow social distancing, e-commerce orders for medicines and essential food & beverage have become a survival tool for the people in America. Further, the negative effect of the pandemic and measures take to manage it on various industries is limiting the authentication brand protection industry growth in the region. Irrespective of this, rise in challenges faced in terms of counterfeit products, leading to the sabotaging of brand reputation, the companies, especially, the pharmaceutical and food & beverages players, are using brand protection technologies.
Authentication and Brand Protection Market Breakdown – by Region, 2020 (%)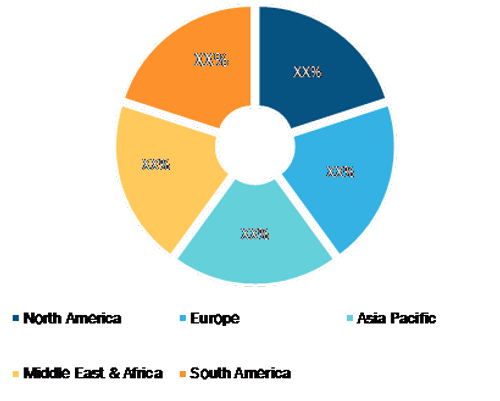 The global authentication and brand protection market has been segmented as follows:
Authentication and Brand Protection Market – by Type
Overt

Covert

Forensic

Digital
Authentication and Brand Protection Market – by Technology
Authentication and Brand Protection Market – by Application
Semiconductor

HVAC Systems

Aerospace

Medical Instrument

Test/Analytics Equipment

Automotive

Others
Authentication and Brand Protection Market – by Region
Contact Us
Contact Person: Sameer Joshi
Phone: +1-646-491-9876
Email Id: sales@theinsightpartners.com