Automotive foam market size is expected to reach US$ 109.5 billion by 2028 and registering at a CAGR of 9.3% between 2022 and 2028, according to a new research study conducted by The Insight Partners.
Rising Demand for Electric Vehicles is Fueling the Automotive Foam Market Growth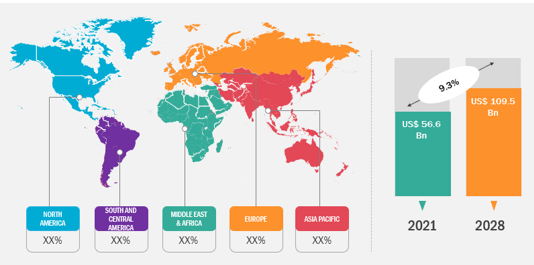 Report : Automotive Foam Market Forecast to 2028 – COVID-19 Impact and Global Analysis – by Type [Polyurethane (PU) Foam, Polyolefin Foam (PO), and Others], Application (Interior and Exterior), End Use [Heavy Commercial Vehicles (HCVs), Light Commercial Vehicles (LCVs), and Passenger Cars], and Geography
Source: The Insight Partners Analysis
Automotive foams are used in the manufacturing of automotive seats, headrests, air conditioning filters, cushion instrument panel, arm rests, and other automotive parts and systems. In addition, these materials are highly beneficial in decorating the interior of vehicles and enhance the automotive users' comfort level and vehicle riding experience. For instance, UFP Technologies, Inc. produces custom foam components such as HVAC seals, arm rest pads, gas tank pads, and so on for the automotive manufacturing companies.
Automotive foam materials efficiently lower the overall weight of an automotive vehicle, support fuel consumption and customer satisfaction from the vehicle's usage. Rising consumer demand for fuel-efficient cars and enhanced driving comfort is likely to accelerate the automotive foam material's demand globally.
In addition, the increasing trend of buying matte finished cars and buses of gleaming shine is likely to fuel the global market growth. Furthermore, governmental support in building the manufacturing capabilities of commercial transport vehicles requiring the usage of polyurethane foam materials is expected to increase the product's consumption rate in many countries globally. Furthermore, rising demand for sophisticated acoustic and thermal foam design-based electric vehicles to improve lifestyle and driving experience is anticipated to favor the automotive foam market growth during 2022–2028.
Garage workers and mechanics mainly need cavity filing foam solutions to fix damaged parts of cars while repairing. Increasing demand for foam-based filling solutions and growing number of car and bike garage shops are likely to drive the material's demand in many countries across the globe. Growing foam molding and injection technological advancement is expected to increase the utility of automotive foaming solutions. In addition, shifting population's preference toward polyurethane foam-based automotive components made of sustainable materials is creating new industry growth avenues globally.
Closure of key players' foam manufacturing facilities in response to COVID-19 pandemic impacted the supply rate of such materials globally. Furthermore, trade restrictions and supply chain disruptions of the commercial automotive manufacturing industries hampered the material's demand worldwide. Also, during the pandemic, scarcity of workers in the manufacturing process of automotive vehicles posed challenges to the automotive industry growth. In addition, decline in the sales of vehicles due to social distancing norms and lockdown restrictions lowered the key players' sales revenues from automotive foaming materials. For instance, International Energy Agency (EIA) reported a 15% decline in the total electric and non-electric car sales in the US due to the stringent COVID-19 lockdown restriction in 2020.
Armacell LLC., BASF SE, Bridgestone Corporation, Fritz Nauer AG, and Lear Corporation are among the key automotive foam market players profiled during the study. Several other major companies were studied and analyzed during this research study to get a holistic view of the automotive foam market and its ecosystem.
Contact Us
Contact Person: Sameer Joshi
Phone: +1-646-491-9876
Email Id: sales@theinsightpartners.com