The automotive transceivers market is expected to reach at US$ 9,383.65 million by 2028; registering at a CAGR of 6.8% from 2022 to 2028, according to a new research study conducted by The Insight Partners.
Growing Adoption of Self-Driving or Autonomous Vehicles to Provide Opportunities for Automotive Transceivers Market Growth During 2022–2028
Digitization and automation have revolutionized the automotive sector. Amid this revolution, diverse mobility, autonomous driving, electrification, and connectivity have emerged as major trends in this sector. Connectivity and information-sharing are the key functions enabling self-driving/autonomous vehicles. Connected and autonomous vehicles have network access to share information on tire pressure, mechanical systems, navigation, geolocation, and cameras. The data received on mechanical state, vehicle performance, and driver's information are used to enhance the safety of vehicle occupants, along with making the journey more enjoyable. Automotive transceivers facilitate the sharing of such information.
Automotive Transceivers Market — by Region, 2021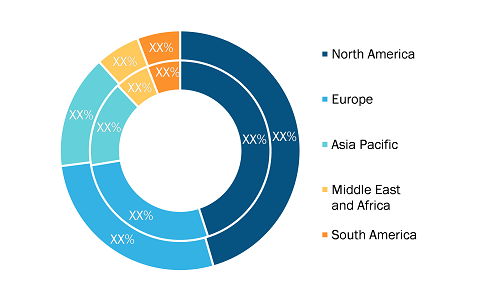 ---
---
Automotive Transceivers Market Forecast to 2028 - COVID-19 Impact and Global Analysis By Protocol (CAN, LIN, FLEXRAY, and Others), Application (Safety, Body Control Module, Chassis, Powertrain, Steering Wheel, Engine, and Door/Seat), and Vehicle Type (Passenger Vehicles and Commercial Vehicles)
Source: The Insight Partners Analysis
With the help of transceivers, autonomous vehicles or self-driving cars can communicate with one another and change routes based on traffic, accidents, or construction work in progress, which helps lower congestion on roads. Moreover, automated vehicles sense the environment and navigate around obstacles, and obey traffic laws with the help of technologies such as radar, sonar, lidar, GPS, and infrared sensors embedded with transceivers in the vehicles. Hence, the projected increase in the manufacturing and adoption of autonomous vehicles/self-driving cars is likely to provide lucrative opportunities for the growth of the automotive transceivers market in the coming years.
The North America automotive transceivers market is segmented into the US, Canada, and Mexico. The region has leading automotive transceivers manufacturers such as STMicroelectronics; Infineon Technologies AG; Renesas Electronics America Inc.; Microchip Technology Inc.; Broadcom Inc.; Semiconductor Components Industries, LLC; Texas Instruments Incorporated; NXP Semiconductors N.V.; and Analog Devices, Inc. In addition, the growing initiatives for advancing features in automotive transceivers from these players are fueling the market growth. For instance, in November 2022, Infineon Technologies AG introduced a new CMOS transceiver MMIC CTRX8181 with high performance, scalability, and reliability for automotive radar modules. This development offers a scalable platform approach for different sensors, including corner, front, and short range, along with flexibility for new software-defined vehicle architectures, which is boosting the demand for automotive transceivers among consumers. In addition, in November 2022, Renesas Electronics Corporation introduced a 4x4-channel, 76-81GHz transceiver designed to cater to the growing needs of ADAS and Level 3 and higher autonomous driving applications. Also, in September 2022, NXP Semiconductors N.V. announced the production of its 2nd Generation 77GHz RFCMOS radar transceivers for ADAS and autonomous driving. This development enables 360° sensing for critical safety applications, such as adaptive cruise control, automated emergency braking, blind-spot monitoring, cross-traffic alert, and automated parking. Thus, such growing technological advancements for developing advanced automotive transceivers enable the players to achieve a competitive edge over the competitors, which is contributing to the market growth over the forecast period.
The global automotive transceivers market is segmented on the basis of protocol, application, and vehicle type. Based on protocol, the market is segmented into CAN, LIN, FLEXRAY, and others. Based on application, the market is segmented into safety, body control module, chassis, powertrain, steering wheel, engine, and door/seat. Based on vehicle type, the market is bifurcated into passenger vehicles and commercial vehicles.
Texas Instruments Incorporated, NXP Semiconductors, and Infineon Technologies AG are a few of the key players profiled during the study on the automotive transceivers market. Several other major market players were also analyzed during the course of this market research study to get a holistic view of the global automotive transceivers market size and its ecosystem.
Impact of COVID-19 Pandemic on Automotive Transceivers Market
The COVID-19 pandemic caused severe disruptions for automotive companies, impacting everything from supply chain and operations to capital spending, loans, and long-term strategies. The pandemic disrupted Chinese parts exports and interrupted large-scale manufacturing across Europe. Moreover, assembly plants in the US were shut down during the pandemic. All these factors have negatively impacted the automotive industry, decreasing the global demand for automotive components. The pandemic forced businesses to restructure their business models, focusing on strengthening strategies to achieve economies of scale. With ease in restrictions and the reopening of business units in 2021, the automotive industry experienced tremendous resilience. Hence, the adoption of EVs increased at a faster pace. For instance, in October 2022, New York revealed a plan to increase the sales of zero-emission vehicles till 2035. Thus, such initiatives during the pandemic recovery period are anticipated to drive the demand for automotive transceivers. The automotive transceivers market is further expected to grow due to the global demand for transceivers.
Contact Us

Phone: +1-646-491-9876
Email Id: sales@theinsightpartners.com
Download Free PDF Brochure
---
Related Readings
---