The automotive transceivers market is expected to grow from US$ 6,340.11 million in 2022 to US$ 9,383.65 million by 2028; it is estimated to grow at a CAGR of 6.8% from 2022 to 2028.
The automotive transceivers market outlook is positive owing to the growing adoption of autonomous cars, which ensure reliable in-vehicle connectivity and communications. These cars also help mitigate carbon emissions. Automotive transceivers are the network communication devices used for sending and receiving digital signals to communicate with the electronic devices and the electronic control unit (ECU) of the car. The increasing demand for luxurious and premium cars for enhanced safety, comfort, and advanced features; rising disposable income; and the growing trend of the integration of electronics in vehicles are a few of the prominent factors contributing to the requirement for automotive transceivers. Also, supportive government policies for improving the safety of passengers are bolstering the market growth. Further, increased use of electric vehicles, supported by government initiatives, is likely to provide significant growth opportunities to the automotive transceivers market players in the coming years.
With the burgeoning requirement for data exchange in modern vehicles, the automotive industry implements several automotive networks that efficiently send and receive large volumes of data. These include protocols such as Controller Area Networks (CAN) and Local Interconnect Network (LIN) bus systems. The automotive transceivers market is likely to continue to grow with the flourishing electric vehicle industry in the coming years. For instance, in November 2022, Infineon Technologies AG introduced a new CMOS transceiver MMIC CTRX8181 with high performance, scalability, and reliability for automotive radar, which is the key to an improved automated driving assistance system.
The growing regulatory support for zero-emission vehicles in different countries through subsidies and tax rebates encourages the manufacturing and adoption of electric vehicles. As per the Global Electric Vehicle Outlook, sales of electric cars, including fully electric and plug-in hybrid vehicles, accounted for 6.6 million units in 2021. Further, the sales of electric vehicles in China increased significantly to 3.3 million in the same year, accounting for about half of the total global sales. EV sales also grew strongly in Europe by 65% to reach 2.3 million units in 2021, while the US recorded sales of 630,000 units in the same year. In addition, supportive government initiatives to strengthen EV charging infrastructure further propels EV sales. In June 2022, the US government proposed new standards to build a national network of 500,000 electric vehicle charging stations by 2030. Furthermore, the government had introduced a plan to allocate US$ 5 billion to states to fund EV chargers during the next five years.
Strategic Insights
Report Coverage - Automotive Transceivers Market
Report Coverage
Details
Market Size Value in
US$ 6,340.11 Million in 2022
Market Size Value by
US$ 9,383.65 Million by 2028
Growth rate
CAGR of 6.8% from 2022 to 2028
Forecast Period
2022-2028
Base Year
2022
No. of Pages
179
No. of Tables
83
No. of Charts & Figures
86
Historical data available
Yes
Segments covered
Protocol, Application, and Vehicle Type
Regional scope
North America, Europe, Asia Pacific, Middle East & Africa, South & Central America
Country scope
US, Canada, Mexico, UK, Germany, Spain, Italy, France, India, China, Japan, South Korea, Australia, UAE, Saudi Arabia, South Africa, Brazil, Argentina
Report coverage
Revenue forecast, company ranking, competitive landscape, growth factors, and trends
Free Sample Copy Available
Impact of COVID-19 Pandemic on Automotive Transceivers Market Size
North America is the early adopter of emerging technologies across the globe due to favorable government policies to boost innovation and reinforce infrastructure capabilities. The automotive industry in North America has a potential influence on the country's economy. Notably, the US was one of the worst-affected countries due to the COVID-19 pandemic, and the crisis led to a cascading impact on multiple industries, including automotive. The operations of the automotive industry were temporarily discontinued, which hampered the business dynamics in the first half of 2020. In North America, a total of 43 states had lower auto exports in 2020 than in 2019. In March 2020, American Honda Motor Co., Inc. announced that it had discontinued production in North America, due to which the company saw a production loss of ~40,000 vehicles. Shortage of semiconductor chips and other essential car components hampered auto production. Disruption in the supply chain due to travel restrictions was limiting supply and production activities. The drop in production negatively hampered the automotive transceivers market during the pandemic. However, since 2021, the industry has been improving at a faster pace. Many manufacturing plants are nearly back to production levels after a temporary shutdown during the pandemic. In addition, the leading automotive players are engaged in the development of electric vehicles and are significantly investing during the post-pandemic scenario. For instance, in October 2022, BMW AG announced an investment of US$ 1.7 billion to build electric vehicles in the US to enhance EV production. Thus, the rise in demand for electric vehicles in the region is further propelling the need for automotive transceivers.
The impact of the COVID-19 pandemic on the Europe automobile industry was severe. Lockdowns imposed by governments of various countries resulted in the shutdown of several industries, including the automotive industry. This led to a drastic decline in production across the automotive industry, which severely affected the automotive transceivers market in the region. As per the European Parliament report, in the first half of 2020, the EU automotive industry suffered production losses of 3.6 million vehicles, which reflects a loss of US$ 105.22 billion. In 2021, with the relaxation of lockdown measures, operations resumed in manufacturing businesses. Hence, the market for automotive transceivers gained momentum. Further, in 2022, automotive transceivers are expected to have higher demand due to the increasing industry investments and national support measures after the COVID-19 crisis. For instance, according to the European Automobile Manufacturers' Association (ACEA), sales of vehicles in Europe will rise by 10% in 2021 when compared to 2020. Moreover, Europe has a significant presence of automotive manufacturers such as BMW Group, Ferrari, Ford of Europe, Honda Motor Europe, Hyundai Motor Europe, Iveco Group, Jaguar Land Rover, Mercedes-Benz, Renault Group, Stellantis, Toyota Motor Europe, Volkswagen Group, Volvo Cars, and Volvo Group. It is further aiding the demand for automotive transceivers in the region.
Lucrative Regions: Automotive Transceivers Market Share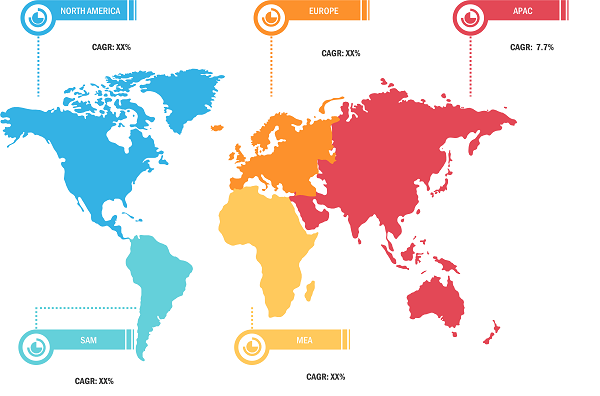 Get more information on this report :
Market Insights – Automotive Transceivers Market
Increasing Need for Communications in Automobiles
Automobile manufacturers are continuously striving to improve safety and performance and reduce the environmental impact of their products, along with enhancing comfort for vehicle occupants. This, in turn, increases the volume of data generated and communicated between electronic control units (ECUs) of vehicles, along with the reliance on the same, thereby contributing to the demand for automotive transceivers. Advanced vehicles, nowadays, utilize about five separate ECUs to address the elevating demand for next-generation, embedded networks, and high bandwidths. The growing requirement for bandwidth and embedded networks propels the deployment of transceivers in automobiles. Earlier, only high-end cars offered comfort and other prime features. However, these features are gradually becoming common in other car segments due to the declining prices of sensors and ECUs with economies of scale. Nowadays, hatchbacks and B and C segment sedans are also equipped with these comfort and safety features. This has created a huge demand for ECUs and sensors in the automotive market, which triggers the demand for transceivers, as they connect all ECUs and sensors on a single mesh network. FlexRay, one of the key players in the automotive transceivers market, provides CAN for mainstream powertrain communications and a Local Interconnect Network for low-cost body electronics to optimize cost and reduce transition challenges in high-end applications. The increasing applications of LIN in body electronics such as mirrors, power seats, and accessories; CAN in powertrain components such as engine, transmission, and ABS; and FlexRay in high-performance powertrain and safety systems further trigger the adoption of transceivers. Thus, increasing communication needs in automobiles propel the growth of the automotive transceivers market.
Protocol-Based Insights
Based on protocol, the global automotive transceivers market is segmented into CAN, LIN, FLEXRAY, and others. The CAN bus is a message-based protocol designed to allow electronic control units (ECUs) and other devices to communicate with each other in a reliable and priority-driven fashion. CAN is supported by a set of international standards under ISO 11898. The CAN protocol is most widely accepted and used in practically all vehicles as it is readily available, affordable, extremely robust, efficient, and fully centralized. It deploys faster and helps reduce vehicle weight. CAN has excellent control and fault detection capabilities. It helps in easily detecting an error, thus, transmitting data faster and more reliably. The CAN protocol is used when distributed control of a complex system is required. It reduces heavy wiring, costs, and weight. The cost of the chips is low, and implementing CAN is relatively easy because of the clean design of the protocol. Such benefits are leveraging the deployment of CAN protocol in automotive transceivers.
Players operating in the automotive transceivers market are mainly focused on the development of advanced and efficient products.
In March 2022, Broadcom Inc. released the demonstration of its 100G/lane optical PAM-4 DSP PHY with an ITA (integrated trans-impedance amplifier) and high-swing laser driver, the BCM87412.
In November 2022, Renesas Electronics Corporation, an exclusive provider of advanced semiconductor solutions, is entering the automotive radar market by introducing a 4x4-channel, 76-81GHz transceiver developed to meet the demanding requirements of ADAS and Level 3 and higher autonomous driving applications.
These developments are expected to influence the automotive transceivers market growth in the coming years.
The global automotive transceivers market is segmented on the basis of protocol, application, and vehicle type. Based on protocol, the market is segmented into CAN, LIN, FLEXRAY, and others. Based on application, the market is segmented into safety, body control module, chassis, powertrain, steering wheel, engine, and door/seat. Based on vehicle type, the market is bifurcated into passenger vehicles and commercial vehicles.
The automotive transceivers market is segmented into five major regions—North America, Europe, Asia Pacific (APAC), the Middle East & Africa (MEA), and South America. In 2022, Asia Pacific led the market with a substantial revenue share, followed by Europe and North America. The market analysis helps understand the upcoming trends, new technologies, and macro and micro factors that are expected to influence the market growth in the coming years.
Broadcom, Infineon Technologies AG, Renesas Electronics Corporation, Maxim Integrated, Microchip Technology Inc., NXP Semiconductors, Robert Bosch GmbH, STMicroelectronics, Texas Instruments Incorporated, and Toshiba Corporation are a few of the key players profiled in the automotive transceivers market study. The market report provides detailed insights, which help the key players strategize the market growth in the coming years.
Frequently Asked Questions