Increasing Popularity of Air Sports Propelling Demand for New Recreational Aircraft Models to Provide Opportunities for Aviation Headsets Market Growth During 2021–2028


According to our latest market study on "Aviation Headsets Market Forecast to 2028 – COVID-19 Impact and Global Analysis – by Type, Noise Cancelation Type, and Application," the market is expected to grow from US$ 1,029.99 million in 2021 to US$ 1,371.84 million by 2028; it is estimated to grow at a CAGR of 4.2% from 2021 to 2028.
The rising number of light-sport aircraft (LSA) deliveries owing to an increase in awareness and interest about air sports, such as sky diving, among youngsters is boosting the deployment of new-generation recreational aircraft models. The rising fleet of existing LSA generates the demand for new pilots and headset accessories. Therefore, the growing fleet of light-sport aircraft worldwide is aiding the adoption of aviation headsets globally.
Impact of COVID-19 Pandemic on Aviation Headsets Market Growth
North America comprises notable volumes of commercial aircraft fleets, across several independent airlines operating across the region. Many aircraft OEMs, aviation headset manufacturers, and airlines with in-house maintenance shops operate in the region. The civil aviation industry across the region experienced dramatic changes in the first half of 2020. According to Bureau of Transportation Statistics (BTS), US, domestic air travel experienced a 97% decrease in passenger revenue from February to April 2020. The Canadian and Mexican aviation industries experienced similar trends. This impacted the operations of civil aviation manufacturers and resulted in a reduction in demand for commercial aircraft in the region, affecting the supply chain of the aviation headset industry.
The aviation headsets market has been segmented on the basis type, noise cancellation type, application, and geography. Based on type, the market is bifurcated into on-board headsets and ground support headsets. Based on noise cancellation type, the aviation headsets market size is subsegmented into active, passive. Based on application, the aviation headsets market size is further segmented into commercial aircraft, military aircraft, and general aircraft. Based on geography, the aviation headsets market is primarily segmented into North America, Europe, Asia Pacific (APAC), the Middle East and Africa (MEA), and South America.
Faro Aviation, Sennheiser Electronic GmbH & Co. Kg, Plantronics Inc., David Clark Company, and Bosch Security & Safety Systems are among the key players in the aviation headsets market. In addition, several other important market players were studied and analyzed during the course of this study to get a holistic view of the global aviation headsets market and its ecosystem.
Aviation Headsets Market Share - by Region, 2020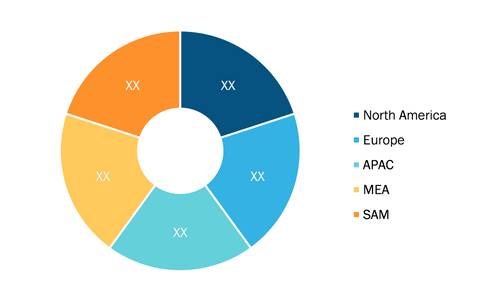 Contact Us
Contact Person: Sameer Joshi
Phone: +1-646-491-9876
Email Id: sales@theinsightpartners.com