The mounting integration of portable batteries in consumer electronics, growing inclination toward electric vehicles, and energy storage solutions are the key factors boosting the demand for battery management modules. Currently, computers, smartphones, tablets, and other consumer electronic devices are powered by batteries, especially lithium-ion batteries. The demand for advanced energy storage technologies is playing a pivotal role in the decarbonization of modern economies. In the last few years, these advanced technologies have contributed to the evolution of energy & power, automotive, medical, and electronics industries. Regardless of the existence of technologies such as the application of battery technologies has offered the energy and power solutions to meet the technical demands of the energy storage in these sectors. The market players are investing significant amounts in adopting newer and robust technologies to further enhance their respective products.
In the automobile industry, various commercial vehicles and passenger cars are still developing, which demand enhanced energy storage systems. The availability of advanced battery technologies has encouraged automotive OEMs to adopt the battery management module. Several developing countries in APAC and South America, such as India, China, and Brazil, play a crucial role in the growth of the automotive and consumer electronics industry. APAC is home to several automotive players' factories. Moreover, various companies in APAC are proceeding with battery production projects in Europe. For instance, Northvolt (Sweden), LG Chem (Poland), Terra E Holding (Germany), and SK Innovation (Hungary) have announced their respective battery projects with battery cell production requiring battery management module for enhanced energy storage.
Players present in the battery management module market takes steps to strengthen their services portfolio in order to have high clientele. To accomplish this goal, companies take initiatives with respect to merger & acquisitions of other players, which would eventually help to increase their business revenue, geographical imprints throughout the globe. For instance, NXP Semiconductor, a US-based company, collaborated with Volkswagen centered on the electronics for electric vehicles (EVs). Volkswagen adopted NXP's battery management system (BMS) into its innovative MEB platform to help increase vehicle range, extend battery longevity, and enhance safety.
Battery Management Module Market — Geographic Breakdown, 2019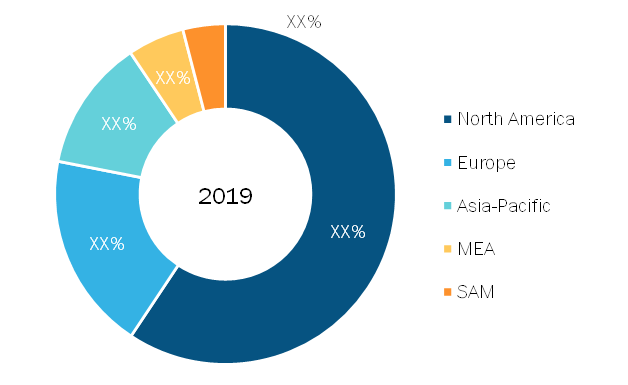 The report segments the market as follows:
Global Battery Management Module Market – By Topology Type
Distributed

Centralized

Modular
Global Battery Management Module Market – By Component
Hardware

Battery Control Unit

Power Module

Communication Channel

Software
Global Battery Management Module Market – By End-User
Automotive

Medical

Power & energy

Consumer Electronic

IT & Telecom

Others
Global Battery Management Module Market – By Geography
North America
Europe

France

Germany

Italy

Russia

UK

Rest of Europe

Asia Pacific (APAC)

China

Australia

India

Japan

South Korea

Rest of APAC

Middle East and Africa (MEA)
South and Central America (SAM)

Brazil

Argentina

Rest of South America
Contact Us
Contact Person: Sameer Joshi
Phone: +1-646-491-9876
Email Id: sales@theinsightpartners.com