Growing Demand for Recycled Products and Recovery of Valuable Metals Escalate Battery Recycling Market Growth During 2020–2028
According to our latest market study on "Battery Recycling Market Forecast to 2028 – COVID-19 Impact and Global Analysis – Type and Battery Source," the market is projected to reach US$ 36,002.73 million by 2028 from US$ 15,690.07 million in 2020; it is expected to grow at a CAGR of 13.4% from 2020 to 2028. The report highlights key factors driving the market growth and prominent players along with their developments in the market.
Battery recycling is an effective way of reprocessing and reusing batteries to diminish hazardous waste. Recycling has a lower environmental impact than the mining of virgin materials. Direct recycling could substantially decrease the energy consumption and emissions. Several policies and regulations have been imposed that play a vital role in ensuring safety of consumer products as well as in safe handling, storage and treatment, reuse, recycling, and disposal of batteries used across various application bases. The recycling of used electric batteries yields strong economic benefits. As per an article published by Roland Berger GmbH in November 2019, if a volume of 1.7 million tons of batteries would be recycled by 2030, the process is anticipated to yield 250,000 tons of active materials such as nickel, cobalt, manganese, and lithium; the yield is expected to meet 20–30% of cobalt and nickel demand in Europe. Similarly, recycling batteries can prevent the potential threat surfacing from dumping heavy metals and toxic chemicals into the environment.
Further, the report "Reducing New Mining for Electric Vehicle Battery Metals" by the Institute for Sustainable Futures for Earthworks at the University of Technology Sydney highlights the significance of using recycled metals in electric vehicle (EVs) production, while reducing the need of new mining activities for supply materials. The report concentrates on the recycling, reprocessing, effective use of key battery ingredients such as cobalt, lithium, nickel, and copper. The report suggests that recycling can minimize primary (mined) demand compared to total demand of lithium by 25%, cobalt and nickel by 35%, and copper by 55% by 2040. The report also states that expanding the battery lifespan beyond the current estimates of 8–15 years, along with reusing batteries in "second life applications," has significant potential to reduce the dependence upon the mined materials.
Battery Recycling Market Breakdown – by region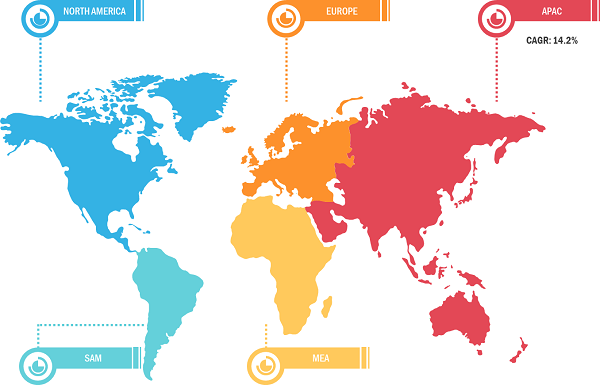 Report : Battery Recycling Market Forecast to 2028 - COVID-19 Impact and Global Analysis by Type (Lead Acid Battery, Lithium-Based Battery, Nickel-Based Battery, and Others) and Battery Source (Automotive, Industrial, Household, Consumer Electronics, and Forklift)
Aqua Metals, Inc.; Call2recycle, Inc.; Clarios. LLC; Com2 Recycling Solutions; East Penn Manufacturing Company; Exide Technologies; G P Batteries; Gopher Resource LLC; Retriev Technologies Inc; and Terrapure Environmental Ltd are among the well-established players in the global battery recycling market.
Impact of COVID-19 Pandemic on Battery Recycling Market
The COVID-19 pandemic has drastically altered the status of the electronics sector and negatively impacted the growth of the battery recycling market. The implementation of measures to combat the spread of the virus has aggravated the situation and affected the growth of several industrial sectors, including electronics, automotive, and power, which impacted the delivery cycles and increased import–export tariff. The market has been impacted by the sudden distortion in operational efficiencies and disruptions in value chains due to the sudden shutdown of national and international boundaries. Disruptions in terms of sourcing of raw materials from suppliers and temporarily shuttering of manufacturing plants during indefinite lockdowns impacted the growth of the market. As per an article published by National Center for Biotechnology Information in December 2020, the pandemic has significantly impacted the recycling chain, which involves shipping of expended batteries for reprocessing stretches across the world. Further, as the economies are planning to revive their operations, the demand for battery recycling is expected to rise globally. However, the focus over just-in-time production is another concerning factor hindering market growth. The rising demand of battery recycling across automotive, industrial, household, consumer electronics, and other industries, along with significant investment by prominent manufacturers, is expected to drive the battery recycling market growth.
The report includes the segmentation of the global battery recycling market as follows:
Battery Recycling Market, by Type
Lead Acid Battery

Lithium-Based Battery

Nickel-Based Battery

Others
Battery Recycling Market, by Battery Source
Automotive

Industrial

Household

Consumer Electronics

Forklift
Battery Recycling Market, by Geography
Contact Us
Contact Person: Sameer Joshi
Phone: +1-646-491-9876
Email Id: sales@theinsightpartners.com