Biologics Segment to Register Highest CAGR During 2021–2028
According to our latest study on "Biopharmaceutical Contract Manufacturing Market Forecast to 2028 – COVID-19 Impact and Global Analysis – by Product, Service, and Source," the market is expected to grow from US$ 15,735.04 million in 2021 to US$ 27,868.50 million by 2028; it is estimated to grow at a CAGR of 8.5% from 2021 to 2028. The report highlights the key factors driving the market growth and prominent players with their developments in the market.
Based on product, the biopharmaceutical contract manufacturing market is segmented into biologics and biosimilar. The biologics segment would account for the largest market share during 2021–2028.
By service, the biopharmaceutical contract manufacturing market is segmented into process development, fill and finish operations, analytical and quality control studies, and packaging. The process development segment held a considerable share of the market in 2021, and it is likely to continue its dominance in the market during the forecast period.
By source, the biopharmaceutical contract manufacturing market is segmented into mammalian and microbial-based biologics/non-mammalian. The mammalian segment is expected to hold the largest market share during 2021-2028.
As per various National Center for Biotechnology Information (NCBI) reports, the COVID-19 pandemic has a significant impact on the global health economies. As major healthcare infrastructures were focused on finding the treatment of COVID-19, the demand for biopharmaceutical contract manufacturing saw a rise with biopharmaceutical companies looking to develop treatments for the virus through vaccine trial and development. The large-scale disruption of global supply chains restrained the biopharmaceutical contract manufacturing market growth. As most of the biopharmaceutical contract manufacturing organizations (CMOs) work in collaboration or under contracts with biopharmaceutical companies, the CMOs continued to develop and manufacture biopharmaceuticals as part of essential goods for public usage. Also, partnerships with CMOs for process development and quality studies related to COVID-19 vaccines and its development aided the market's growth. With the normalization of supply chains and vaccination drives against the coronavirus the market shifted towards a demand for various vaccine candidates for first, second, and booster doses which is expected to create steady growth opportunities for the market in the coming years.
Lonza AG, Boehringer Ingelheim Biopharmaceuticals GmbH, Inno Bio Ventures Sdn Bhd, Thermo Fisher Scientific, Inc., AbbVie, Inc., WuXi Biologics, Inc., General Electric Co., Samsung Biologics Co. Ltd., Merck KGaA, and Ajinomoto Co. Inc. are among the leading companies operating in the biopharmaceutical contract manufacturing market.


Biopharmaceutical Contract Manufacturing Market, by Region, 2021 (%)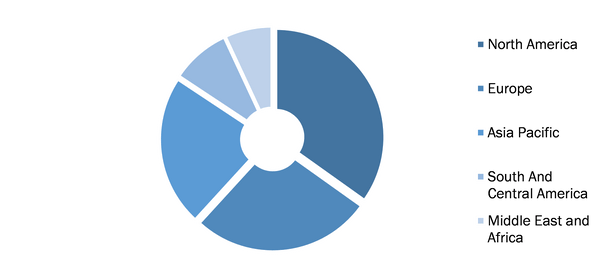 Contact Us
Contact Person: Sameer Joshi
Phone: +1-646-491-9876
Email Id: sales@theinsightpartners.com