Essential properties of chitosan to escalate chitosan market growth at CAGR of 11.5% during 2019–2027
According to our latest market study on "Global Chitosan Market Forecast to 2027 – Covid-19 Impact and Global Analysis by Grade (Industrial Grade, Food Grade, Pharmaceutical Grade); Application (Water Treatment, Food and Beverages, Biomedical and Pharmaceuticals, Cosmetics, Others); Source (Shrimp, Pawns, Insects, Crab, Others); and Geography,"the market was valued at US$ 1,764.26 million in 2018 and is projected to reach US$ 4,698.73 million by 2027; it is expected to grow at a CAGR of 11.5% from 2019 to 2027.The report highlightskey factors driving the market growth and prominent players and their developmentsin the market.
Chitosan is a natural fibrous material derived from chitin. Chitin is a substance that is produced in the outer shell of shellfish such as lobsters, crabs, and shrimps. Shrimps are considered to be a major source of chitosan as they contain about 25% to 40% of chitin content. Besides shell fish and crustaceans, certain varieties of fungi have also been known to produce low amounts of chitin in their cell walls. However, the lack of an optimal procedure for extraction of chitin on a commercial scale from fungi makes it a less used source for obtaining chitosan. Chitosan is a rich fiber source and is increasingly incorporated into dietary supplements for promoting weight loss. It is a fibrous material which blocks the absorption of cholesterol and dietary fats and hence is used in medicines to cure diseases such as high cholesterol, obesity, and crohn's disease. Chitosan is also directly applied on the gums to alleviate inflammation of the gums.
Chitosan is a natural material extracted from the outer skeletons of shells of shrimps, crabs, and lobsters. It is recognized as a versatile biomaterial due to its non-toxicity, low allergenicity, biodegradability, and biocompatibility. Owing to these properties, it is used in a wide range of applications such as food & beverages, water treatment, medical & pharmaceuticals, cosmetics, and agrochemicals. Due to its tangible property of adsorption, chitosan is has found a profound place in the water treatment application to adsorb metals, iron, toxic substances, and other impurities from the wastewater. The application of chitosan for water treatment is not only effective but also economical and environment friendly. Chitosan's properties, such as antimicrobial activity, bioactivity, anti-oxidative activity, make it beneficial in several medical and pharmaceutical applications. It is generally used in wound ointments and for coating medical devices. In the pharmaceutical industry, it is used as a drug delivery agent and in contact lenses. In the food & beverage industry, it is used as a preservative, dietary supplement, and as an anti-cholesterol additive. Chitosan has also been used in the cosmetic industry in the hair and skincare products.
Advanced Biopolymers AS, Kitosano SL, FMC Corporation, GTC Bio corporation, Golden-Shell Pharmaceutical Co. Ltd., Heppe Medical Chitosan GmbH., Kitozyme LLC., Panvo Organics Pvt Ltd., Primex EHF, and Qingdao Yunzhou Biochemistry Co., Ltdare some of the well-established players present in the global chitosan market.
Impact of COVID-19 Pandemic on Chitosan Market
COVID-19 outbreak first began in Wuhan (China) in December 2019, and since then it has spread across the globe at a fast pace. China, Italy, Iran, Spain, the Republic of Korea, France, Germany, and the US are among the worst affected countries in terms of positive cases and reported deaths as of March 2020. The COVID-19 outbreak has affected economies and industries in various countries due to lockdowns, travel bans, and business shutdowns. The global food and beverage and chemical industry is one of the major industries suffering serious disruptions such as supply chain breaks, technology events cancellations, and office shutdowns as a result of this outbreak.
Global Chitosan Market Breakdown – by Region, 2018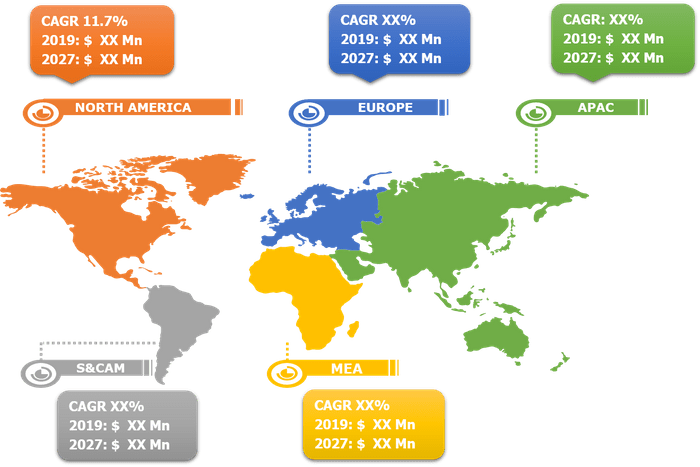 The report includes the segmentation of the global chitosan market as follows:
By Grade
Industrial Grade

Food Grade

Pharmaceutical Grade
By Application
By Source
Shrimp

Prawns

Insects

Crab

Others
By Geography
North America

Europe

Germany

UK

France

Italy

Spain

Rest of Europe

Asia Pacific (APAC)

China

Japan

India

South Korea

Australia

Rest of Asia Pacific

Middle East and Africa (MEA)

South America

Brazil

Argentina

Rest of South America
Contact Us
Contact Person: Sameer Joshi